Magic Johnson Rips Lakers as Classless, Is He a Hypocrite?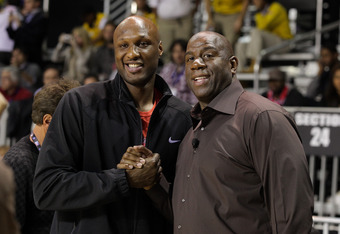 Magic Johnson Calls Lakers "Classless", Rips Their Performance In Game 4, But Is He A Hypocrite?
When Game 4 of the Los Angeles Lakers Western Conference semifinal was finished, pundits were understandably irked by the Lakers' effort. After all, it's not every day that the two-time defending NBA champs get blown out 122-86 in an elimination game in the playoffs, while getting two players kicked out for unnecessary and stupid fouls.
But, one pundit who had harsh words for the Lakers and their efforts came as a bit of a shock: Earvin "Magic" Johnson, former star point guard for the Lakers, Hall of Fame inductee, and current ESPN analyst.
Johnson ripped the team a new one on air on Sunday, calling the team's play "classless", and calling the behavior of big men Lamar Odom and Andrew Bynum "embarassing".
Per Magic's angry rant:
In Game 4 the Los Angeles Lakers embarrassed the organization by getting blown out by the Dallas Mavericks. Classless acts on physical fouls by Lamar Odom and Andre Bynum that should have never happened. You have to show class when you win, and you have to show class when you lose and the Lakers did not show class in Game 4.
Strong words from a man who once managed to get his own head coach fired with his petulant behavior.
Must Read: NBA Draft 2011: The Top 50 Big Board and Where Every Player Could Get Drafted.
In fact, it seems a bit hypocritical to me for a guy who, for a good portion of the early part of his career, was seen as a petulant superstar and a diva by many fans, a guy who chased a head coach out of Los Angeles.
I realize that Magic eventually got himself sorted out, but at the same time, he can't mean a word he's saying in this clip. He's reading off a teleprompter, for Pete's sake! If he meant it, it wouldn't sound like a robot was ripping into the Lakers effort.
Am I defending the Lakers? Hardly; the way they played was classless, and frankly, Magic is right about pretty much everything he says. The only problem is, he seems to have forgotten some of his own issues with the team over the years, while simultaneously reading off of a teleprompter in the least convincing way possible.
I'd be less inclined to rip Magic for ripping the Lakers if I thought he believed a word of what he said. But, by failing to put any emotion into what he was saying, he makes it incredibly difficult to believe a word of it.
I'll say this for Magic; for all the times he acted like a diva in the early part of his career, he always showed up when his team needed him to. That's just a fact, plain and simple. Magic always played hard, even when he was clashing with his coach.
But, at the same time, reading such a disingenuous script here implies that Johnson doesn't buy a word of what he's saying, and in the end, that does make him sound like a hypocrite here.
Most recent updates:
This article is
What is the duplicate article?
Why is this article offensive?
Where is this article plagiarized from?
Why is this article poorly edited?