Manny Pacquiao: Why Teaming Up with Paris Hilton Is a Terrible Idea for Pacman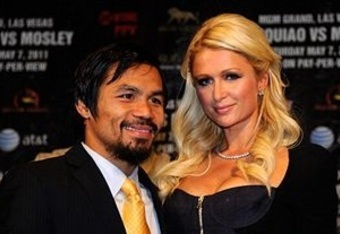 Manny Pacquiao Seen With Paris Hilton, but Teaming Up with Heiress on Resort Project Will Only End in Disaster
In one of the more terrifying moments of the weekend, boxing superstar Manny Pacquiao was seen hanging out with Los Angeles socialite/reality television star Paris Hilton at the press conference after his demolition of Shane Mosley on Saturday night.
Before you start ranting about how cheating on his lovely wife with one of the least talented "actresses" Hollywood has ever seen is a terrible idea, don't worry—Pacman wasn't hanging out with Paris for that. Instead, it was Hilton who sought out the boxer, in the hopes of getting his help with a new business venture she's starting.
According to a report, Hilton is looking at opening a series of "Paris Hilton Beach Club" resorts in the Phillipines, and is hoping Pacman wants to get in on the fun.
But, if Manny's smart, he'll stay as far away from this business venture as is humanly possible. Hilton has yet to show herself as a strong businesswoman, and this is the first time she's shown any interest in continuing the family business.
Remember, Paris has never been the sharpest knife in the drawer (remember when she didn't know what Wal-Mart was on her reality show? Or how her response to everything is "that's hot"?), and frankly, this venture seems like it could be big trouble.
Must Read: Manny Pacquiao: Ranking His Top 10 Victories.
Given the fact that Hilton has seen her popularity nosedive in recent years, this feels doomed to failure. Banking on her name to help build the brand's success is not going to end well, and if Pacman invests, it could wind up costing him plenty.
So far in his career, Manny has made very few missteps from a boxing or corporate standpoint. He's done a fantastic job of building his brand, and he's beloved in the Phillipines, where he's been elected to Parliament on a platform of fighting poverty.
But, by pairing with Hilton, he could undermine much of the political credibility and corporate bankability he's built up.
Maybe he and his wife, Jinkee, are just friends with the socialite, and if so, that's great. But, jumping into a business partnership with Paris feels like a dangerous venture, and one that Pacman would be wise to avoid.
Sure, it could turn out great (after all, Paris does know how to party, and her family's hotels and resorts are world famous), but to me, the risk is too great for Manny to take.
Most recent updates:
This article is
What is the duplicate article?
Why is this article offensive?
Where is this article plagiarized from?
Why is this article poorly edited?