Andrew Bynum: Will Lakers' Bynum Ever Be a Bona Fide Star in NBA?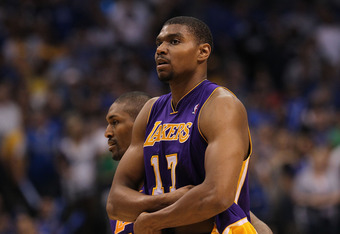 Andrew Bynum Disappoints Lakers Fans Yet Again, Will He Ever Blossom Into Bona Fide NBA Star?
As the Los Angeles Lakers crashed unceremoniously out of the postseason on Sunday, with a 122-86 beatdown courtesy of the Dallas Mavericks, familiar questions began popping up around a particular Laker starter.
Center Andrew Bynum delivered yet another ineffective performance, posting just six points and six rebounds, and managing to get himself tossed early in the fourth quarter with a vicious elbow to the chest of Mavericks point guard J.J. Barea.
Bynum has long been seen as a potential superstar, but has yet to fully deliver on the hype. After yet another lackluster showing, is he destined to be a bust, or can he finally emerge as the superstar the Lakers hope he can be?
The potential is still there; Bynum has flashed skills throughout his NBA career on both ends of the court, showing skill offensively and defensively to make plays. He's got good athleticism, and can be a force scoring, blocking shots or pulling down rebounds. He's shown flashes of greatness in the past, and he's still only 23, so there's still time for him to grow into a superstar.
But, for all his potential, there are plenty of red flags on Bynum's resume, as well. He can't stay healthy, having played 82 games all of once in his career. On top of that, he manages to injure his knees on a constant basis, and a big man with bad knees is big trouble. The injuries may have sapped some of his potential, but Bynum's still got plenty to spare, right?
Must Read: 2011 NBA Mock Draft: Will Brandon Knight Crack the Top 5?
While that may be true, we saw more of the immaturity that has flared up on occasion in Bynum's game on Sunday night. Clearly frustrated with his own play and that of his teammates, the big man laid Barea out with a vicious unnecessary elbow while the pint-sized guard was in mid-air and completely defenseless.
This isn't the first time Bynum has done something puzzlingly stupid like that, either. He's managed to get himself in trouble on occasion over the course of his career, letting his temper get the best of him. He has yet to find consistency in his game, and the immaturity he's shown in his career to this point is incredibly troubling.
Sure, there's still time for Bynum to mature, but between the amount of time he's spent in the league (six seasons now) and the injury issues (a constant struggle that has yet to slow down in any way), there's an equally good chance that Bynum has fully developed.
Perhaps, given his immaturity and lack of consistency, he'll always be a good—but never great—player, a guy best suited to averaging 15 points and 10 rebounds as the team's second or third option.
Of course, I could be wrong; maybe next season, he'll break out and run roughshod over the league. But, given what we've seen from him so far, the fact is that the window is closing. At this point, after six seasons, it's looking more and more like Bynum is never going to be a star.
Most recent updates:
This article is
What is the duplicate article?
Why is this article offensive?
Where is this article plagiarized from?
Why is this article poorly edited?