Roger Goodell: Why His Antics Make NFL Fans Long for Paul Tagliabue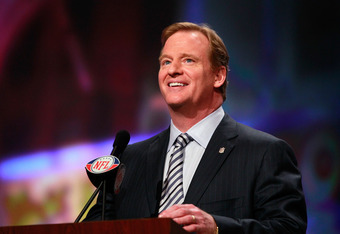 Roger Goodell Continues to Try and Convince Fans He's on Their Side, but All He's Done Is Make Them Wish for Paul Tagliabue
Over the last week or so, the NFL's embattled commissioner, Roger Goodell, has taken to the airwaves and headlines once again, trying to convince fans he's on their side. Most recently, Goodell used a series of conference calls with various fanbases in the NFL to try and convince them that he's playing for them in the current labor dispute.
Instead, all he's done is make fans long for the days of Paul Tagliabue as commissioner.
Remember Mr. Tagliabue? The man who managed to usher in the most lucrative period in NFL history, who managed to successfully negotiate a collective bargaining agreement that was beneficial to both sides (even if the owners might not like how beneficial it was to them)?
Goodell's been trying to play the P.R. game during this lockout, continually paying lip service to the fans, without actually making an effort to get things going. In fact, Goodell seems perfectly content to continue to try to talk fans into believing he's opposed to the lockout and wants football next season, rather than simply sitting down at the negotiating table and getting things rolling again.
Don't forget, no one is forcing Goodell and the league's owners to continue to appeal Judge Nelson's decision, just like no one forced them to initiate the lockout in the first place. Goodell and the owners continue to claim they're working for the good of the sport, but if they were, wouldn't this lockout be over by now?
Must Read: The Top 100 NFL Quarterbacks of 2011.
The fact is, were Tagliabue still in charge, it wouldn't be like this. The former commissioner seemed to have the best interest of the league in mind when he negotiated a collective bargaining agreement, working through direct negotiation with both sides to come to a mutually beneficial conclusion. We wouldn't have seen the verbal war that has gone on in the press were Tags still in charge, and even if the old CBA had still expired, we probably would have had a new one by now.
Instead, we're stuck with Goodell, still trying to spin this to make the league and its greedy owners look like the good guys, conveniently ignoring the fact that they locked the players out in the first place.
What he fails to realize is that fans aren't idiots (at least, most of them aren't), and that they recognize who initiated all of this, who continues to fight for a lockout that only occurred because a few owners felt like they "lost" the last round of negotiations, despite the fact that they were still making billions of dollars in revenues.
Until fans see the NFL actually trying to negotiate, trying to come to a compromise, we won't see many fans taking the league's side.
Fans want results. They don't want someone standing in front of them, answering their boos with "I hear you," unless he's actually shown at the negotiating table that he hears them.
In the end, all Goodell has managed to do is show fans that he talks a good game, but can't back it up. For all his faults, Tagliabue wouldn't have let the league get to this point. He would have shut up and gone back to the bargaining table, finding a compromise that actually works for both parties.
By failing to do that, Goodell has managed to make fans wish Tags was back in charge.
Most recent updates:
This article is
What is the duplicate article?
Why is this article offensive?
Where is this article plagiarized from?
Why is this article poorly edited?