Brett Favre: Why Brett Favre Is Destined to Fail as a Football Coach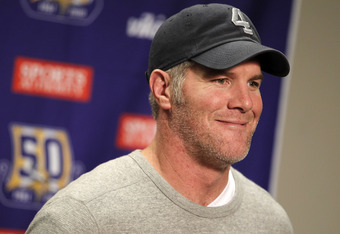 Brett Favre Mentions Coaching as Potential Post-Retirement Career, but That Sounds Like a Terrible Idea
Former Minnesota Vikings quarterback Brett Favre found himself in an unfamiliar position late last week: discussing his potential post-retirement plans without talking about a potential comeback.
In fact, over the course of the interview, Favre didn't say the words "I might still come back" in any way, shape, or form, something that should be a relief to NFL fans everywhere (and Pedro Gomez, who is thrilled not to be camping on Favre's lawn this year).
However, that doesn't mean there wasn't food for thought, as Favre mentioned two potential careers he could pursue, including coaching at some point.
Wait, what?
Yep, you read that right; Favre told reporters that he would consider getting into the game as a coach at some point in the future.
Per Favre's interview:
"Could be coaching, could be TV," Favre told WDAM-TV. "Both of those are probably unlikely, at least anytime soon."
While Favre could be a hit in the broadcast booth, I can't think of a worse idea for Favre's new career (other than perhaps cell phone camera pitchman) than coaching.
Must Read: The Top 100 NFL Quarterbacks of 2011.
This is a guy who never seemed to mesh with his coaches during his entire NFL career. Favre was never one to stick to an offensive script, often calling audibles at the line of scrimmage and going rogue. He frequently seemed to get bored during games, deciding, "Screw the plan, I'm bored. Let's try to throw this one into triple coverage and see what happens."
How does Favre's style of play make him a good choice as a potential coach? He's not a Peyton Manning or Tom Brady, a player who breaks down opposing defenses and finds the holes; he's more of a "relying heavily on my incredible arm" kind of a player.
I don't know about you, but the idea of Favre mentoring my young quarterbacks sounds like a terrifying prospect. For all the good things he did, he managed to cancel plenty of them out with brain farts, poor choices and occasional clashes with coaches over game plans.
There's a good chance Favre would teach the young quarterbacks terrible habits, like throwing into triple coverage. In fact, Favre sounds like the last person you'd want in charge of your team's young quarterbacks (other than Jon Gruden, of course).
Sure, having Favre as a coach could work. He was a great quarterback, who has considerable knowledge to pass on to a potential young signal-caller, and if he's figured out that some of his mistakes were in fact mistakes, he could be a great asset.
But, given all the potential potholes he presents, do you really want to take the risk?
Most recent updates:
This article is
What is the duplicate article?
Why is this article offensive?
Where is this article plagiarized from?
Why is this article poorly edited?