NBA Playoffs 2011, Brett Favre, Chicago Bulls and Monday's Top Sports News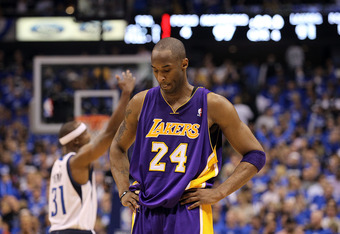 Ronald Martinez/Getty Images
The 2011 NBA Playoffs will crown a new champion for the first time in two years and could see a new team take home a title for the first time in three seasons.
The two-time defending champion Los Angeles Lakers crashed out of the postseason as ingloriously as is humanly possible, falling completely apart in a Game 4 dismantling at the hands of the Dallas Mavericks, while the Boston Celtics still trail the Miami Heat by a game in their series.
Few teams have delivered a showing as unimpressive as the one submitted by Kobe and company in Game 4. Thanks to their colossal defensive inadequacies, the Lakers found themselves down 24 points at the half and never managed anything resembling a comeback.
The Lakers' Game 4 performance ranks as the most lackluster showing by a defending champ in recent memory. It was like they'd given up and weren't even trying to win after the first quarter, and as a result, they got buried.
If that's not enough for you to whet your sports appetite, Brett Favre has talked about potentially coaching (which sounds like a terrible idea to me) or getting in the broadcast booth (a fantastic idea) at some point.
Right now, though, he seems to be preparing for another offseason of "I might be coming back" drama, lockout or not.
On top of that, the Chicago Bulls managed to give away Game 4 to the Hawks thanks to a defensive letdown down the stretch. Now they head to Chicago for Game 5 and another chance to take control of the series.
In other words, it's shaping up to be a wild day in the world of sports.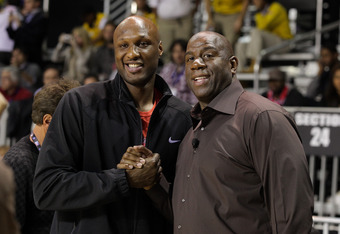 Magic Johnson Calls Lakers "Classless", Rips Their Performance In Game 4, But Is He A Hypocrite?
When Game 4 of the Los Angeles Lakers Western Conference semifinal was finished, pundits were understandably irked by the Lakers' effort. After all, it's not every day that the two-time defending NBA champs get blown out 122-86 in an elimination game in the playoffs, while getting two players kicked out for unnecessary and stupid fouls.
But, one pundit who had harsh words for the Lakers and their efforts came as a bit of a shock: Earvin "Magic" Johnson, former star point guard for the Lakers, Hall of Fame inductee, and current ESPN analyst.
Johnson ripped the team a new one on air on Sunday, calling the team's play "classless", and calling the behavior of big men Lamar Odom and Andrew Bynum "embarassing".
Per Magic's angry rant:
In Game 4 the Los Angeles Lakers embarrassed the organization by getting blown out by the Dallas Mavericks. Classless acts on physical fouls by Lamar Odom and Andre Bynum that should have never happened. You have to show class when you win, and you have to show class when you lose and the Lakers did not show class in Game 4.
Strong words from a man who once managed to get his own head coach fired with his petulant behavior.
Must Read: NBA Draft 2011: The Top 50 Big Board and Where Every Player Could Get Drafted.
In fact, it seems a bit hypocritical to me for a guy who, for a good portion of the early part of his career, was seen as a petulant superstar and a diva by many fans, a guy who chased a head coach out of Los Angeles.
I realize that Magic eventually got himself sorted out, but at the same time, he can't mean a word he's saying in this clip. He's reading off a teleprompter, for Pete's sake! If he meant it, it wouldn't sound like a robot was ripping into the Lakers effort.
Am I defending the Lakers? Hardly; the way they played was classless, and frankly, Magic is right about pretty much everything he says. The only problem is, he seems to have forgotten some of his own issues with the team over the years, while simultaneously reading off of a teleprompter in the least convincing way possible.
I'd be less inclined to rip Magic for ripping the Lakers if I thought he believed a word of what he said. But, by failing to put any emotion into what he was saying, he makes it incredibly difficult to believe a word of it.
I'll say this for Magic; for all the times he acted like a diva in the early part of his career, he always showed up when his team needed him to. That's just a fact, plain and simple. Magic always played hard, even when he was clashing with his coach.
But, at the same time, reading such a disingenuous script here implies that Johnson doesn't buy a word of what he's saying, and in the end, that does make him sound like a hypocrite here.
This article is
What is the duplicate article?
Why is this article offensive?
Where is this article plagiarized from?
Why is this article poorly edited?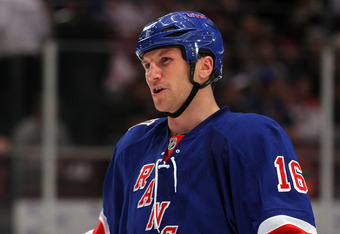 Sean Avery Gay Marriage PSA Was the Right Move From Rangers Wing
Sean Avery of the New York Rangers has long had a well-deserved reputation as a pest. The undersized wing has long been an irritant under opponents' (and occasionally teammates and coaches) skin, starting plenty of fights and becoming quite the lightning rod for controversy.
But, after releasing a public service announcement supporting gay marriage last week, Avery found himself broaching new territory.
After all, for a guy who has long been maligned as an irritant and a pest his entire career, being credited for doing the right thing isn't exactly familiar territory. But that's exactly what Avery has done by shooting the announcement.
We shouldn't be all that surprised by Avery's place in the video; after all, the motormouthed wing has never been afraid to speak his mind, even when it's in his best interest not to. But, for Avery to join other athletes in speaking out for the GLBT community is a great move for him.
Must Read: NHL Playoffs 2011: Ranking the Best Rookie Performances of the Postseason.
We all know the controversy that surrounds this issue. There are millions of Americans on both sides of the debate (although, recent polls indicated that the tide of public opinion is swinging slowly in favor of the movement to allow gay marriage). Having a big name like Avery (even if many aren't a fan of him) speaking out in favor of gay marriage is a major win for the movement.
Avery remains one of the league's tough guys. The wing logged 174 penalty minutes last season, most of which came from fighting, and has a reputation as a bad boy.
By standing up in favor of gay marriage, Avery is helping to dispel the stigma of homophobia surrounding professional sports. He's helping to show that while there are many athletes out there in favor of helping to end discrimination, and as a New York athlete, he's putting himself on the line more than many.
Avery's showing he's not afraid of the threats sure to come from this PSA, that he's ready to take the abuse sure to be launched by opposing fans (and probably even some players).
In the end, Avery's video was the right thing to do. He's standing up for what he feels is an injustice, and working to fix it. I've never been an Avery fan; I thought he was a pest and a troublemaker. But, after this video, that opinion is softened a bit. Is he still a pest? Sure; but he's a pest who wants to fix an injustice, and for that he should be commended.
Good job Sean. Now, don't go and screw it up by talking about Elisha Cuthbert again, okay?
This article is
What is the duplicate article?
Why is this article offensive?
Where is this article plagiarized from?
Why is this article poorly edited?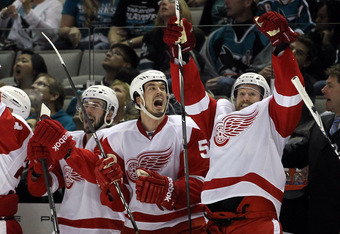 Red Wings Rally to Take Game 5 From Sharks, Put San Jose On Hot Seat
For two periods on Sunday night, the San Jose Sharks looked poised to put the Detroit Red Wings out of their misery once again. After falling 4-3 in Game 4 to see their series lead slim to 3-1 instead of 3-0, the Sharks looked to have the Wings dead to rights. They held a 3-1 advantage early in the period, and had outplayed Detroit in every facet of the game.
But a funny thing happened on the way to elimination for the Wings: They woke up. They finally exploited San Jose's shaky blue line and blasted through Antti Niemi for three third period goals, reminding everyone what they were capable of. By the time the dust settled, Detroit owned a 4-3 win, had cut their deficit in the series to just one game, and looked to have completely transformed the feeling of this series.
Consider that on Friday, Detroit's looked hopless, trailing 3-0 in the series and being generally outplayed by San Jose. Now, they trail the Sharks by a single game, heading back to Detroit with a chance to even the series and suck the last of San Jose's momentum out of their sails.
If you're the Sharks, this is not what you wanted to see. By blowing a winnable Game 5, the Sharks managed to let Detroit back into the series. After the game, the Sharks seemed slightly shellshocked by what had just happened, their energy and confidence gone.
Must Read: NHL Playoffs 2011: Ranking the Best Rookie Performances of the Postseason.
Considering San Jose's collapses in years past, I'd say Game 5 makes the Sharks underdogs going forward, even if they still hold the series lead and home ice advantage.
Suddenly, the Red Wings are awake and fighting. Suddenly, Jimmy Howard is stopping 39 shots and looks virtually unbeatable.
The fact of the matter is that Detroit is not the kind of team you can afford to give these kinds of second chances to. They're a veteran team capable of riding this kind of momentum, and by coughing up back to back games, San Jose has re-opened the doubts of fans everywhere.
That's not to say the Wings are a lock to win; the Sharks still have an explosive offense, and a goaltender in Niemi capable of getting on a phenomenal run.
In the end, this series is now Detroit's to lose. They hold the momentum, they have the chance to tie the series, and they showed us all on Sunday that they won't be intimidated by San Jose's raucous crowd. The Sharks are officially in trouble, and unless they can win in Game 6 in Detroit, I don't think they have what it takes to finish the job in Game 7.
This article is
What is the duplicate article?
Why is this article offensive?
Where is this article plagiarized from?
Why is this article poorly edited?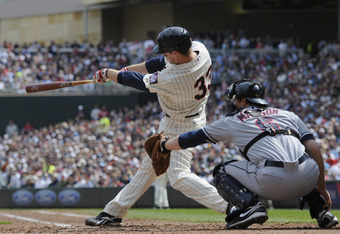 Minnesota Twins' Early-Season Struggles Continue, but Will They Get Back on Track Soon?
The 2011 season was not supposed to be like this for the Minnesota Twins. They had a deep pitching staff, a potent lineup, and two of baseball's best hitters healthy and ready to roll, in Justin Morneau and Joe Mauer.
But, through 32 games of the season, the Twins find themselves reeling. They're 12-20 on the year, stuck in fourth place in the AL Central, 9.5 games out of first place, and have lost seven of their last 10 games overall.
Is there any hope for the Twins? Can they get this season back on track, or are they doomed to their worst finish since 2000?
So far, things aren't looking good in Minnesota. Francisco Liriano and Carl Pavano both have ERAs over 6.00, and that's after Liriano's no-hitter last week. The bullpen has a few bright spots, but with Joe Nathan still struggling to find his form, even that has been lackluster.
As for the offense, the Twins have struggled with consistency at the plate, while injuries have sapped the life out of the lineup. Promising second baseman Tsuyoshi Nishioka is gone for the season, while superstar catcher Mauer is battling leg weakness.
Justin Morneau and Delmon Young have both struggled, and the Twins can't find much consistency from anyone other than outfielder Jason Kubel.
Must Read: MLB Trade Speculation: Quick Fixes for All 30 MLB Teams.
But, that doesn't mean there's no hope in Minnesota. It's hard to see Young and Morneau hitting .228 and .202, respectively, for the rest of the season, and once Joe Mauer returns to the lineup (although we don't know when that will be), things will look much brighter for the Twins.
Jason Kubel has been hitting the cover off the ball all season, and for the most part, other than Liriano, Pavano and Nathan, the rotation hasn't been bad at all.
The bullpen remains fairly stable and surprisingly deep for a team that lost a good portion of its relievers to free agency, and frankly, this team doesn't feel out of the race yet.
Sure, the Indians are running away with the division, but we're not even two months into the season yet, and the Twins are fully capable of figuring themselves out at the plate and going on a tear.
I don't think Minnesota is out of this race by a long shot. This team is as tough as they come, and they've looked better in recent days. It's not going to be easy, but let's not rule the Twins out of this race until Joe Mauer is back behind home plate.
If they continue to struggle then, we can safely say they're in deep trouble. But until Mauer is back, this team can't be fully judged.
In the end, our best course of action is to wait and see with Minnesota. They can still turn things around, and with more than two-thirds of the season left to play, it's hard to rule them out yet.
This article is
What is the duplicate article?
Why is this article offensive?
Where is this article plagiarized from?
Why is this article poorly edited?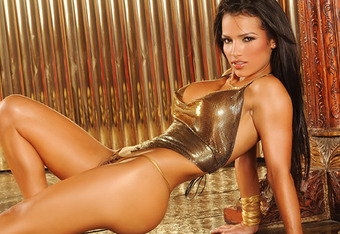 Shane Mosley Girlfriend Delivers Knockout Showing at Manny Pacquiao Fight, but Where Does Bella Gonzalez Rank Among Boxing WAGs?
Shane Mosley's performance against Manny Pacquiao may have ranked as one of the most disappointing showings in recent boxing history, but his girlfriend, Bella Gonzalez, delivered a serious knockout performance.
After all, despite being on camera for a grand total of 25 seconds during the bout, Gonzalez still managed to bring the kind of smolder that made people wonder "Who is that?"
Gonzalez is a 21-year-old model based in Los Angeles who hadn't really made a splash on the WAG scene (or any scene, for that matter), prior to Saturday night.
But, after vaulting herself into the smoldering WAG ranks of the boxing world (and the sports world in general), where does she rank? Is she the hottest WAG in all of boxing?
Must Read: Power Ranking the Most Blinged out WAG Rings in Sports.
Unlike many sports, the boxing WAG ranks aren't terribly deep, so it's not tough to vault into the top five. Even so, Gonzalez can clearly bring some serious smolder to the table, and a spot in the top two is very well-deserved. But, can she top Hayden Panettiere?
The WAG of heavyweight boxer Wladimir Klitschko, Panettiere is currently the standard for boxing WAGs, and delivers a strong showing against other, non-boxing WAGs. She's funny, smart and clever, and while Gonzalez brings some serious smolder, we just don't know enough about her yet to really say for sure whether she's enough of the complete package to actually take the blonde bombshell starlet out of the top spot.
Even so, Gonzalez has delivered a stellar early offering as one of the most promising young WAGs in sports, and certainly deserves no worse than a close second-place finish to Panettiere.
In the end, this brunette bombshell brings the smolder in a big way, and should remain one of the hottest WAGs in the sport for quite some time.
This article is
What is the duplicate article?
Why is this article offensive?
Where is this article plagiarized from?
Why is this article poorly edited?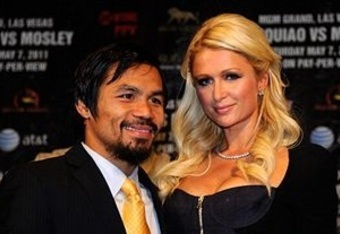 Manny Pacquiao Seen With Paris Hilton, but Teaming Up with Heiress on Resort Project Will Only End in Disaster
In one of the more terrifying moments of the weekend, boxing superstar Manny Pacquiao was seen hanging out with Los Angeles socialite/reality television star Paris Hilton at the press conference after his demolition of Shane Mosley on Saturday night.
Before you start ranting about how cheating on his lovely wife with one of the least talented "actresses" Hollywood has ever seen is a terrible idea, don't worry—Pacman wasn't hanging out with Paris for that. Instead, it was Hilton who sought out the boxer, in the hopes of getting his help with a new business venture she's starting.
According to a report, Hilton is looking at opening a series of "Paris Hilton Beach Club" resorts in the Phillipines, and is hoping Pacman wants to get in on the fun.
But, if Manny's smart, he'll stay as far away from this business venture as is humanly possible. Hilton has yet to show herself as a strong businesswoman, and this is the first time she's shown any interest in continuing the family business.
Remember, Paris has never been the sharpest knife in the drawer (remember when she didn't know what Wal-Mart was on her reality show? Or how her response to everything is "that's hot"?), and frankly, this venture seems like it could be big trouble.
Must Read: Manny Pacquiao: Ranking His Top 10 Victories.
Given the fact that Hilton has seen her popularity nosedive in recent years, this feels doomed to failure. Banking on her name to help build the brand's success is not going to end well, and if Pacman invests, it could wind up costing him plenty.
So far in his career, Manny has made very few missteps from a boxing or corporate standpoint. He's done a fantastic job of building his brand, and he's beloved in the Phillipines, where he's been elected to Parliament on a platform of fighting poverty.
But, by pairing with Hilton, he could undermine much of the political credibility and corporate bankability he's built up.
Maybe he and his wife, Jinkee, are just friends with the socialite, and if so, that's great. But, jumping into a business partnership with Paris feels like a dangerous venture, and one that Pacman would be wise to avoid.
Sure, it could turn out great (after all, Paris does know how to party, and her family's hotels and resorts are world famous), but to me, the risk is too great for Manny to take.
This article is
What is the duplicate article?
Why is this article offensive?
Where is this article plagiarized from?
Why is this article poorly edited?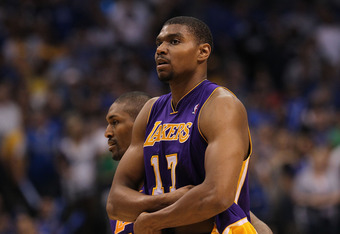 Andrew Bynum Disappoints Lakers Fans Yet Again, Will He Ever Blossom Into Bona Fide NBA Star?
As the Los Angeles Lakers crashed unceremoniously out of the postseason on Sunday, with a 122-86 beatdown courtesy of the Dallas Mavericks, familiar questions began popping up around a particular Laker starter.
Center Andrew Bynum delivered yet another ineffective performance, posting just six points and six rebounds, and managing to get himself tossed early in the fourth quarter with a vicious elbow to the chest of Mavericks point guard J.J. Barea.
Bynum has long been seen as a potential superstar, but has yet to fully deliver on the hype. After yet another lackluster showing, is he destined to be a bust, or can he finally emerge as the superstar the Lakers hope he can be?
The potential is still there; Bynum has flashed skills throughout his NBA career on both ends of the court, showing skill offensively and defensively to make plays. He's got good athleticism, and can be a force scoring, blocking shots or pulling down rebounds. He's shown flashes of greatness in the past, and he's still only 23, so there's still time for him to grow into a superstar.
But, for all his potential, there are plenty of red flags on Bynum's resume, as well. He can't stay healthy, having played 82 games all of once in his career. On top of that, he manages to injure his knees on a constant basis, and a big man with bad knees is big trouble. The injuries may have sapped some of his potential, but Bynum's still got plenty to spare, right?
Must Read: 2011 NBA Mock Draft: Will Brandon Knight Crack the Top 5?
While that may be true, we saw more of the immaturity that has flared up on occasion in Bynum's game on Sunday night. Clearly frustrated with his own play and that of his teammates, the big man laid Barea out with a vicious unnecessary elbow while the pint-sized guard was in mid-air and completely defenseless.
This isn't the first time Bynum has done something puzzlingly stupid like that, either. He's managed to get himself in trouble on occasion over the course of his career, letting his temper get the best of him. He has yet to find consistency in his game, and the immaturity he's shown in his career to this point is incredibly troubling.
Sure, there's still time for Bynum to mature, but between the amount of time he's spent in the league (six seasons now) and the injury issues (a constant struggle that has yet to slow down in any way), there's an equally good chance that Bynum has fully developed.
Perhaps, given his immaturity and lack of consistency, he'll always be a good—but never great—player, a guy best suited to averaging 15 points and 10 rebounds as the team's second or third option.
Of course, I could be wrong; maybe next season, he'll break out and run roughshod over the league. But, given what we've seen from him so far, the fact is that the window is closing. At this point, after six seasons, it's looking more and more like Bynum is never going to be a star.
This article is
What is the duplicate article?
Why is this article offensive?
Where is this article plagiarized from?
Why is this article poorly edited?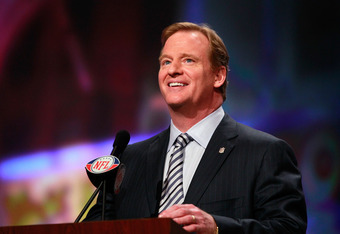 Roger Goodell Continues to Try and Convince Fans He's on Their Side, but All He's Done Is Make Them Wish for Paul Tagliabue
Over the last week or so, the NFL's embattled commissioner, Roger Goodell, has taken to the airwaves and headlines once again, trying to convince fans he's on their side. Most recently, Goodell used a series of conference calls with various fanbases in the NFL to try and convince them that he's playing for them in the current labor dispute.
Instead, all he's done is make fans long for the days of Paul Tagliabue as commissioner.
Remember Mr. Tagliabue? The man who managed to usher in the most lucrative period in NFL history, who managed to successfully negotiate a collective bargaining agreement that was beneficial to both sides (even if the owners might not like how beneficial it was to them)?
Goodell's been trying to play the P.R. game during this lockout, continually paying lip service to the fans, without actually making an effort to get things going. In fact, Goodell seems perfectly content to continue to try to talk fans into believing he's opposed to the lockout and wants football next season, rather than simply sitting down at the negotiating table and getting things rolling again.
Don't forget, no one is forcing Goodell and the league's owners to continue to appeal Judge Nelson's decision, just like no one forced them to initiate the lockout in the first place. Goodell and the owners continue to claim they're working for the good of the sport, but if they were, wouldn't this lockout be over by now?
Must Read: The Top 100 NFL Quarterbacks of 2011.
The fact is, were Tagliabue still in charge, it wouldn't be like this. The former commissioner seemed to have the best interest of the league in mind when he negotiated a collective bargaining agreement, working through direct negotiation with both sides to come to a mutually beneficial conclusion. We wouldn't have seen the verbal war that has gone on in the press were Tags still in charge, and even if the old CBA had still expired, we probably would have had a new one by now.
Instead, we're stuck with Goodell, still trying to spin this to make the league and its greedy owners look like the good guys, conveniently ignoring the fact that they locked the players out in the first place.
What he fails to realize is that fans aren't idiots (at least, most of them aren't), and that they recognize who initiated all of this, who continues to fight for a lockout that only occurred because a few owners felt like they "lost" the last round of negotiations, despite the fact that they were still making billions of dollars in revenues.
Until fans see the NFL actually trying to negotiate, trying to come to a compromise, we won't see many fans taking the league's side.
Fans want results. They don't want someone standing in front of them, answering their boos with "I hear you," unless he's actually shown at the negotiating table that he hears them.
In the end, all Goodell has managed to do is show fans that he talks a good game, but can't back it up. For all his faults, Tagliabue wouldn't have let the league get to this point. He would have shut up and gone back to the bargaining table, finding a compromise that actually works for both parties.
By failing to do that, Goodell has managed to make fans wish Tags was back in charge.
This article is
What is the duplicate article?
Why is this article offensive?
Where is this article plagiarized from?
Why is this article poorly edited?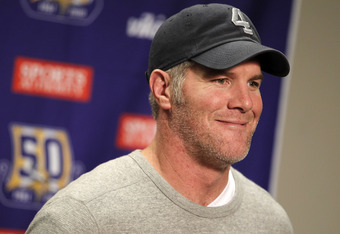 Brett Favre Mentions Coaching as Potential Post-Retirement Career, but That Sounds Like a Terrible Idea
Former Minnesota Vikings quarterback Brett Favre found himself in an unfamiliar position late last week: discussing his potential post-retirement plans without talking about a potential comeback.
In fact, over the course of the interview, Favre didn't say the words "I might still come back" in any way, shape, or form, something that should be a relief to NFL fans everywhere (and Pedro Gomez, who is thrilled not to be camping on Favre's lawn this year).
However, that doesn't mean there wasn't food for thought, as Favre mentioned two potential careers he could pursue, including coaching at some point.
Wait, what?
Yep, you read that right; Favre told reporters that he would consider getting into the game as a coach at some point in the future.
Per Favre's interview:
"Could be coaching, could be TV," Favre told WDAM-TV. "Both of those are probably unlikely, at least anytime soon."
While Favre could be a hit in the broadcast booth, I can't think of a worse idea for Favre's new career (other than perhaps cell phone camera pitchman) than coaching.
Must Read: The Top 100 NFL Quarterbacks of 2011.
This is a guy who never seemed to mesh with his coaches during his entire NFL career. Favre was never one to stick to an offensive script, often calling audibles at the line of scrimmage and going rogue. He frequently seemed to get bored during games, deciding, "Screw the plan, I'm bored. Let's try to throw this one into triple coverage and see what happens."
How does Favre's style of play make him a good choice as a potential coach? He's not a Peyton Manning or Tom Brady, a player who breaks down opposing defenses and finds the holes; he's more of a "relying heavily on my incredible arm" kind of a player.
I don't know about you, but the idea of Favre mentoring my young quarterbacks sounds like a terrifying prospect. For all the good things he did, he managed to cancel plenty of them out with brain farts, poor choices and occasional clashes with coaches over game plans.
There's a good chance Favre would teach the young quarterbacks terrible habits, like throwing into triple coverage. In fact, Favre sounds like the last person you'd want in charge of your team's young quarterbacks (other than Jon Gruden, of course).
Sure, having Favre as a coach could work. He was a great quarterback, who has considerable knowledge to pass on to a potential young signal-caller, and if he's figured out that some of his mistakes were in fact mistakes, he could be a great asset.
But, given all the potential potholes he presents, do you really want to take the risk?
This article is
What is the duplicate article?
Why is this article offensive?
Where is this article plagiarized from?
Why is this article poorly edited?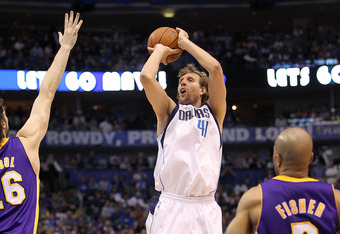 NBA Playoffs 2011 See Dallas Mavericks Sweep Los Angeles Lakers Out of Postseason, but Are They Legitimate Playoff Contenders?
If someone had told you at the start of the NBA playoffs 2011 series between the Dallas Mavericks and the Los Angeles Lakers that someone was going to get swept, you would have bet it would be Dallas. Be honest; few thought the one-man show in Dallas was actually capable of beating the mighty Lakers in seven games, and if the Lakers figured out how to slow Dirk, a sweep was very much a possibility.
Instead, we saw the Mavs put on a clinic through four games, stymieing the Lakers' offensive firepower, while using their own balance to put an end to L.A.'s two-time title defense. Things came to a head in Game 4, when Dallas put the clamps on the Lakers, while using an aerial bombardment from three-point range seldom seen in the postseason to slam the door on any hope L.A. had of mounting a rally.
Many pundits now see Dallas as a legitimate title contender, but are they really?
After all, don't forget that this Mavs squad was picked as one of the most likely top seeds to be upset in Round 1, and looked likely to be knocked off by the Lakers in the second round. Now that they're in the Western Conference Finals again, surely they're cruising for a loss, right?
Must Read: 2011 NBA Mock Draft: Will Brandon Knight Crack the Top 5?.
Wrong. The fact is, these Mavs look like legitimate title contenders, thanks in large part to a balanced attack and one of the stingier defenses in the NBA. Led by megastar forward Dirk Nowitzki, who has been sublime this postseason, Dallas has one of the best scorers and toughest matchups in the NBA right now.
But, he's far from the only weapon the Mavs have at their disposal. They've surrounded Dirk with plenty of streaky shooters, from Shawn Marion to Jason Terry, Peja Stojakovic and J.J. Barea. With so many shooters, one would figure that at least two of them will be hitting in any given game, making this team extremely dangerous.
Even if they're not, the Mavs don't need to be a high scoring team, thanks to their suddenly stingy defense.
Dallas' defense is the reason they're here, plain and simple. Their 2-3 zone has looked excellent this postseason, holding the Lakers offense in check, and is capable of slowing most attacks. They have shot blocker extraordinaire Tyson Chandler in the middle, and good length on the wings in Dirk, Deshawn Stevenson and Shawn Marion.
The fact is, the Mavs are deep, talented and versatile, with the defensive skill to grind out a low-scoring win, and the athleticism to run with the faster teams in the NBA.
On top of that, the remaining Western Conference squads, the Oklahoma City Thunder and Memphis Grizzlies, are both lower seeds than Dallas, giving the Mavs' title contender status even more credence.
In the end, given the way they dismantled the Lakers in the second round, it's hard to argue the Mavs aren't title contenders at this point. They're surprisingly deep (although, other than Nowitzki, they lack another true star) and versatile, and have shown great toughness in this postseason, something they've lacked in years past.
Given the way they've played, they're definitely title contenders moving forward.
This article is
What is the duplicate article?
Why is this article offensive?
Where is this article plagiarized from?
Why is this article poorly edited?