NFL Trade Rumors: Albert Haynesworth Could Find a New Home in Denver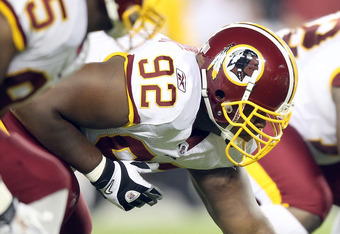 Troubled DT Has a Lot to Prove in 2011
Albert Haynesworth is in a bad situation, and he has no one to blame but himself for it. His career with the Washington Redskins is over—the question is if he can restart his career somewhere else.
Haynesworth has a ton of talent, but he is one of those players who chooses to only use his talents when he feels like it. As a result, he now has the reputation of a "me first" player who is a lousy teammate.
Still, the Redskins would like to get something in return for their $100 million investment. Rumors during the draft surfaced that he could find his way to Denver in exchange for Kyle Orton. It makes sense since Denver has Tim Tebow and the Redskins need a quarterback.
That proposed trade was filling the Denver radio airwaves during the draft and I know why it was talked about. Denver didn't take a defensive tackle and Washington didn't take a quarterback despite great need at the position for both teams. Consider that both Orton and Haynesworth could easily be traded, it's easy to connect the dots. Still, Haynesworth has character issues and he'd be plenty expensive. I don't know if Denver would jump on this deal."
The harsh truth the Redskins may have to face is Hayneworth will end up being a complete loss. Haynesworth could end up in Denver, but it will be because he was released and passed on by every other team before Denver picks him up at a price they are willing to pay.
Haynesworth promised the Redskins last year he would be a team player, took their money, and promptly reneged on the deal by refusing to attend minicamps and then showing up to training camp out of shape.
His work ethic was questionable at best once he was with the team, and his refusal to play has been well-documented.
So this is the guy the Broncos could end up with. The sad thing even if it is not Denver, it will be someone else.
Most recent updates:
This article is
What is the duplicate article?
Why is this article offensive?
Where is this article plagiarized from?
Why is this article poorly edited?