Mavericks Dirk Nowitzki Likely Turned in Most Efficient Big Game in NBA History
May 19, 2011
Tom Pennington/Getty Images
Bill Simmons had an interesting tweet about one of the greatest performances in NBA history turned in during Game 1 of the 2011 Western Conference finals by Dirk Nowitzki:
"48 points, 3 missed shots total (FG + FT). We need a stat like 'points per miss' to see if that's a record for a 40+ point game."
Well, I believe it is. In fact, I believe it is a record in efficiency for any NBA game in which one player scores more than 40 points.
Basically, the stat is tabulated by dividing a player's misses from both the field and free throw line by his total points, indicating how efficiently and effectively he scored.
Dirk led the NBA's top 23 scorers this season in that category during the entire season with a PPM of 2.72, according to Jerod on Midwest Sports Fans. The next most efficient was Paul Pierce at 2.62. Kevin Durant and LeBron tied for fifth with 2.38, while Derrick Rose was 16th.
So it's not too surprising that Dirk would have one of the more efficient shooting playoff games. But the numbers show it was off-the-charts in effectiveness.
En route to setting an NBA single-game record for most free throws without a miss, Dirk had a points per miss of 16.0 in Game 1. The only 40-point performance I can find that comes close to that is Terry Porter's PPM of 13.7, with 41 points in a 1992 playoff game on 12-14 from the field and 13-14 from the line.
If you want to make the point threshold 35 rather than 40, then Wilt was more efficient in a regular season game in 1967 than Dirk's 2011 feat. Chamberlain went 16-16 from the field and 5-7 from the line for a PPM of 18.5. But he came three points shy of 40.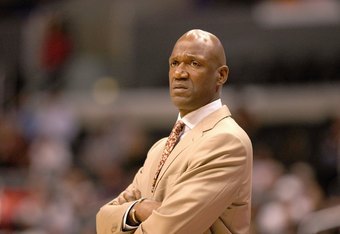 Stephen Dunn/Getty Images
Wilt's 100-point game in 1962 is often thought of to be legendary, but the big guy was not near as effective in that contest with a PPM of a mere 3.2. At the pace Dirk was going in Game 1, he would have hit the century mark with only 32 shots from the field. It took Wilt a whopping 63 shots to make it.
Chamberlain holds the NBA record for most field goals in a game without missing, going 18-18 in a regular season contest in 1967. But he was only 6 of 14 from the line in scoring 42 points for a PPM of 5.25. 
Gary Payton had a perfect game in a 1995 regular season contest for Seattle where he went 14-14 from the field, including one three-pointer, and 3-3 from the line. But he missed reaching the 40-point mark by eight points.
Serge Ibaka of OKC had another perfect game, this time in the playoffs, in 2012 against San Antonio. He was 11-11 from the field and 4-4 from the line, but he only scored 26 points. Don Nelson of Boston also had a perfect playoff game in 1974, with 10-10 from the field and 4-4 from the line for 24 points.
Larry McNeill of the Kings had a 12-12 playoff game in 1975, but he missed a free throw and only tallied 28 points. Other near-perfect performances in playoff games included Scott Wedman of Boston in 1985 [11-11 FG, 4-4 3-pt, 0-2 FT, 26 pts]; and Brad Davis of Dallas in 1986 [8-8 FG, 5-5 3-pt, 5-7 FT, 26 pts].
It was odd that McNeill, Wedman, and Davis could miss free throws in games where they were perfect from the field since they all hit at least 78 percent of their free throws during their careers.
Kobe's 81-point game in 2006 is another one that is often mentioned as extraordinary. In that, Kobe's PPM was 4.1.
How about Michael Jordan? In a 47-point playoff game performance in 1989, MJ's PPM was 4.3.
Larry Bird, known as another sharpshooter? In a 60-point game in 1985, Bird's PPM was 4.0.
Of course, this PPM stat does not really measure the best all-around game. In a 69-point game in 1990, Jordan also had 18 rebounds, six assists and four steals. Nowitzki "only" had six boards, four assists and four blocks to go with his 48 points.
But PPM is an interesting measure of how deadly accurate Nowitzki was in Game 1 in 2011 and lends some historical perspective on Dirk's special accomplishment.