Leaving so Soon?: Why Sean Miller Will Stay at Arizona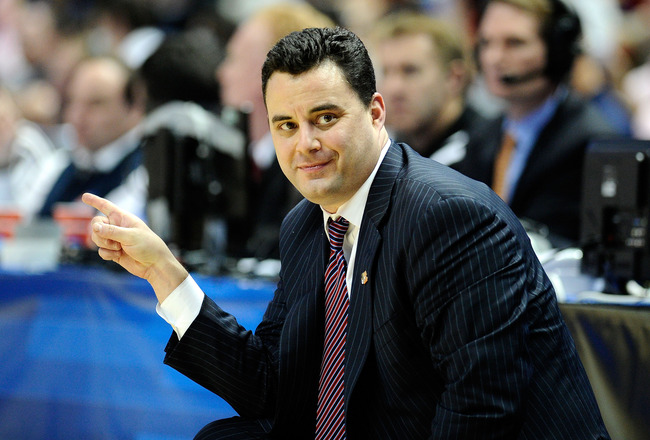 Kevork Djansezian/Getty Images
Recently, Sean Miller has been the subject of the possibility of leaving the University of Arizona just 2 seasons after he came to the desert.
Sean Miller would not be a smart man if he left UA for the Maryland Terrapins. Some MD fans may disagree with me, but the two programs aren't even on the same level.
A couple weeks ago, Miller was linked to another report that he could end up with the NC State job, but Miller quickly dismissed those rumors. I expect nothing different with the Maryland rumors.
8 of 10 Leading Scorers Return of an Elite 8 Team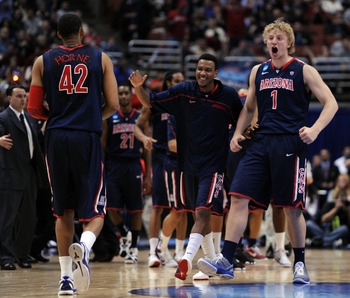 Harry How/Getty Images
4 starters will be returning for the Arizona Wildcats next year, and considering they played UConn as tough as anyone in the tournament, indicates that they will be ready to carry the load Derrick Williams left for next year.
Not many teams have experience to begin with, but going into the 2011-2012 season, UA has 8 players that have played in the Elite 8 or deeper in the tournament. Experience should be a strength of next years team.
If Sean Miller's goal is to win now, there aren't many teams in the nation that are better suited to be dominant the next 5 years than UA. If Miller stays in Tucson, he will be able to build a dynasty on the west coast that will bring recognition back to west coast basketball.
Maryland lost their best player in Jordan Williams to the NBA draft, and he will be a tough man to replace in the paint for the Terrapins.
Top Recruits Are Finding Their Way to Tucson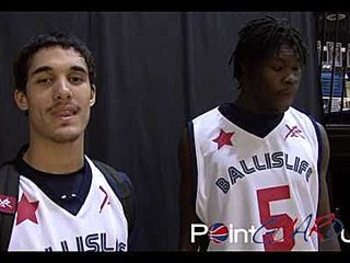 Arizona has one of the top recruiting classes in the nation coming in next year. They already have Grant Jerrett, a top 5 talent in the 2012 class, and guys like Shabbazz Muhammad taking visits.
I just have one question for Miller. How can you walk away from all that talent? If you can grab Muhammad for the 2012 class, that puts you at or near the top of the rankings for that year. With those players, Arizona would be a powerhouse for years to come.
Miller has dominated west coast recruiting. Partially because he doesn't have any other top coaches to compete for recruits with. Put him in the ACC, and all of a sudden he has to compete with Roy Williams and Mike Krzyzewski for recruits. I'd like to know if he could gather the 4th best recruiting class in the nation competing for recruits with those guys.
Maryland isn't exactly Arizona when it comes to program tradition. Miller even said he was amazed how easy it was to sell the Arizona Wildcats brand when it came to recruiting. He won't have that luxury if he goes to Maryland.
Didn't We Already Do This?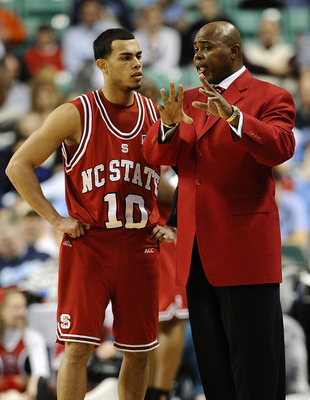 Jeff Zelevansky/Getty Images
When the NC State job opened up earlier this year, many people thought it would be great for Sean Miller to go back where his coaching roots started. Miller quickly dismissed those rumors and got on with coaching Arizona.
What would the world be without rumors? It would be a lot less interesting that's for sure. Rumors have ruined lives, and they have made lives throughout the years. Wasn't Coach K rumored to go to the Lakers after this season, even though he is a couple wins shy of the NCAA record? What this tells us is that there are very non-credible people starting rumors these days.
If Miller turned down the NC State coaching job, I would also expect him to turn down the Maryland job.
Arizona's Tradition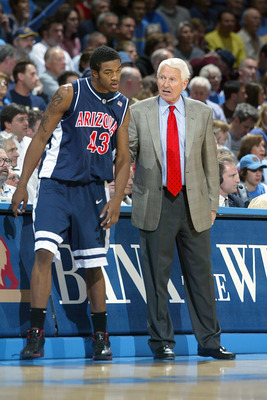 Jeff Gross/Getty Images
Few teams can say that they match the Arizona Wildcats when it comes to program history and tradition. Behind the Duke's and the UNC's of the world is Arizona.
Although another coaching search would land a high-profile coach for UA, not a single fan wants to see Sean Miller leave for Maryland. In large part because it just wouldn't make sense. Arizona tops Maryland in just about every statistic, whether it be from the past, or in the present.
I happen to agree with Lute Olson when he said that he thought Sean Miller was the perfect fit for UA's coaching job. A young coach who can develop less talented players, and a coach that can also recruit with the best programs in the country.
Sean Miller is on the fast track to becoming an elite coach in the nation. Why set yourself back a couple years by leaving?
Maryland Plays in the ACC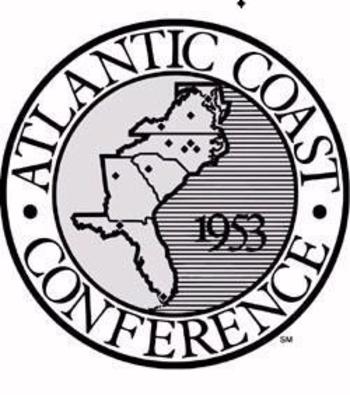 North Carolina is the projected #1 team in the nation next year. Duke has it's usual top recruiting class again. What does this mean? It means neither team is slowing down, and you can expect them to finish 1-2 in the conference for years to come.
It also means that Maryland will be on the outside looking in the the ACC for the next few years, maybe even longer. Sean Miller and Arizona are set to dominate the Pac-12 for the next decade. Would you rather consistently win a good conference, or finish middle of the pack every year in a great conference?
I would rather decorate my home gym with conference championships than finish with a 19-14 on the NCAA tournament bubble. That's the choice Sean Miller has, and if he knows what's best for him, he will stay and dominate the west coast in recruiting and in basketball.
Pac-12's New TV Deal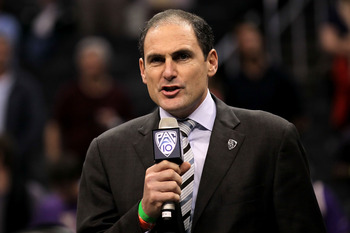 Stephen Dunn/Getty Images
The Pac-12 just came to an agreement with ESPN to broadcast a considerably more amount of games in the upcoming years than it has in years past. This deal will be a huge benefit for Pac-12 teams in terms of recruiting and national recognition.
Going to Maryland, you will always be behind UNC and Duke when it comes to the ACC. When people think back about the Pac-12 in 30 years, they will remember a league dominated by Arizona and UCLA. UA will always be near the top when people go to talk about the Pac-12 and it's best teams.
Rivalries with UCLA, Washington, and Arizona State
Arizona has a heated rivalry with ASU, an old rivalry with UCLA, and a rivalry on the rise with Washington. All three of these rivalries are key in determining the eventual conference champion, and go a long ways when it comes to pride and bragging rights.
Not many teams have rivalries like UA. Each time they play one of those three teams, the crowds are out in full force, each player gives everything they have, and each coach wants to win more than the other guy.
Leaving Arizona would mean leaving one of the best rivalries in the nation with ASU. It is an underrated rivalry, not exactly on the UNC-Duke level, but it is one of the better ones.
If Miller leaves, the rivalries with UCLA and Washington will not be as great as they could've been had he stayed.
Keep Reading

Arizona Wildcats Basketball: Like this team?