MLB Power Rankings: Baseball's 10 Best Game-Day Experiences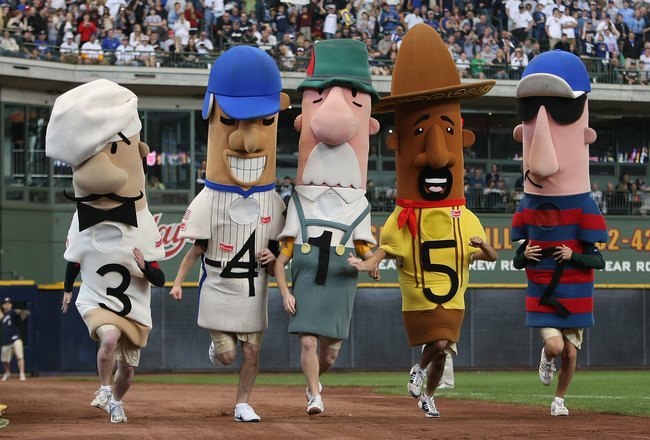 The Klement's "Sausage Race" at Miller Park in Milwaukee
Jonathan Daniel/Getty Images
Everybody loves heading out to the park to watch a ballgame. The only question is, which ballpark would you go to if you had the choice? Most people would just say the home of their favorite team, but if you are a true Major League Baseball fan like I am, then you have other venues on your mind.
Don't get me wrong. As a Yankees fan, I absolutely loved the old Yankee Stadium, and I love the new one just as much. However, I'm dying to visit other parks, and I hope that eventually I can enjoy a career that will allow me to visit ALL of them.
But it's not just the actual stadium that would draw me to a game right now; it's the whole package. Could I get good seats at a reasonable price, or am I likely to sit in the bleachers? How are the home-town fans? Is the team playing well? Have they played well in the past? All of these factors weigh in and are actually very important if the team has not had a successful history.
After all, when it all comes down to it, baseball is a business, and owners need to think outside the box to try to raise attendance unless their last names are Steinbrenner or Henry. So, here are the 10 teams that I think right now are doing the best to provide their fans with the best overall game day experience.
10. Cleveland Indians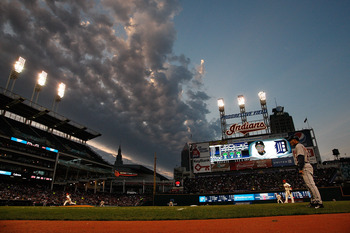 Jared Wickerham/Getty Images
The Cleveland Indians would have ranked near the top of this list back in the late 90s, but with their recent tendency to trade away the majority of their star players, they barely made the cut.
You see, from 1995 to 2001, the Indians set a then-record with 455 straight sellouts at Jacobs Field (which was recently surpassed by the Red Sox), proving that the Indians made coming to the ballpark an enjoyable experience for their fans. This changed relatively quickly however, as two games after Opening Day 2011, the Indians set a record for all-time lowest attendance at 8,726 fans.
However, this too is changing quickly, as the Indians have shocked baseball by having their best start in their history and have shown no signs of slowing down. Since they were previously begging for attendance, the average ticket price is only $18.49, a steal for seats to see the American League's best team play baseball.
9. Pittsburgh Pirates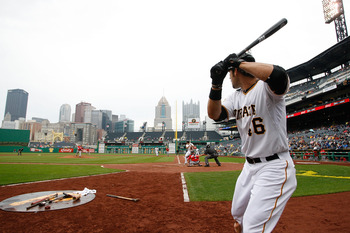 Jared Wickerham/Getty Images
It's no secret that the Pittsburgh Pirates are one of the worst teams in baseball. The elder statesman of their team is first baseman Lyle Overbay at 34 years old, and very few other Pirates are over the age of 30.
However, the team is filled with young talent acquired through early draft picks and trades that have the future of the club looking bright, and young talented players excite fans and make them want to come to the ballpark. This is especially true when you consider that the Pirates have the lowest average ticket price in the MLB at $15.30.
When it costs so little to head to a beautiful new ballpark like PNC Park, fans are going to attend games, regardless of the team's current success. It's not as if the Pirates don't have fans. After all, they have won nine NL Pennants and five World Series titles, although the last ones both came in 1979. However, even if the team isn't doing so well right now, with such cheap ticket prices, the Pirates make it hard not to want to come out to the ballpark and enjoy a game.
8. Arizona Diamondbacks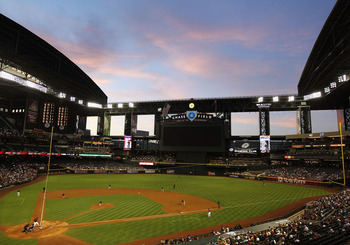 Christian Petersen/Getty Images
The Arizona Diamondbacks are an interesting case for this list. They have only been around since 1998; however, in that time they have enjoyed reasonable success, winning their first World Series championship in only their fourth year of existence in 2001. This success, coupled with the D-Backs having the third-lowest average ticket prices at $15.74, have helped Arizona make their home a welcome place for their fans.
Chase Field is also one of baseball's premier ballparks, sporting such features as a retractable roof, the second largest HD scoreboard in the game and even a swimming pool in right-center field. The Diamondbacks have fallen out of contention recently, but ownership has still done a fine job in making the 2011 season exciting for their fans, as Chase Field will be the host of this year's MLB All-Star Game, the first in Arizona.
7. Tampa Bay Rays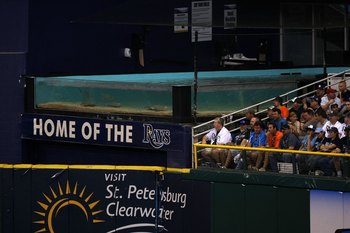 Jed Jacobsohn/Getty Images
The Tampa Bay Rays have quickly established themselves as a legitimate contender after spending the majority of their beginnings in the cellar of the AL East. They came out of nowhere to win the AL Pennant in 2008 and won their second AL East title last season. They lost key players last year, including Carl Crawford, Carlos Pena, Matt Garza and their entire bullpen, but have somehow managed to stay in contention with the New York Yankees thus far.
This lack of star players has put the entire spotlight on third baseman Evan Longoria and starting pitcher David Price, quickly making them two of the most popular players in baseball, and fans want to see popular players. Although unhappy with their current residence at Tropicana Field, they have made the best of their situation and have done their best to make it a fan-friendly ballpark.
The most prominent feature of Tropicana Field is the Rays Touch Tank, a 10,000 gallon tank in right-center field that houses Tampa's native cow nose rays. Fans can feed and touch the rays for free at any time during the game, giving them a unique experience that they cannot find at any other professional sports venue. The Rays' average ticket price is only $19.46, which is quite a bargain to see the level of play that the team has been putting on the field recently. With the budget that the Tampa Bay ownership currently has, it is quite impressive to see how well they have been able to provide for their fans.
6. San Diego Padres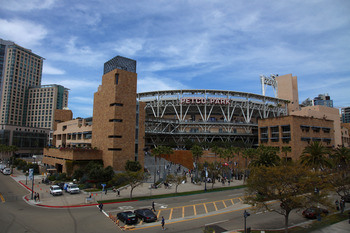 Donald Miralle/Getty Images
The San Diego Padres are another struggling team that has been forced to lower their ticket prices in order to gain attendance. They have an average ticket price of $15.40, which is the second lowest in the major leagues, and for that price, I wouldn't care if the home team lost 12-0; I would still go to the game.
The low prices allow fans to enjoy a game and get that "day at the ballpark" feeling at a reasonable cost. Besides, the Padres do have some exciting young players in Cameron Maybin and Mat Latos, as well as a superstar closer in Heath Bell. After rising into contention last season, fans will probably be more apt to attend games this season, even though the Padres did lose their best player, first baseman Adrian Gonzalez, to the Red Sox in a trade this offseason.
PETCO Park is also a very new stadium, having opened in 2004, and provides fans with the unique opportunity to spend the game at the "Park at the Park" in right-center field. This is an area in which fans can attend the game for only $5 and sit on a grassy area or play in the sand, combining baseball with San Diego's signature beach theme. I know that's where I want to be if I ever make it out to PETCO Park.
5. Philadelphia Phillies
Rob Carr/Getty Images
The Philadelphia Phillies are widely considered to be the best team in baseball this season. Their fans would likely agree, and therefore take any chance they get to head out to Philadelphia to watch a game.
The Phillies' home stadium, Citizens Bank Park, was opened in 2004, so it is one of the newer ballparks, and it has some more modern features. There is a giant Liberty Bell replica in right-center field that "rings" and lights up every time the Phillies hit a home run or win a game. The Phillies' mascot, the "Phillie Phanatic," is one of the most energetic and fan-friendly in the MLB and does a great job pumping up the fans during games.
There is also a Build-A-Bear Workshop at the stadium where fans can buy and stuff their own "Phanatic" doll to bring home as a souvenir. The Phillies' recent success has heavily increased their popularity, and by bringing in superstar pitchers Roy Halladay and Cliff Lee, as well as locking up some of their current stars like Ryan Howard, they have put themselves in a position to win for the next decade. Fans like winning, and with an average ticket price of $36.29, the Phillies had better keep winning and keep their fans interested.
4. Boston Red Sox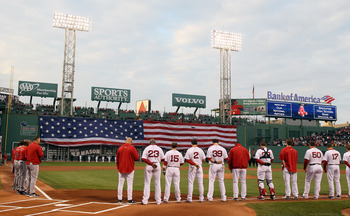 Elsa/Getty Images
As a Yankees fan, I hate saying anything positive about the Boston Red Sox, but I have to give credit where credit is due. The Red Sox do offer one of the best game day experiences in baseball. Fenway Park's distinctive features, such as Pesky's Pole, the Triangle and of course, the Green Monster, offer a unique aspect to the game that fans can only see in Boston.
The Red Sox have a decent history, apart from the 86-year Curse of the Bambino (sorry, Sox fans, but I had to go there), but recently have enjoyed great success, winning two World Series championships in 2004 and 2007. The Red Sox now have the kind of revenue needed to field a winning team as consistently as their arch-rivals, the Yankees and will undoubtedly continue to compete in the AL East for years to come.
However, there is one huge drawback to Boston's play for the best game day experience, and that is their ticket prices. The Red Sox lead of all of baseball with the highest average ticket pricing at $53.38, which is a direct effect of having one of the smallest ballparks in baseball with a maximum attendance of 37,493. Their revenue has to come from somewhere, and ballpark attendance is the main factor for teams, so to compensate for Fenway's small size, ticket prices have to increase. However, the high prices are not enough to take away from what the Red Sox offer their fans, and that is an excellent game day experience.
3. New York Yankees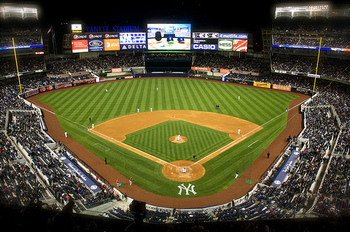 Everyone knows that the New York Yankees are the most prestigious franchise in the MLB. Their historical success is unparalleled, with 40 AL Pennants and 27 World Series championships. When a team wins as much as the Yankees have, popularity is sure to follow, and the Bombers are no exception.
Their revenue is higher than any other team's by a wide margin, allowing them to overspend for top-shelf players and continue their winning ways, which pleases the fans.
However, there is a drawback for the Yankees as well, and that is their ticket pricing. To pay their superstar players and stay in contention, the Yankees unfortunately have to overcharge their fans to come see a live game. The Yankees are second only to the Red Sox in this field, with an average ticket to Yankee Stadium costing $51.83. However, for those fans who can find the money to attend a game, the experience is like no other.
Apart from seeing a consistently good team take the field, fans have plenty of other activities to partake in at the sparkling new Yankee Stadium. You can visit Monument Park or the Yankees Museum, eat at the Hard Rock Cafe or NYY Steak or visit the Mohegan Sun Sports Bar in centerfield. George Steinbrenner had a vision of what he wanted the home of the Yankees to look like. He made it happen, and in doing so, only enhanced the experience for the fans.
2. Milwaukee Brewers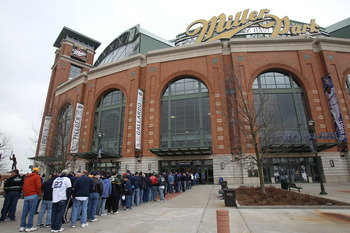 Jonathan Daniel/Getty Images
The Milwaukee Brewers are one of the most interesting franchises in baseball. After being a member of the AL East for years, they agreed to switch leagues and join the NL Central to help with the 1998 expansion. They built Miller Park three years later and have done a great job in giving fans a great game day experience. Miller Park has several notable attractions that make it unique from any other ballpark.
First off, during the middle of the sixth inning of every game, the Klement's "Sausage Race" takes place, and five individuals dressed up in "sausage-character" costumes race each other. Another attraction is "Bernie Brewer," Milwaukee's mascot, who slides down a long slide in the left field stands every time the Brewers hit a home run or win a game. These features bring a unique aspect to every Brewers' game that fans can't find anywhere else.
Recently, the Brewers have become one of the better teams in the NL Central, making their first postseason appearance in 2008 as the NL Wild Card. Their current roster includes superstar players such as first baseman Prince Fielder, left fielder Ryan Braun and newly-acquired starting pitcher Zack Greinke, along with other talented young players that should help them become a force in their division for years to come. Add onto these facts that their average ticket price is $22.10, and the Brewers provide one of the best game day experiences in the MLB.
1. Los Angeles Angels of Anaheim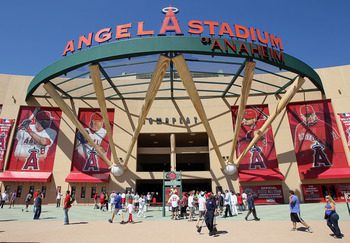 Stephen Dunn/Getty Images
The Los Angeles Angels of Anaheim have almost everything that a fan could want. They don't have the most successful history overall, but recently, they have been one of the best teams in the game, winning the AL West division title five times in the last seven years, as well as making the playoffs as the Wild Card team in 2002 en route to their first World Series championship.
They're a good team right now, with two legitimate Cy Young contenders in Dan Haren and Jered Weaver, and an offense to back them up. That alone is enough to excite the fans, but the Angels don't stop there.
The average price of a ticket at Angel Stadium is a mere $17.13, the fourth lowest in the majors, and the lowest for a contending team. Angel Stadium is also, at least in my opinion, one of the most beautiful ballparks in the game. From the waterfall in centerfield to the "Big A" outside the stadium, it really is quite a sight. The fans appreciate all the work the Angels organization does just to please them, and are very respectable and enthusiastic at the games, helping to make each one an exceptional experience for everyone in attendance.
Keep Reading