Is Oakland Athletics' Offense Worse With Offseason Acquisitions?
May 6, 2011
For a team whose offense last year ranked 11th in the American League in runs scored and 13th in home runs and slugging percentage, it would seem nearly impossible that the supposed revamped, upgraded 2011 team could actually get worse. The Oakland Athletics have somehow managed to do just that this season. 
The hyped offseason moves that were supposed to help improve the A's offense have instead done the opposite—their bats are offensive, but not in the good way. Additions to bolster the paltry power numbers involved the acquisitions of experienced starters Hideki Matsui, Josh Willingham and David DeJesus—solid veterans with little wow-factor.
At the time of each transaction, the A's were lauded for making improvements—albeit small ones—to the emaciated areas of their roster. Unfortunately, through the first month of the 2011 campaign, these new ingredients have yet to register improvement for the offense. Luckily for these three players, blame is deserved up and down the starting lineup.
The entire roster has contributed to the weakness this season, as only one player with the minimum required plate appearances is batting over .250, center fielder Coco Crisp. Almost every other starter bobbed above and below .200 throughout April, including second baseman Mark Ellis, who is currently batting .180.
The A's will soon have to change their name to the M's, short for Mendoza's, referencing their abysmal batting averages—or rather, below-averages.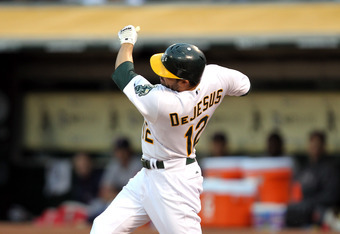 Ezra Shaw/Getty Images
After 32 games—generating a middling 16-16 record—the Oakland offense jumped to 12th in the AL in home runs, but unbelievably are next to last in runs scored.
It's a little bit of déjà vu.
Though they have hit more long balls recently, it's hard to win games with a couple of solo home runs. But it isn't just the raw numbers and standard statistics that depict Oakland's ineffectiveness.
The small, the fundamental were the areas where the offseason imports were asked to provide improvement—little things like moving runners over, patience at the plate, situational hitting and hitting with runners in scoring position. They were supposed to mesh nicely with the team's style of play, dubbed by their marketing campaign as "green collar baseball."
Sadly for the A's, green hasn't meant go, as the few run-scoring opportunities and rallies have come to screeching stops rather quickly. They haven't driven the runner home from third with less than two out, executed hit-and-runs or stayed out of double plays. In fact, they haven't done much of anything on the basepaths or in the batter's box.
So anemic are the bats that manager Bob Geren has had to make considerable daily adjustments to find a formula that can create runs.
He's had to sit third baseman Kevin Kouzmanoff, shortstop Cliff Pennington or DeJesus for a number of games just to see if anyone else can be less terrible. It isn't a matter of putting in who's hot, but rather who's mildly tepid as opposed to ice cold. Though the bench players have been adequate, the A's need high-level performance from their offseason signings, or else their tenures in Oakland will be short-lived and fans will lose interest before Memorial Day.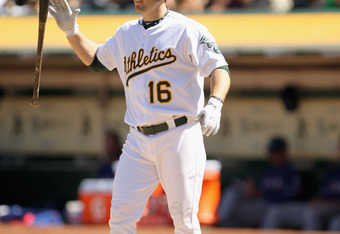 Ezra Shaw/Getty Images
Amazingly, in spite of their offensive shortcomings, the A's have a .500 record. They've stayed true to a preseason campaign slogan of winning with pitching, relying on their arms as their only real weapons. Though they have lived up to their billing, leading the league in ERA, their motto may become an epitaph by season's end as they cannot realistically expect to make the playoffs by winning one-run games all year.
They need their offense to step up. The offense needs their acquisitions to lead by example and get hot. Scorching. Otherwise it's going to be another year of mediocrity all over again. Could it get any worse? The A's continue to prove that it can.