The 25 Hottest Women of Sports We Should Be Watching
Mark Dadswell/Getty Images
For the most part people don't like change. They like routine.
The sports we watch are football, basketball, baseball, hockey, NASCAR, and maybe soccer during the World Cup. That's about it unless you have some personal tie to one of the other sports.
Because of this we shut ourselves off from sports that we're not used to seeing, and therefore shut ourselves off to all sorts of sports hotties.
So sit back, relax, and have your eyes opened to a world you never knew existed.
25. Jennifer Bongardt (Slalom Canoe)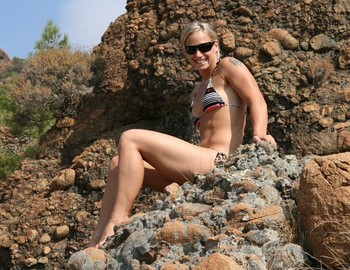 There's something hot about a woman who, if necessary, could save you from drowning, put her in a canoe, and steer you to safety no matter how rough the current.
Am I the only one that thinks that?
Well this German slalom canoe champion is hot out of the canoe as well, and she's even posed for Playboy.
24. Cricket Cheerleaders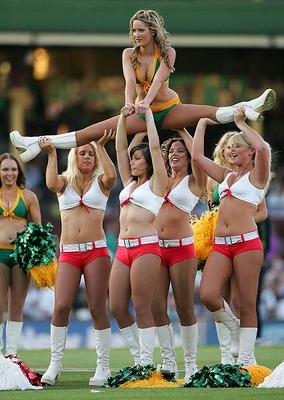 Although it originated as a very British, gentlemanly sport, cricket soon realized that if they wanted to attract fans they needed to add hot cheerleaders in skimpy outfits.
Well played, England.
23. Fabiola Da Silva (In-Line Skating)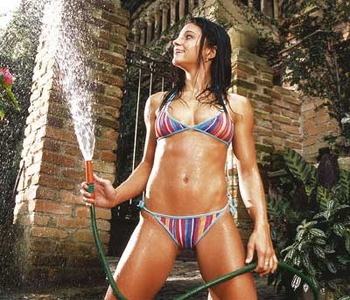 Fabby is one of the most decorated female inline skaters around.
How good is she?
She's so good that her talents forced the "Fabiola Rule" to be put in place, which allows women to compete in men's competitions.
22. Natalia Ragozina (Women's Boxing)
Not only is Natalia Ragozina beautiful, she can also beat the crap out of you. She's an undefeated Russian boxer who is currently the top female super middleweight in the world.
Natalia (also known as Natascha Ragosina) is not afraid to show it off outside the ring as well, as she has posed for several provocative photo shoots.
You have to love the women who are at the top of their sport but still take time to give their male fans something to look at.
21. Anastasia Luppova (Billiards)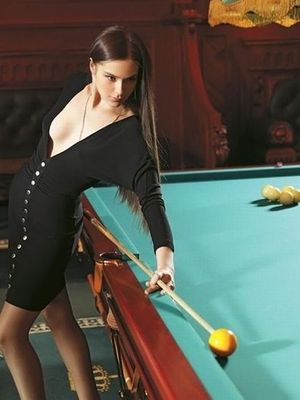 This Russian beauty won the 2009 European and World Billiard Championship. And here I thought the Black Widow was the hottest pool player around.
I wonder how many guys she's played the "dumb girl" bit on and hustled for big money at local pool halls. Has to be in the thousands
20. Cricket Girls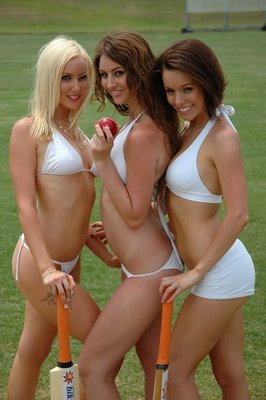 If you've never seen cricket, it's a game played on grass with a ball and a bat by hot girls in bikinis.
At least that's what I've learned from a Google Image search. With girls like these I can see why cricket matches last for days...
20. More Cricket Girls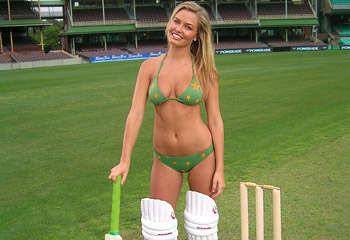 20. More Cricket Girls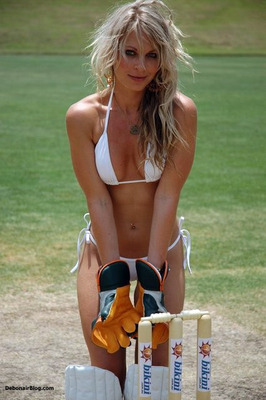 20. More Cricket Girls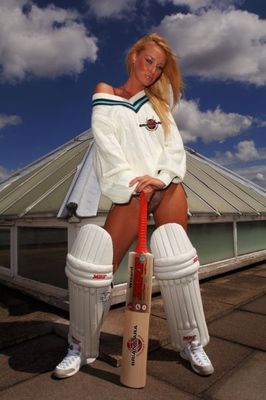 20. More Cricket Girls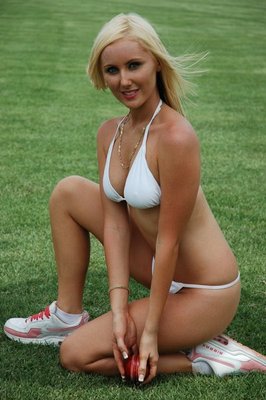 No! Please!
The match can't be over!
19. Biba Golic (Table Tennis)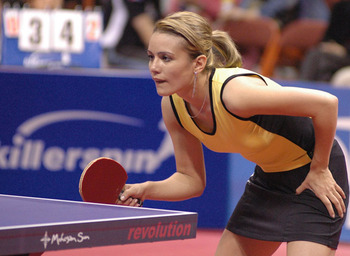 Biba Golic doesn't play the type of table tennis you grew up playing in your uncle's garage. She's a serious competitor and chances are you wouldn't even see the ball when she hit it back to you.
That's ok because we wouldn't be looking at the ball anyway...we'd be looking at her.
18. Rugby Cheerleader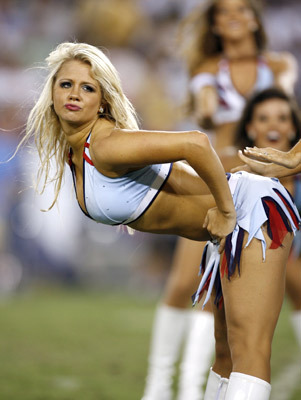 I don't know what goes on at rugby matches, but I definitely need to start tuning in.
17. Norwegian Rowing Team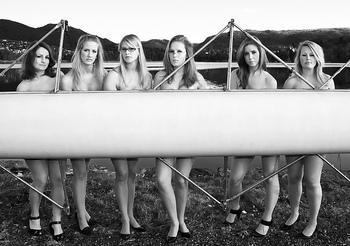 These are the members of the female rowing team at a Norwegian school called NHH.
You have to like girls that will get naked for charity...this was part of a calendar that went to benefit UNICEF.
16. Arena Football League Cheerleaders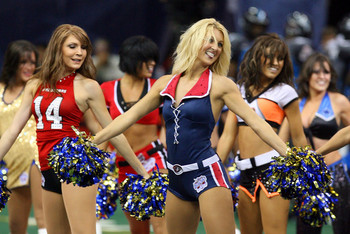 The Arena Football League plays by different rules than the NFL or NCAA, so it is definitely considered a non-traditional sport.
Luckily their cheerleaders are just as hot.
15. Hot Rugby Players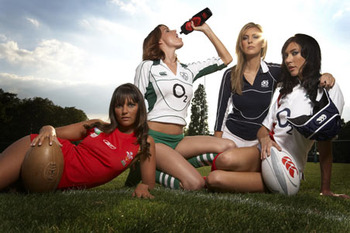 The best part about rugby is that anyone can play. That's why these ladies have taken some time out of their weekend to get together for a nice friendly competition.
Very friendly indeed.
14. Beach Cricket Cheerleader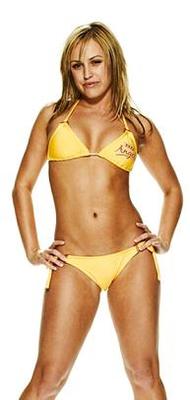 Who knew that there was something called beach cricket? I mean it makes sense to me, and it allows the cheerleaders to wear bathing suits.
Not that they don't already, but at least now it's more appropriate.
13. Almudena Cid (Rhythmic Gymnastics)
Almudena Cid is a Spanish rhythmic gymnast who can contort her body into all sorts of impossible positions.
I am a classy individual so I will avoid all jokes that could stem from my previous comment.
Photo from fhm.com
12. Sofia Hayat (Cricket Fan)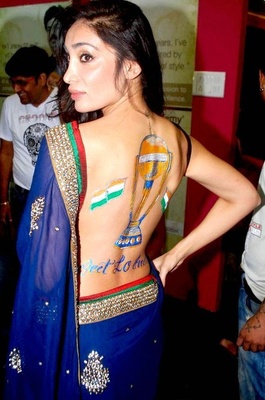 Sofia Hayat is a British actress of Indian descent and she's apparently a huge cricket fan. I don't remember the last time an American actress went out with the Stanley Cup painted on her back.
11. Claudia Toth (Curling)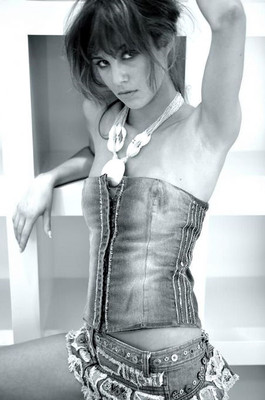 I'll give you three guesses at what sport Claudia Toth plays.
Wrong. Wrong. Wrong.
Toth is the skip (I'm guessing that's something like a captain) of the Austrian curling team. Bet you didn't see that one coming.
If they played in uniforms like this, I think they would get better ratings.
10. Vicky Parnov (Pole Vault)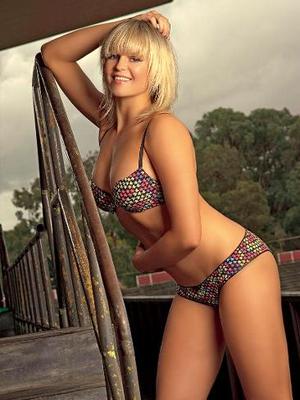 This pole vaulter was born in Russia but competes for the Australian national team. She competed in the 2007 World Championships for Australia at just 16, making her the youngest Australian ever at the competition.
She's 20 now, and poised to make a name for herself in the 2012 Summer Olympics in London.
9. Panamanian Women's Cricket Team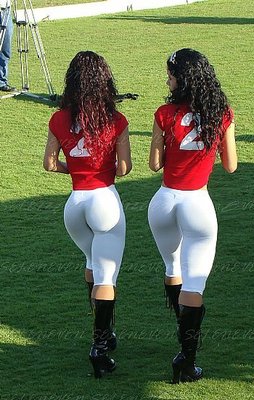 When these photos surfaced of two members of the Panamanian women's cricket team, the internet literally blew up. Okay, maybe I'm exaggerating, but there were a lot of hits.
I should probably disclose that some people out there think these photos have been altered and that these are the real girls, but isn't it much more fun if they look like this?
9. More Panamanian Women's Cricket Team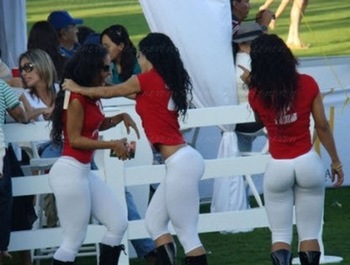 I don't know who said these pictures are fake, but they seriously hurt the popularity of women's cricket.
8. IPL Cheerleaders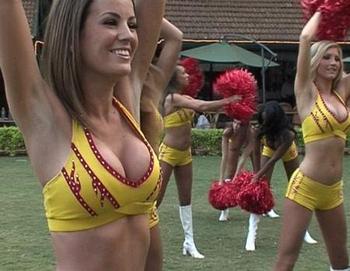 The IPL is the Indian Premier League, a cricket league based in India...obviously. There are eight teams in the league and they all have a full cheerleading squad.
That's like...a lot of cheerleaders.
7. More IPL Cheerleaders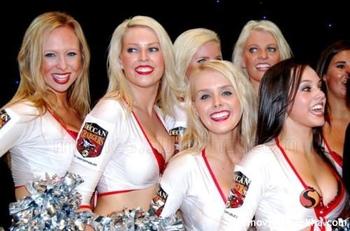 I've never wanted to take up cricket so badly. I was always a low-ball hitter in my baseball days, so that would make me an awesome cricket player, right?
6. Olga Zhovnir, Elena Khromova and Olga Kharlan (Fencing)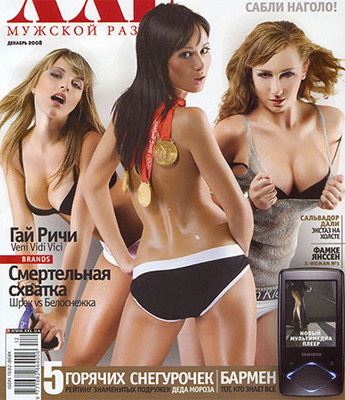 Believe it or not these are members of the Ukranian fencing team, posing for a magazine after they won the gold medal at the 2008 Olympics.
With women that look like this it's a shame they dress them up in those ridiculous outfits.
5. National Rugby League Fans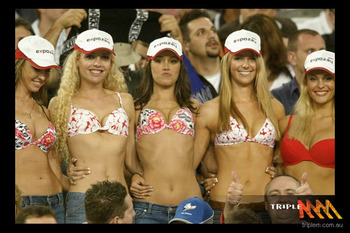 These are more rugby fans who decided to support their team by distracting them with half-naked women.
Notice how the guys in the row in front of them have absolutely no interest in the action on the field.
Photo from triplem.com
4. Niki Gudex (Mountain Biking)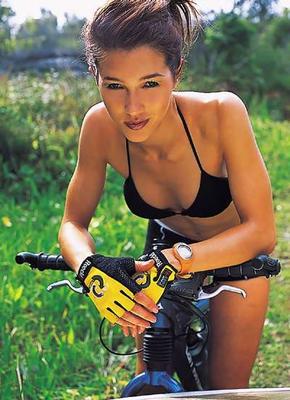 Gudex is an Australian mountain biker who competes in both downhill and cross country. I have never even thought about watching mountain biking, but I certainly will tune in now.
Gudex has been listed in the Australian version of FHM's 100 Sexiest Women in the World several times.
3. Leryn Franco (Javelin)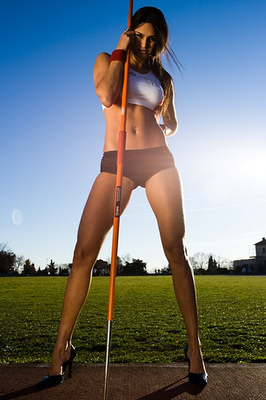 This Paraguayan beauty took the world by storm during the Beijing Olympics in 2008. She apparently throws the javelin, but nobody really cares.
She's one of the hottest women, let alone athletes, in the world and the fact that she does track and parades around in outfits like this only helps matters.
I think everyone in London is hoping that Franco makes the 2012 squad.
2. Rugby Fans
I definitely don't have confirmation and I really didn't want to look, but these girls are apparently rugby fans of a team called the Sharks (I'm sure you located the writing already).
I tend to stay away from the "British Pubs" in my neighborhood that show rugby, but I think I'll start making a few more appearances.
1. Bia and Branca Feres (Synchronized Swimming)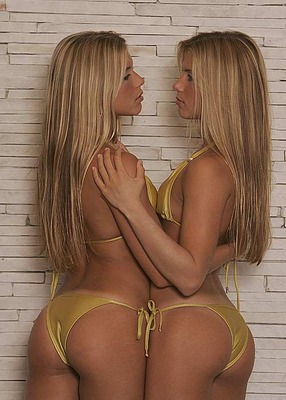 For obvious reasons (they look the same and have similar proportions), twins make great synchronized swimmers.
Bia and Branca Feres have did more for the sport in the five minutes it took to take these pictures than anyone else ever has.
Keep Reading