Gary Williams, Seve Ballesteros, Willie Mays and Friday's Sports News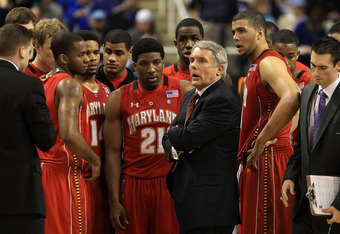 Streeter Lecka/Getty Images
Gary Williams has retired and stepped down as the head coach of the Maryland basketball program, but where do the Terrapins go from here now that their legendary coach has walked away from what he helped build?
Will Maryland look for a big name or will it promote from within? We'll discuss inside.
Furthermore, Seve Ballesteros' condition has taken a turn for the worse as he continues his battle with brain cancer. We'll give you the latest and look back at his amazing career as the golf world continues to reel from this news.
Finally, Willie Mays has turned 80, but we'll discuss his place in history as one of the most talented players to ever step foot on a baseball field.
As always, there is no need to refresh the page, and if you have any comments, be sure to leave them below as we cover the day's biggest sports stories.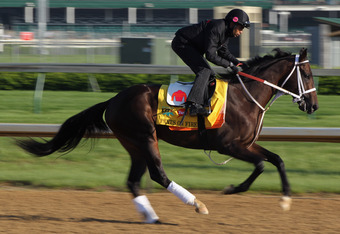 Jamie Squire/Getty Images
Kentucky Derby 2011 Gives Women A Chance To Make History
It's not often that you see a woman find success at the Kentucky Derby.
But for jockey Rosie Napravnik, who will be on Pants with Fire, she has a chance to make history and become the first female jockey to ever win the Kentucky Derby.
Per Reuters.com:
The 23-year-old Napravnik, who will be riding a colt named Pants on Fire, has already left her mark on the male-dominated sport since getting her jockey's license in 2005.

Last year, she became the first woman to win the riding title at Delaware Park. This season she added the Fair Grounds riding title and won last month's $1-million Louisiana Derby with Pants On Fire to book their spot in the Derby.

"She knows how to win and that's a big factor," Pants on Fire's trainer Kelly Breen said when asked why he chose Napravnik to ride the horse.

"For as young as she is she has great composure. She doesn't seem to get excited. You can see some of the things in how she rides are like her personality. When she gets in a tough spot she doesn't get overly excited."
For a Derby that already has no clear favorite, the addition of Napravnik, along with female trainers Kathy Ritvo and Kathleen O'Donnell has added extra intrigue to the Derby and there is a great chance for a woman to make her mark on horse racing's biggest stage.
Honestly, why not this year? Why not this group of women? It's all lining up too well in a year where we should expect anything and everything that we could get a special moment in history.
For Napravnik and Pants on Fire, it's a horse that is running extremely well coming into the Derby and one that I like as an outside shot to win the entire thing. All it takes is one horse coming into the race in a groove to steal the show.
And if Pants on Fire does, we'll be celebrating history and a moment we'll talk about for ages.
This article is
What is the duplicate article?
Why is this article offensive?
Where is this article plagiarized from?
Why is this article poorly edited?
Al Bello/Getty Images
Kentucky Derby 2011 Is Tomorrow, But Can Dialed In Win The Big Race?
In a field that has seen countless favorites fall by the wayside, Dialed In is the last horse standing.
Nick Zito's horse is the favorite heading into the Kentucky Derby and plenty of people are going to be betting on this horse to pull it out in the most exciting two minutes in sports.
However, Dialed In hasn't been prepped like some of the other horses in this field and Zito thinks that will have it ready to go for Saturday's race.
Per Reuters.com:
Zito had already won the Derby twice, with Strike the Gold in 1991 and Go for Gin in 1994, and liked what he saw in Dialed In but gave him a much different preparation.

He rarely works the horse in training, opting instead to give him gentler gallops, and he was one of the last horses to arrive at Louisville even though he was assured of his place in Saturday's field.

After having just one race in his juvenile season, Dialed In has had only three this year, winning two and placing second in the other. It is an unusual preparation for the rough and tumble style of the Derby.

"Horses are gifts, horses this good," said Zito. "When you get a gift like this, you've got to figure out how to train this particular horse ... That's how we do it. Every horse, you couldn't train like this."
It's an interesting approach, that's for sure, but Zito is one of the best trainers in the sport today and he has this thing down to a science and if this has worked for Dialed In in the past, then there's no reason to believe in it now.
The last thing you want to do at this stage of the game is change the way you prepare your horse heading into the biggest race of the year. Dialed In is a favorite, and even though I don't think he's going to win, it has just as good of a chance of winning this race as any horse in the draw.
It will certainly be interesting, that's for sure.
This article is
What is the duplicate article?
Why is this article offensive?
Where is this article plagiarized from?
Why is this article poorly edited?
Ethan Miller/Getty Images
Manny Pacquiao and Top Rank Are Locked In A Bitter Feud, Will It Hurt His Career?
Well, things have gotten really ugly between Manny Pacquiao, Top Rank Promotions and Golden Boy Promotions.
If you don't know, Floyd Mayweather Jr. used to have a relationship with Golden Boy, and they made insinuations that Pacquiao didn't want to agree to drug testing because he was on performance enhancing drugs.
Naturally, this didn't sit well with Pacquiao or his camp.
Per BoxingScene.com:
"Manny Pacquiao will never fight a Golden Boy fighter. Why will we not put Manny Pacquiao in with a Golden Boy fighter? Because they defamed him. They defamed a guy whose apiration is to be president of his country and a world leader," said Arum.

"They said that he cheated and that he took performance enhancing drugs with no basis at all. None at all" said Arum. "And they were the ones who started the whole thing. So, if you're Manny Pacquiao, do you want them to be involved with your promotion after they did a horrendous thing like that?"

Asked if he knew what Mayweather's current status with Golden Boy Promotions is, Arum said, "Floyd is no longer associated with Golden Boy. End of story," adding, "I don't know anything unequivocally, but I believe that to be the case."
Well, things just got really real.
Naturally, this limits Pacquiao's options for future opponents, because guys like Juan Manuel Marquez and Amir Kahn are under the Golden Boy umbrella and we've seen that the current champion isn't pushing himself in terms of his opponents.
If he lives up to his word with Golden Boy, then he's never going to really challenge himself. Pacquiao is too talented to be throwing away his prime years because of these accusations that happened in the middle of a dispute over fight conditions.
MUST READ: Manny Pacquiao: How Does He Stack Up Against 15 Legendary Fighters?
Even if Mayweather isn't involved with Golden Boy, it doesn't mean he'll be able to fight, which is highly unlikely considering his legal situation.
All I want is these two sides to kiss and make up and give us some good fights. Is that too much to ask?
This article is
What is the duplicate article?
Why is this article offensive?
Where is this article plagiarized from?
Why is this article poorly edited?
Ethan Miller/Getty Images
Pacquiao vs. Mosley Is This Weekend, But Floyd Mayweather Jr. Won't Be Watching
Floyd Mayweather Jr. knows how to stir the pot better than anyone in the business.
Mayweather Jr., one of the best boxers in the game today, has had a very public feud with Manny Pacquiao and with his rival's fight with Shane Mosley on the horizon, naturally his name is going to come up in interviews.
When asked if he was going to watch the Pacquiao and Mosley fight, Mayweather Jr. couldn't care less.
Per FightHype.com:
"You know what I'm going to be doing Saturday night? Saturday night, I'm going to be watching Lady Gaga on HBO, the best network in the world. I want everybody to tune in and watch Lady Gaga. She's on the biggest and the best network, HBO."
Awesome. Simply awesome.
Not only did he take a jab at the fight, but he decided to bury Showtime, the network broadcasting Pacquiao's bout at the same time. Only Mayweather could do something like this and it's brilliant to watch him needle Pacquiao and his camp.
While you can make a valid claim that he's ducking Pacquiao, you have to love his ability to talk to the media and give you great soundbites, even if he's not fighting in the near future.
MUST READ: Manny Pacquiao: How Does He Stack Up Against 15 Legendary Fighters?
Don't expect to see him any time soon either, because he legal problems are really going to get in the way of any fight Mayweather might possibly think about taking on. In other worlds, you can forget about a fight between him and Pacquiao in the near future.
It's a shame too, because there aren't many fighters who are better talkers than Money Mayweather.
This article is
What is the duplicate article?
Why is this article offensive?
Where is this article plagiarized from?
Why is this article poorly edited?
Jamie Squire/Getty Images
Kentucky Derby 2011 Approaches as Mucho Macho Man Looks To Win it All
Some of the best sports stories of all time are the ones that tug on your heart strings, and the story of Mucho Macho Man and its trainer is one that's sure to get some people misty eyed before the Kentucky Derby.
Kathy Ritvo was battling heart disease and was staring death in the face, needing a heart transplant before a donor came through and she was able to continue following her passion — horse racing.
Then along game Mucho Macho Man.
Per the Orlando Sun Sentinel:
Kathy Ritvo, 42, took over as Mucho Macho Man's trainer from her husband Tim last fall, when Tim took an executive role at Gulfstream Park in Hallandale Beach.

The Ritvos are the kind of horseracing couple that go unheralded most of the time, working long hours to care for a stable of modest thoroughbreds that compete on the local South Florida circuit and northeastern tracks such as Belmont Park in New York and Monmouth Park in New Jersey.

Just running in a Kentucky Derby, never mind winning one, is exciting enough.

But after all the Ritvos have been through, winning one would be the kind of fairytale ending that movies get made about.
Look, in a field where any horse has a realistic shot of winning the Derby, why not the horse with the feel-good story behind its trainer?
I'm excited for this race because we have no idea what's going to happen. This is going to be a crazy Derby, moreso than most years and it's going to be a race that we remember for years, and hopefully, we remember it for the trainer that went from staring death in the face to winning the Kentucky Derby.
It would be an emotional scenes and one that we'd be talking about for years to come when talking about the greatest moments in Derby history.
Plus, who doesn't love a horse that has Randy Savage's nickname in its name?
This article is
What is the duplicate article?
Why is this article offensive?
Where is this article plagiarized from?
Why is this article poorly edited?
Ethan Miller/Getty Images
Pacquiao vs. Mosley Nears As Sparring Partner Believes Fight Is the Champion's To Lose
When Manny Pacquiao steps into the ring with a sparring partner, he doesn't get in there with guys who are going to take it easy on him.
Freddie Roach, Pacquiao's trainer finds the best to get in the ring with his fighter and even gives them a little incentive to make sure they give Pacquiao all they've got.
Per the San Francisco Chronicle:
And Roach makes sure they give Pacquiao their best shot, putting up a $1,000 bounty on his fighter's head if a sparring partner can knock him down.

"Oooh boy, that makes it really exciting," Mayfield said. "You gotta go for the gusto and try to knock the great Manny Pacquiao down. ... Not easy to do. No one's done it, but we're all trying. I think it really helps Manny stay sharp and focused."

Mayfield agreed that Pacquiao deserves a place on the all-time best fighter list, and said it's because he is so hard to prepare for.

"His punches come from all different angles," Mayfield said. "Then, you add his footwork and the velocity that these punches are coming at and the fact that the average fighter hasn't seen punches from these angles before, and they're very hard to pick up.

"You know people say how you don't know what hit you. Well, with Manny, you really don't know what hit you."
A cash bounty always works as a great motivator and with the way that Pacquiao pushed himself in training for this fight, I think it's pretty safe to say that he's in a great position to win this fight, especially when you factor in Mosley's age and that he's past his prime.
Pacquiao is the best fighter in the game and it's because he pushes himself like few others in the sport today. He obsesses over training and it shows when he gets in the ring and just dominates his opponents around the ring.
MUST READ: Manny Pacquiao: How Does He Stack Up Against 15 Legendary Fighters?
The hype for this fight is starting to rise and it looks like we're going to get a great atmosphere for this fight, even if the matchup is one that would have been much more entertaining in years past than it is in 2011.
It's going to be an entertaining fight and it will be interesting to see what all of this tough sparring does for Pacquiao's game in the ring.
This article is
What is the duplicate article?
Why is this article offensive?
Where is this article plagiarized from?
Why is this article poorly edited?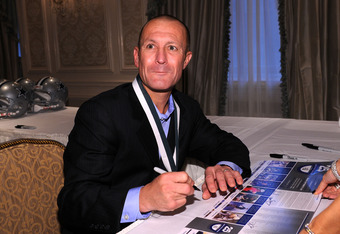 Bryan Bedder/Getty Images
Kentucky Derby 2011 Gives Calvin Borel A Chance At A Third-Straight Win At the Event
If you follow the Kentucky Derby at all, you know the name Calvin Borel.
Borel has become famous as a jockey that has won the last two Kentucky Derby races and you'd think, as someone with that resume, that Borel would be in high demand leading up to the sport's biggest event.
Well, you'd be wrong.
Per the Albany Times-Union:
Borel's Derby hopes were going to be with a colt named Elite Alex, but they imploded when he finished ninth in the Arkansas Derby and Calvin had no ride.

Twice the Appeal is listed at 20-1 on the Derby morning line. Some would say the colt has two chances to win the Derby: slim and none.

Borel is looking to become the first rider in history to win the Kentucky Derby three years in a row. How is it that Borel, the king of Churchill Downs, had to wait so long to get his ticket to the Derby?
That is a great question, and even though Borel is on a long shot, it's not like we haven't seen him pull off amazing feats before and if I'm a betting man, I refuse to count him out in this race.
There are a lot of owners that could have used a top jockey for their horse and it's stunning that Borel got passed on for as long as he did, especially considering his track record at the Kentucky Derby. When you have someone of his caliber out there, you'd think that owners would be scrambling to get him.
It's just another weird story in a Kentucky Derby that is unlike any in recent memory. We have no clear-cut favorite, Uncle Mo has dropped out of the race and Calvin Borel barely got into the event with Twice the Appeal.
If the race is anything like the build-up, then we're in store for a wild ride.
This article is
What is the duplicate article?
Why is this article offensive?
Where is this article plagiarized from?
Why is this article poorly edited?
Matthew Stockman/Getty Images
Kentucky Derby 2011 Approaches As We Look At Some of the Bigger Stories.
Could you imagine the reaction of Bob Yagos if he had sold Archarcharch and watched him land in the Kentucky Derby?
Well that was a realistic scenario because he almost sold the horse, holding on to him by a stroke of luck and some second thoughts.
Per the Palm Beach Post:
Although J B's is one of the largest salvage operations in the state, the business hasn't made Yagos millions. Archarcharch pretty much did, parlaying the mere $60,000 Yagos paid for him into a seven-figure offer. Yagos and wife Val hated to, but they accepted it.

"We just couldn't afford not to sell him," Bob said.

However, the buyer submitted the contract 15 minutes after the deadline. Fifteen minutes of fame, it turned out.

"My stomach got sick," Val says, explaining why she talked her husband out of it. "This is what we do this for, to find this one horse. And it wasn't going to change our lifestyle. We're old. We're going to live the way we live."
I couldn't imagine what it would have been like to see a horse I had in my possession running in the biggest event in horse racing.
Needless to say, I think they made the right decision by holding on to Archarcharch.
However, if you're the guy who narrowly missed landing this Kentucky Derby contender, you really have to be kicking yourself, because you missed a deadline to make the purchase by a measly 15 minutes. You went from possibly landing a top race horse to watching it run for someone else and possibly make them a ton of money.
Archarcharch certainly has a chance to win this race, and if it does there are going to be some happy owners and betters out there who put their faith in this horse to see it all pay off on the biggest stage in racing.
Then there will be one man who will remember those extra 15 minutes for the rest of his life. Ouch.
This article is
What is the duplicate article?
Why is this article offensive?
Where is this article plagiarized from?
Why is this article poorly edited?
Michael Nagle/Getty Images
Willie Mays, A Giants Legend, Celebrates His 80th Birthday
For some people, it feels like just yesterday that Willie Mays was making amazing plays for the San Francisco Giants.
Mays, the legendary outfielder, dominated the game of baseball like few others did, using every tool you'd want in a baseball player and taking the crowd by storm, crafting a legend and cementing his legacy as one of the greatest players to ever step foot on a baseball diamond.
But don't take my word for it, just listen to Marty Lurie, a baseball historian who did an interview with CSN Bay Area's Grant Cohn.
Per CSNBayArea.com:
"Willie Mays is one of the few players who you could take out of 1950 and put him into 2011 and you'd have a superstar. He was that good. I've done 10,000 interviews, and in a lot of the interviews I ask, 'Who was the best player you ever saw?' And universally it's Willie Mays. I'd say 99.9 percent of the players who played in his era would say Mays. He could do everything and he could do it easily. He put the team on his back. He played 15 years and missed 10 games.

"Willie ran the game -- he was the captain on the field. He ran the team. The managers just turned it over to him. He called the pitches from centerfield. He would tell the shortstop, Alvin Dark, what to tell the pitcher to throw.

"He never used the cutoff man. He knew where he was throwing the ball. Back then as an outfielder, the arm was more distinctive. You talked about (Rocky) Colavito, (Carl) Furillo, (Roberto) Clemente, it was the power of the arm. Willie Mays is not known for his arm but he had a great arm.

"But what's almost as unique as his basket catch was the way he ran the bases, because he ran the bases backwards. He would turn and look back at the outfield but he'd never miss a step.

"He didn't need a coach. That's how good he was compared to everyone else."
The reality is that if you don't have him at the top of your list in terms of the best baseball players of all time, he'll most likely be second to only Babe Ruth in terms of sheer talent.
In other words, Mays is a player that teams would have simply drooled over today.
With the type of money that Carl Crawford got from the Boston Red Sox, imagine what Mays would be making today with his ability to hit for power, run and field.
MUST READ: 2011 MLB Draft: Ranking the 25 Best Overall Draft Prospects
He could do it all and Mays' legacy is so brilliant that it's impossible to overshadow. Some players just have a natural feel for the game, and for the former Giants outfielder, he knew what do to at every moment of every game.
Mays helped change the game and set the tone for some of the five-tool players that thrive today. There may be many imitations over the years, but there will only be one Willie Mays.
This article is
What is the duplicate article?
Why is this article offensive?
Where is this article plagiarized from?
Why is this article poorly edited?
Angel Martinez/Getty Images
Seve Ballesteros Has Seen A Deterioration of his Condition While Battling Cancer
Seve Ballesteros is one of the most beloved golfers in the world, and today, his fans and fellow players are extremely concerned after some sad news from his family.
Ballesteros, who has been battling cancer for years, has evidently taken a turn for the worse according to a statement from his family.
Per Sky Sports:
"The Ballesteros family reports that there has been a severe deterioration of the neurological condition of Seve Ballesteros said the statement.

Ballesteros had four operations to remove the tumour following his collapse at Madrid airport in October 2008.

He underwent an initial 12-hour operation, but further surgery was necessary before he was well enough to return home and begin chemotherapy and radiotherapy treatment.

Seve, who announced his retirement from golf in 2007, had a second course of chemotherapy at Madrid's Le Paz Hospital in February 2009 and said on his website at the time: "The results of the check-up were really positive, better even than the first ones."
It's a real shame to have to hear this news because we've all been hoping for so long that Seve's condition would improve, but when he missed the Masters, the concern continued to grow as current and former players tried to rally around Seve.
Ballesteros was such an accomplished golfer in his prime, winning two Masters and three British Open events. You can't find someone to find a bad word about Ballesteros and that's just the kind of person he is.
MUST READ: 2011 Unofficial World Golf Power Rankings: Top 25 Post-Masters
He is loved by anyone who ever watched him play or got to meet him in person. In sports, there are very few people who are universally liked by fans and players alike, but Seve is one of the rare exceptions, and it's tragic to see him go through this.
Hopefully for Seve, this is just a bump in the road and not the start of more bad news.
This article is
What is the duplicate article?
Why is this article offensive?
Where is this article plagiarized from?
Why is this article poorly edited?
Streeter Lecka/Getty Images
Gary Williams Has Stepped Down As Head Coach of the Maryland Basketball Team
When you're a college coach who has guided your program to the highest levels, anything less is deemed unsatisfactory.
It has happened to numerous coaches in every sport, but for Gary Williams, the heat was starting to turn up on him.
After winning the national championship, Maryland never experienced the same type of success that Williams and the fans were used to. The fans, who want nothing but the best, criticized Williams and the head coach wasn't having the best relationship with his bosses at the university.
That's never the way to keep a guy on the sidelines.
In fact, he almost retired last year.
Per the Baltimore Sun:
As Williams' friend, Bisciotti said it pained him to watch the coach endure fans' criticism in recent years. The 2008-09 season had been particularly difficult as Williams sparred with the athletic department under Debbie Yow, and with the media. But the Terps also ended up winning a game in the NCAA tournament that season.

"Heck, I told him he should walk away three years ago," Bisciotti said. "It was hard to see a friend take heat after everything he had done."

Williams almost always seemed tired after the season -- perhaps this year more than most. When he decided it was time to step down, he spoke with athletic director Kevin Anderson, and the two had some meetings.
Once you don't have the same energy for the job, it's time to step down.
If you stay for reasons other than your own, then you're no longer any good for the program and it's just better if everyone moves on. If what Steve Bisciotti is saying is true, then it's clear that Williams got worn down from all that happened after the national championship.
That is a standard that's hard to live up to for any coach. Even Coach K had a long period between national championship wins. However, when you're making the NIT and barely getting out of the first round of the NCAA Tournament, fans are going to get angry.
MUST READ: The 25 Biggest 'Oops' Moments in College Basketball History
It's a shame that all of that hangs around Williams' departure, but when Maryland and its fans look back on his tenure, they're going to realize what they had in their head coach.
Unfortunately, the head man was just burned out after so much work over the long tenure that he had at Maryland.
You can't blame him for wanting out.
This article is
What is the duplicate article?
Why is this article offensive?
Where is this article plagiarized from?
Why is this article poorly edited?