Manny Being Manny: Pacquiao's Opponent Selection Leaves Much to Be Desired
May 6, 2011
Ethan Miller/Getty Images
It is not often that I can use the exact same title for back-to-back columns about two different topics. 
However, as Saturday's Showtime PPV main event between Manny Pacquiao and "Sugar" Shane Mosley approaches, one thing is certain: boxing's pound-for-pound champion is giving new meaning to the phrase "Manny Being Manny"—and it is far less positive than the connotation his baseball counterpart developed.
Since defeating Miguel Cotto in 2009, Pacquiao has engaged in nothing but risk-averse, moneymaking events against undeserving Top Rank boxers. Outside of Pacquiao's dominance, the fights provided little drama. Neither Joshua Clottey nor Antonio Margarito did anything to warrant a fight against Pacquiao besides share promoters with him.  
Shane Mosley is no different.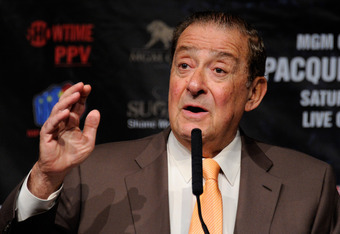 Ethan Miller/Getty Images
Last November, when Mosley was affiliated with Golden Boy Promotions, Pacquiao promoter Bob Arum dismissed the idea of matching Pacquiao with Mosley. 
"What I've read is not very supportive to make any Mosley-Pacquiao bout," Arum said at the time. "Look, he's going to be 40 and he's in the lighter weights where speed is so important. I've always considered Shane to be a nice guy, but this is what happens to fighters when they age."
Once Mosley left Golden Boy Promotions, Arum reversed course. He now praises Mosley as Pacquiao's most dangerous opponent to date. 
Enough is enough.
Shane Mosley is 39 years old and has not won a fight in over two years.  
He is the girl who has not changed her Facebook default since her high school prom, back when she had a flat stomach. Every advertisement shows Mosley annihilating Margarito or trading punches with Oscar De La Hoya. These fights, respectively, were in 2009 and 2003!
Where are the highlights of the whitewashing Floyd Mayweather planted on him last year?  Where are the clips of Mosley huffing and puffing in the fifth round of his draw against Sergio Mora last November? (Yes, Sergio Mora…from "The Contender.")
Boxing fans must have shorter memories than WWE fans. Q-Rating means more than accomplishments. 
If the New York Knicks want to play in the NBA Finals, they must beat three teams to do so. But if the NBA were run like boxing, the only sport in the world that is not a meritocracy, the Knicks would be placed in the finals every season because people know them.    
And that's why Mosley is entering the ring this Saturday. People know him. You may not have watched a boxing match since Tyson-Lewis, but I bet you know who Shane Mosley is. That is enough to earn a fight with Manny Pacquiao these days. 
Can Mosley win this fight? Sure. It will probably even be entertaining for a while, too. At the very least, he has the proverbial puncher's chance. (Mosley nearly knocked Mayweather out with one crushing right hand, and Pacquiao's chin is far easier to find than Pretty Boy Floyd's.) 
But the point remains that Mosley did absolutely nothing to deserve the opportunity. Boxing is wrong for giving it to him.
***
At some point during Pacquiao's in-ring congratulatory interview, Jim Gray will ask the Filipino superstar, "Manny, what's next?" 
If history repeats itself, Pacquiao will praise Arum for being a great promoter and offer to fight whomever Arum chooses to put in front of him.
Once again, enough is enough. 
Manny being Manny once meant fighting top opposition; today, it signifies cashing paychecks against opponents who have no business being in a boxing ring with him. 
Given the opportunity—and assuming that he wants this—Pacquiao must enunciate his desires to Gray, and to the audience, as clearly as possible: "Floyd Mayweather: I want to fight you in November, and I will agree to whatever drug testing is necessary to make the fight happen.  Floyd, the ball is now in your court." 
For someone who routinely speaks of wanting to make fans happy, this would go a long way in doing so.
Will Manny do this? If he does, it would be a first.
Instead, I suspect we will hear the usual generic response and look forward to Manny being Manny, this November, against Juan Manuel Marquez.
Prediction:
I believe the early rounds of this fight will resemble Pacquiao-Cotto, while the late rounds look like Pacquiao-De La Hoya. By Round 8, after growing tired of watching his pupil take a savage beating, Brother Naazim Richardson will throw in the towel and save Mosley from four more rounds of punishment.
Pacquiao, TKO, 8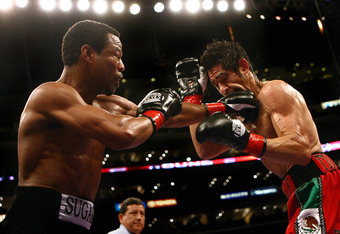 Donald Miralle/Getty Images