Ron Artest, Manny Pacquiao, Hines Ward and Thursday's Late Sports News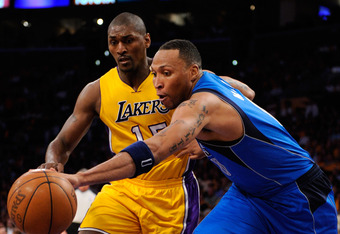 Kevork Djansezian/Getty Images
Ron Artest, Manny Pacquiao and Hines Ward are the most popular names in today's sports news.
Ron-Ron has just been officially suspended by the league for throwing a cheap-shot at J.J. Barea in the waning minutes of last night's Lakers Game 2 loss to the Dallas Mavericks.
Is Artest's suspension warranted? Even Lakers' head coach Phil Jackson thinks so.
Manny Pacquiao is only days away from his big fight against Shane Mosley and we'll be discussing all the latest news.
And Hines Ward is still dealing with the after effects of his mistaken arrest from Wednesday night.
We're talking plenty of sports today, only the latest and most interesting news. Let's get started.
Jonathan Daniel/Getty Images
NBA Playoffs 2011 Bulls Looking to Take Back Homecourt Against Atlanta
The Chicago Bulls have high expectations in this year's 2011 NBA playoffs. After posting the best record in the NBA with 62 wins and being blessed with the NBA's Coach of the Year and Most Valuable Player,
But so far in this postseason, they haven't exactly looked impressive—getting pushed around the Pacers' big men in the first round and looking vulnerable against the Hawks' defense in the second round.
Hawks' top bench player Jamal Crawford told ESPN about the Bulls' win in Game 2:
If that's their best shot, we're in good shape. As bad as we played, to be down six with four minutes to go, we had our chances. We'll take some positives from it and watch some tape.
It's clear that Derrick Rose has lost some explosion because of an injury to his ankle and power forward Carlos Boozer like he often does in his career, gets plagued with inconsistency and injuries.
The Hawks can definitely hold their own in Atlanta, by playing strong defense and using their shot-blocking skills against Boozer and Joakim Noah, they are more than capable of holding serve at home.
If Rose doesn't find his shooting touch and rediscover his MVP form and Carlos Boozer can't play with consistency then Chicago could be in for a tough time in the Dirty South.
This article is
What is the duplicate article?
Why is this article offensive?
Where is this article plagiarized from?
Why is this article poorly edited?
Kevork Djansezian/Getty Images
LA Lakers Looking to Move Forward After Artest Suspension
The LA Lakers will not have luxury of deploying one of their toughest players and fiercest defenders when they try and come back from a 2-0 deficit against the Dallas Mavericks on Friday night. Ron Artest was suspended for throwing a clothesline against diminutive Mavericks guard J.J. Barea.
After the league announced his suspension, there was really no remorse from Artest for his actions. Instead, he pledged to focus on the task ahead, with the phrase: "Ready to move forward."
Mark Medina of the Los Angeles Times writes:
The Lakers aren't sweating his suspension, with Coach Phil Jackson and Kobe Bryant both saying they weren't surprised with the ruling and Jackson only telling Artest he'd likely have to sit out a game. But with the Lakers dealing with a myriad of issues affecting their play, Artest could've at least expressed some regret for letting his team down. Instead, he gave nonsensical answers that only fuel his perception as an aloof and reckless player.
No disrepect to Mr. Medina but there's really no need to hate on him. If he doesn't want to apologize, let him be.
Perhaps Artest thought that he was sending a message—the he wasn't going to stand idly by while J.J. Barea runs all over the Lakers and kills them with his penetration. Given his history of misdeeds, this was a classic Ron Artest meltdown where he let his frustrations get the best of him.
Artest is a guy that wears his emotions on his sleeve. People in Los Angeles loved him last year when he was going bananas when the Lakers beat the Celtics to earn his first title in purple and gold.
Now that the Lakers are struggling, people are starting to question his character and drive once again.
With Ron-Ron you have to take the bad with the good.
You can't love him, then hate him.
That's just not fair.
This article is
What is the duplicate article?
Why is this article offensive?
Where is this article plagiarized from?
Why is this article poorly edited?
Jonathan Daniel/Getty Images
Derrick Rose Will Need to Deliver NBA Title, Or Else
The newly crowned regular season MVP, Derrick Rose, like it or not accepted more than just a trophy this week when David Stern handed him the trophy for the most valuable player in the NBA. He was handed the immense burden of following in the footsteps of all the great ones before him, including Michael Jordan.
Gregg Doyel of CBSSports.com writes:
It's different for an MVP. Once a player wins that award, everything becomes all about him -- whether he likes it or not. Some guys like it. Tim Duncan never did, but Kobe Bryant liked it and LeBron James craved it more than most of us realized. Derrick Rose is a different breed of cat. He's a humble superstar, a giant talent without the giant ego, but from this point on it will be all about Rose. When his team wins, it will be about what Rose did to make it happen. When his team loses, it will be about what he didn't do.
It's been said that Rose is mature beyond his years. At the ripe old age of 22, he's already been named an NBA MVP, now he needs to deliver.
Doyel is right about the burden of the MVP trophy. But like he said, Rose is rare kind of star that carries himself much differently then what we've been accustomed. In other words, he's the anti-LeBron.
If the Bulls fall short on winning the NBA title this season, the media and critics are unlikely to turn on Rose because he's so likeable. Chances are, Carlos Boozer will be made the scapegoat before anything else.
If anything that MVP earned him more respect and acknowledgment than anything else. No one is going to turn on Rose, not this early. Not yet.
He bought himself at least a five years of love from media because he carries himself the right way.
This article is
What is the duplicate article?
Why is this article offensive?
Where is this article plagiarized from?
Why is this article poorly edited?
Frederick Breedon/Getty Images
NHL Playoffs 2011 Vancouver Canucks Take 3-1 Series Lead
The Vancouver Canucks took a commanding lead of their 2011 NHL Playoffs second round series against the Nashville Predators on Thursday night. Behind a goal and two assists from both Ryan Kessler and Christian Ehrhoff, the Canucks generated enough offense to win the game.
Things are looking very gloomy for the Predators who have been getting plenty of fan support during their playoff run. But disappointed by simply getting outplayed in the last two games by Vancouver.
During their series, the Preds' offense has sputtered, their power play has been terrible converting only once in 14 attempts, and they have given up way too many shots on goal.
If Nashville wants to stay alive in the postseason, they will need more out of their power play and have their team actively block shots, allow less shots on goal and limit Vancouver's scoring opportunities.
It's time to grind it out and get physical to slow down the high-octane Canucks. Otherwise, this series ends on Saturday.
This article is
What is the duplicate article?
Why is this article offensive?
Where is this article plagiarized from?
Why is this article poorly edited?
Ethan Miller/Getty Images
Pacquiao vs. Mosley Fight Could Prove that Mosley's Mr. Nice Guy Act is Futile
This weekend's big Pacquiao vs. Mosley fight will certainly draw up a lot of interest because this bout is being touted as the biggest fight of the year. As much Mosley is being drawn up as a solid contender against Pacquiao, he's just too slow and old to matchup against him.
But the clear mismatch isn't deterring Pac-man from doing his best in training. In fact, Pacquiao confirms that he's gone the extra mile in training against the soon-to-be 40-year-old Mosley. According to Nick Gionco of Tempo.com:
Pacquiao told a group of reporters on Wednesday that the last time he remembered going the extra mile in training was against the legendary De la Hoya because there was bad blood between them.
We all remember what happened then. Pacquiao pounded De la Hoya's face beyond recognition and won the match after eight rounds.
Mosley has never been the same kind of trash talker that Floyd Mayweather is. But he's just playing it too safe in trying not to light a fire against Pacquiao.
In other words, he's too scared.
However, the inevitable is going to happen. Because Pacquiao is a true professional that doesn't take any of his opponents lightly.
Just like Pacquiao ended the Golden Boy's career, he's about to end the career of Mosley as well.
This article is
What is the duplicate article?
Why is this article offensive?
Where is this article plagiarized from?
Why is this article poorly edited?
Ethan Miller/Getty Images
Pacquiao vs Mosley May Bring Us Well-Rested Manny Pacquiao
As the highly anticipated Pacquiao vs. Mosley fight nears, one of the biggest concerns for trainer Freddie Roach is to make sure his superstar boxer gets plenty of rest, even if it means that Pacquiao misses a big awards dinner that will honor Roach with his second Trainer of the Year Award in a row.
The awards ceremony is scheduled for the night before the fight and Roach knows that Pacquiao doesn't necessarily have to listen to him. Roach tells BoxingScene.com:
I told Manny no. I told him not to come out [Friday] night. It's not hard to tell him no because it's the night before the big fight.
Honestly, Pacquiao can probably spend all night partying in Las Vegas—even though he would never—and still be fine against Shane Mosley.
But Pacquiao is a true competitor, not willing to give his opponent any kind of advantage—even though his opponent is almost 40 years old and on his last legs.
A well rested Manny should be able to knockout Mosley in six rounds or less. While a somewhat tired Manny will have to go to nine rounds for a knockout. That's the difference.
This article is
What is the duplicate article?
Why is this article offensive?
Where is this article plagiarized from?
Why is this article poorly edited?
Joe Robbins/Getty Images
Hines Ward Gets Handcuffed After a Stolen Car Mix Up
Pittsburgh Steelers receiver Hines Ward had a reported run-in Los Angeles police early Thursday morning after a car that he was driving in was stopped by authorities, after it was reported to be stolen, per TMZ.
But it wasn't one of those typical run-ins where an athlete goes into a social media hate-fest or just a straight up "Do you know who I am?" expletive-laden tirade.
Ward addressed his fans with the following message on Facebook:
The incident in the news that involved me getting pulled over. I want everyone to know that this was a complete misunderstanding. The police were just doing their job. Apologies were made and it's now in the past. Moving forward...Hines
As he has done his entire career in the league, Ward remains one of the classiest athletes around.
To all of those athlete that have run-ins with that law, use this man as an example of how to properly carry yourselves in public, with the media and fans.
That's called character.
This article is
What is the duplicate article?
Why is this article offensive?
Where is this article plagiarized from?
Why is this article poorly edited?
Ethan Miller/Getty Images
Manny Pacquiao Ready to Knockout Mosley?
The highly-anticipated fight between Manny Pacquiao and Shane Mosley in Las Vegas is almost here and the talk about the possibility of Pacquiao knocking out Mosley is starting to heat up.
Mosley has never been knocked out in his career but if there's a man that can take him to the canvas, it's Manny Pacquiao.
So, are we just wasting time thinking that Mosley can hold his own against the best boxers of this generation?
Chris Mannix of Sports Illustrated writes:
Manny Pacquiao is a human wrecking ball and Shane Mosley is the next building standing in his way. Several years from now Mosley will be inducted into the Hall of Fame, his accomplishments recounted and he will be honored -- deservedly -- for his contributions to the sport.

This probably won't one of them. There will be a fire fight in Las Vegas on Saturday night, where two boxing warriors will go to work. Mosley won't go down without a fight. But it's hard to see him not going down.
In sports, it's just a rule to never underestimate the underdog and Pacquiao is giving Mosley his respects by simply not taking him for granted. But the truth is, Mosley is too old and simply overmatched in this bout, we can use their previous fights as indication of this.
Pacquiao has overwhelmed Antonio Margarito, Miguel Angel Cotto, Joshua Clottey, Ricky Hatton and Oscar de la Hoya in an impressive fashion, taking them down with strong punches from both sides that either knocked them out or inflicted serious damage to their face and body.
As for Mosley, he's been unimpressive to say that least. Save a few moments where he goes for a knockout with his powerful right like in the early rounds against Floyd Mayweather, he's looked slow and completely uninspired.
That said, this bout is clearly Pac-man's to lose.
This article is
What is the duplicate article?
Why is this article offensive?
Where is this article plagiarized from?
Why is this article poorly edited?
Doug Pensinger/Getty Images
Ron Artest Officially Suspended For Game 3
The Lakers will be without their starting small forward Ron Artest as their second round series heads over to Dallas. The league announced their plans to suspend Artest for an open handed smack to the face of Mavericks backup guard J.J. Barea.
There as no apology from Artest after the Lakers' Thursday practice. Instead he repeated a common team philosophy that has been echoed by his fellow teammates this season when he spoke with the Los Angeles Times: "Ready to move forward."
Although the loss of Artest takes away one of the Lakers' best perimeter defenders,
It must be the eternal optimist in the me that feels compelled to put a positive spin on this suspension.
So here goes...
The Lakers bench may finally step up. The absence of Artest from the starting lineup will force either Lamar Odom, Matt Barnes or Shannon Brown to slide into the starting lineup on Friday.
All three of those bench players, need to provide more spark for this Lakers team to be successful and a starting nod would be a great way to get their games rolling.
The Lakers could use the suspension of Artest (a la Derek Fisher against Houston in 2009) as a way to rally their team together.
Even though it wasn't pretty, Artest executed his job as the enforcer for this Lakers basketball team. He was getting tired of J.J. Barea's penetration and when he couldn't find a way to stop him on the dribble, he simply assaulted him when he had a chance.
Now that he's out of Game 3, the Lakers are more desperate than ever. And with the Lakers' seemingly only able to thrive with their backs up against the wall, that may be a good thing.
This article is
What is the duplicate article?
Why is this article offensive?
Where is this article plagiarized from?
Why is this article poorly edited?
Harry How/Getty Images
Ron Artest Officially Suspended for Game 3
Frustration clearly took over Ron Artest on Wednesday night after he decided to take a cheap shot on Dallas Mavericks reserve guard Jose Juan Barea. Immediately after a whistle was blown to signal a foul on Lamar Odom, Artest swooped in with an open hand that caught Barea in the face.
Artest earned his second technical foul with that flagrant 2 and was promptly booted from game.
"I have no reaction," Artest told ESPN after Thursday's practice. "I'm ready to move forward and play basketball."
The loss of Artest, takes away one of the most effective defensive players on the Lakers' roster. In a series that will need the Lakers to come back from a 2-0 deficit, his toughness will definitely be missed.
Artest is a guy that has been doing the Lakers' dirty work for the past two seasons, making important plays on defense by picking up key steals and important blocks. Two of his biggest highlights from Game 2 were a pair of blocked shots on Peja Stojakovic.
With Artest gone, the Lakers could ask superstar Kobe Bryant to carry more of the workload on defense. Whatever the case, his suspension potentially becomes another costly setback for a Lakers squad that can't afford to drop a third straight game to the Dallas Mavericks.
This article is
What is the duplicate article?
Why is this article offensive?
Where is this article plagiarized from?
Why is this article poorly edited?