Hines Ward: Mistaken Report Results in WR Being Handcuffed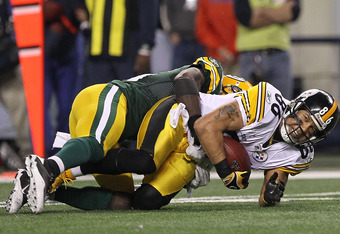 Error By Police Results In Hines Ward Being Handcuffed At Gunpoint
Hines Ward had a very interesting evening where a mistaken report resulted in Ward being handcuffed at gunpoint when it was believed he was a passenger in a stolen car.
The whole incident was a huge misunderstanding, but Ward went through some very scary moments while the cops tried to sort the whole thing out.
From TMZ.com:
Law enforcement sources tell us cops had run the license plate and noticed the car had been reported stolen. We're told police drew their weapons ... and ordered both Hines and the female driver out of the car and placed them both in handcuffs.
It turns out the driver of the car was the one who reported the car stolen in a prior incident but forgot to tell the police she had gotten the car back. Everyone went home without further incident.
MUST READ: Power-Ranking All 32 Teams Post Draft
I know all these situations are different, and cops never know who is behind the wheel, but immediately drawing their guns and escalating the stop to that level is something I just can not condone.
The cops could have politely asked first before deciding to draw their weapons. I just know if this had happened to me I would be contacting my lawyer first thing in the morning. Give me a chance to cooperate peacefully before deciding to be Dirty Harry.
Ward did the right thing and everyone is glad this did not become a bigger issue.
Most recent updates:
This article is
What is the duplicate article?
Why is this article offensive?
Where is this article plagiarized from?
Why is this article poorly edited?