Rashard Mendenhall: Ryan Clark Speaks out About Controversial Tweets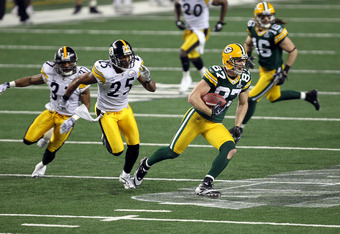 Ryan Clark Admits Mendenhall's Tweets Were Not Good
Ryan Clark spoke on the controversy stirred up by Rashard Mendenhall's Tweets this week. While not directly defending Mendenhall, Clark pointed out the role social media plays in the world today.
Mendenhall put out some unpopular Tweets questioning U.S. reaction to Osama Bin Laden's death and the way Sept. 11 unfolded on Monday, which he then tried to clarify and defend in a blog on Wednesday.
Clark admitted the comments could have a negative impact on Mendenhall's future with the team.
From Sirius XM Radio via ProFootballTalk.com:
"We play a game where contracts really only have to be honored by the players signing them," Clark said. "The teams that you play for do not have to honor those contracts. So it would be nothing that we could do. We'd have to accept and respect the Rooneys' thought process in that and their decision. I would be extremely disappointed if that is the case. I don't see this as a legal issue. Rashard Mendenhall wasn't the guy on those planes. Rashard Mendenhall was not wreaking havoc and terrorizing our American people. Rashard Mendenhall made an unpopular comment. Rashard Mendenhall had an opportunity to tweet something because of the way social media works that maybe wasn't in the best interests of him or our organization."
The Rooney Family has close ties with President Obama, so Clark's fears are well-founded. The truth is the Rooney's could say Mendenhall's comments embarrassed the organization and they feel it is best to move on.
MUST READ: Power-Ranking All 32 Teams Post Draft
It is not a matter of free speech, as many will scream. The right to free speech means Obama and the government will not do anything to Mendenhall, a private business is allowed to do anything it wants. If a private business feels Mendenhall has to go, then Mendenhall gets to go look for another team to play for and that is the end of the discussion.
Clark pointed out "social media is ruining the world," which is a fair, if somewhat misguided, opinion. Social media allows people to express their thoughts, many times uncensored.
So it is what it is, and that is the reason most of my facebook posts are inane and meaningless. If you want a good "Ghostbusters" quote, my facebook is the place for you. If you want thoughtful social commentary, you would be coming to the wrong place.
My Tweets, when I remember to do them, are even more vanilla. It's a link or the promise of a link.
The Steelers will have a discussion on Mendenhall's future when normal business resumes, it could be a very quick meeting.
Most recent updates:
This article is
What is the duplicate article?
Why is this article offensive?
Where is this article plagiarized from?
Why is this article poorly edited?