Rashard Mendenhall: Steelers Running Back Apologizes, but Is It Too Late?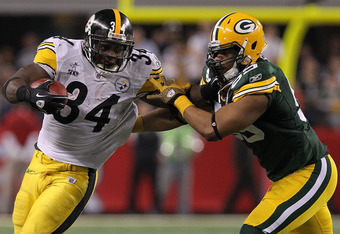 Rashard Mendenhall Has Been In Hot Water for Controversial Tweets, Will His Apology Be Enough?
With all of the controversy around Rashard Mendenhall's thoughts in the immediate aftermath of the death of Osama Bin Laden, it was only a matter of time before the running back came back with an apology and clarification of what he said.
Mendenhall created a blog and posted an explanation for his thoughts and motives when he posted those things to Twitter.
Per Mendenhall's blog:
I wasn't questioning Bin Laden's evil acts. I believe that he will have to face God for what he has done. I was reflecting on our own hypocrisy. During 9/11 we watched in horror as parts of the world celebrated death on our soil. Earlier this week, parts of the world watched us in horror celebrating a man's death.

Nothing I said was meant to stir up controversy. It was my way to generate conversation. In looking at my timeline in its entirety, everything that I've said is with the intent of expressing a wide array of ideas and generating open and honest discussions, something I believe we as American citizens should be able to do. Most opinions will not be fully agreed upon and are not meant to be. However, I believe every opinion should be respected or at least given some thought. I apologize for the timing as such a sensitive matter, but it was not meant to do harm. I apologize to anyone I unintentionally harmed with anything that I said, or any hurtful interpretation that was made and put in my name.
While Mendenhall may be telling the truth, the fact of the matter is that it's far too late for these words to make up for his original comments.
They came at a time of extreme emotion for the American people, and for Mendenhall to say things that could be seen in a negative light, it's just a bad look for him and his popularity, at least in the short term.
For now, people are going to roll their eyes and say nasty things about him, but the reality is that we as a people have a short memory. We move on to the next big story and the next villain that should get our contempt.
MUST READ: NFL Power Rankings 2011: Top 100 Players in the Game Today
In the short term, things won't be fun for Mendenhall, but this time next year, people will have forgotten that those tweets ever existed and that he said those things.
Then we can get back to worrying if Ben Roethlisberger has enough protection to win a Super Bowl, just the way it was meant to be.
Most recent updates:
This article is
What is the duplicate article?
Why is this article offensive?
Where is this article plagiarized from?
Why is this article poorly edited?