Dirk Nowitzki: Is Nowitzki the Best International Player to Ever Play NBA?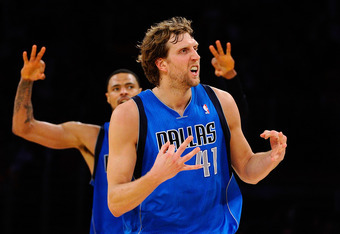 Is Dirk Nowitzki the Best NBA International Player Ever?
Dirk Nowitzki is the real deal. He has been in the NBA since 1998 and has been a dominant player for several years.
With a 2-0 lead over the Lakers, Dirk has been lights out this post season. He's averaging 26 points per game and is shooting over 50 percent in his last five games. Nowitzki has played extremely well against the Lakers in the first two games.
He has yet to win an NBA title, but his numbers are quite impressive. With his continuous great play this season and in the playoffs Nowitzki is making headlines as one of the best in the league today. He is definitely the best international player in the NBA right now. A year ago you could make the case for Pau Gasol, but not now.
However, is the greatest international player to ever play in the NBA?
MUST READ: NBA Playoffs 2011: Most Memorable Playoff Performance in Each Team's History
Nowitzki is a great player and all, but he is not the best international player to ever play in the NBA. When his career is all said and done then perhaps he will be. But for now, he isn't even close.
The greatest international player to grace the NBA is Hakeem Olajuwon, and that's a fact.
Let's take a look at their accolades. Nowitzki is a 10 time NBA All-Star. His career averages are 23 points, and eight rebounds. His career average shooting percentage is 48 percent. He won the 2007 NBA MVP award. Nowitzki is also a four time member of the All NBA First Team. However, he has never won a title.
Olajuwon was a 12 time NBA All-Star. He is a two time NBA champion, as well as a two time Finals MVP. Olajuwon was also a two time NBA defensive player of the year. His career average shooting percentage was 51 percent. He averaged 22 points and 11 rebounds per game. Olajuwon also won the 1994 NBA MVP award and is a six time member of the All NBA First Team.
When Nowitzki's career is over then perhaps he will surpass Olajuwon. Dirk still has quite a few years left to play, but it's tough to say that he'll ever be greater than the NBA's career leader in blocks.
The name Olajuwon means "always being on top", so good luck to Nowitzki trying to claim the title of greatest international NBA player ever.
Most recent updates:
This article is
What is the duplicate article?
Why is this article offensive?
Where is this article plagiarized from?
Why is this article poorly edited?