Chris Simms Trial: Simms Story Backed Up by Testimony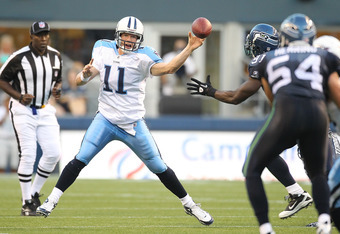 Chris Simms Marijuana Trial Continues
Since there are not many other stories related to football going on today, Chris Simms gets much more attention for his Driving While High trial than he ordinarily would have.
Simms was pulled over last year at a sobriety checkpoint where the police allege he looked like a "zombie" and was "slurring his words."
Simms claims friends in the car were smoking marijuana and that he told them to stop prior to being pulled over.
Simms tested negative for alcohol but refused to take a urine test.
One day after Chris Simms blamed a friend for the pot smoke in his car when he was pulled over by police, the friend indeed took the blame. Charles Granatell — a former Bryant University quarterback — said Simms in fact wasn't happy when he smelled pot smoke in the car and hasn't smoked once in the 12 years they have known each other.
The PFT piece also has the Associated Press mug shot of Simms, and I will let you judge for yourself if he looks high or not.
MUST READ: Power-Ranking All 32 Teams Post Draft
I have a bad feeling about this trial when it comes to Simms. This seems to be going in all the wrong directions, but I am not there.
With reports like these coming out of the court room, it seems unlikely Simms will be found "not guilty."
Simms never was the same quarterback after the hit that took his spleen. If Simms is found guilty, it will bring a suspension from the Commissioner's Office.
Simms' career seems over at this point, so it is unlikely a suspension is going to help his cause.
The lesson here is never let your friends smoke pot in your car.
UPDATE: Simms has been acquitted. Congratulations to the Simms family and let us never speak of this again.
Most recent updates:
This article is
What is the duplicate article?
Why is this article offensive?
Where is this article plagiarized from?
Why is this article poorly edited?