Real Madrid vs. Barcelona: Barca Rob Real of Chance at the Champions League
April 12, 2017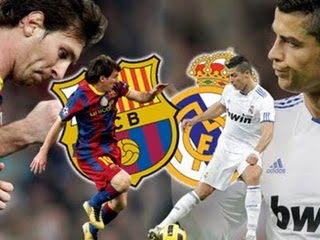 The saga of Barcelona versus rivals Real Madrid continued yesterday evening, May 3, at the Camp Nou.
The setting couldn't have been more dramatic, under a beaded curtain of rain for the second leg of the Champions League semifinal.
The game ended with a result that most expected—Barcelona are closer to the cup than before the start of the game. 
However, for critical parts of the match, it appeared that Barcelona took advantage of the puddle-ridden pitch—stopping, dropping and rolling as if demonstrating the ways in which to safeguard oneself from fire (something the match seemed to lack).
These demonstrations had been played out mostly by Javier Mascherano. I'll resist the temptation to list Lionel Messi as his castmate.
Other than that, the waters remained calm. No red cards, no fists involved and one good reason—that is, the disappearance of Real Madrid coach José Mourinho.
The Real Madrid manager's whereabouts were unknown, adding suspense to what the outcome would be, minus his sideline rants.
Without Los Blancos' theatrical muse to add to the torrential weather, the team mustered up fluid passing under a state of calm and managed to win the ball back on several occasions.  
However, something else was missing, too.
There was no goal from Lionel Messi, whose name, we learned from the commentators, is pronounced "Lie-nl." That is, like the American singer, Lionel Richie, who the Argentine was named after—not "Leeo-nelle."
What's in a pronunciation?  A lot, it seems, for them (and myself) to take the time to get it right, considering the ballplayer is talked about more than his namesake ever was.
The other goal-shy superstar, Cristiano Ronaldo, for the second week in a row, wandered like a cloud, but with a little less desolation than in the first leg. 
What fans did collect from the match, however, was the enjoyment of the playing style that they deserved the first time around.
That's not to say there had been no power struggle between the two sides—there had been—but they contained it to the art of playing football, fouls included, and not deliberately mudslinging despite inclement conditions.
Ignoring the fact that Gonzalo Higuaín was robbed of a goal and a chance for Real to catch up, in particular after a supreme goal by Marcelo, Barcelona held it together.
The Catalans went into the match as the better team and came out of the match as the winning team. Those who rooted for the opponent were almost compelled to admire Barcelona for the performance the team upheld—whether it was an honest one or not. 
For disappointed Real fans, if anything good came out of a Barça win, it would be the chance to see Manchester United (who should beat Schalke at Old Trafford tonight) conquer them at Wembley in the final.