Shin-Soo Choo: Indians Outfielder Dangerously Drunk During DUI Arrest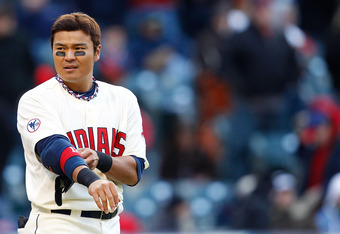 Shin-Soo Choo Dangerously Drunk During DUI Stop, Could Indians OF Be Suspended?
More details have begun to emerge in Cleveland Indians outfielder Shin-Soo Choo's DUI arrest case, and so far, almost all of the details aren't pretty.
According to the police report filed at the time of the arrest, the arresting officers didn't notice Choo's erratic driving until he stopped to ask them for directions. At that point, they administered a field sobriety test, which went poorly, to say the least.
Then came the big shocker, courtesy of the breathalyzer. According to the report, Choo's blood-alcohol content was .201, well over twice the legal limit in the state of Ohio.
For those of you who are unsure what that means, it means that just over one-fifth of Choo's bloodstream was alcohol at that point.
Must Read: The 50 Biggest Chokers in MLB History.
It was then noticed that the bumper of Choo's car had green paint on it, indicative of hitting another vehicle or street lamp.
Choo hasn't been punished by the club yet for his actions Sunday night, but being that drunk behind the wheel of a car isn't just dangerous to other people (and make no mistake, it is extremely dangerous), it's dangerous to himself.
After all, at .201, Choo has to be approaching the point at which a person suffers alcohol poisoning, right? When your BAC is above the Mendoza line, you're in big, big trouble.
Hopefully, the Indians will monitor this situation closely, and put Choo into some sort of rehabilitation, if need be. Much like Miguel Cabrera in spring training, suspending Choo seems like a mistake. the last thing you want to do is distance the outfielder from the support system of his teammates while he tries to get through this time.
But, at the same time, it doesn't seem right to let him keep playing when he's put lives at risk by doing this. Whatever the Indians end up doing, let's hope they get Choo the help he needs.
Most recent updates:
This article is
What is the duplicate article?
Why is this article offensive?
Where is this article plagiarized from?
Why is this article poorly edited?