Rashard Mendenhall: Pittsburgh Steelers RB Takes Idiocy to the Next Level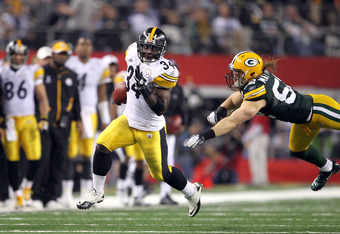 Rashard Mendenhall's Tweets About Osama bin Laden Manage to Take Stupidity to Another Level
Despite playing in the NFL for a grand total of four seasons at this point, Pittsburgh Steelers running back Rashard Mendenhall has managed to make himself a lightning rod for controversy. First, he defended Adrian Peterson's comments about the NFL being modern-day slavery, which managed to draw the ire of many around the football world.
But, on Tuesday, the Steelers running back took stupidity to a whole new level by spouting what seemed to be 9/11 conspiracy theories on Twitter just days after Osama bin Laden was killed by American forces in Pakistan.
Per Mendenhall's feed:
What kind of person celebrates death? It's amazing how people can HATE a man they have never even heard speak. We've only heard one side...

@dkeller23 We'll never know what really happened. I just have a hard time believing a plane could take a skyscraper down demolition style
Now, I'm not here to attack Mendenhall's views (even if most of us have heard bin Laden speak, thanks to the tapes he put out every few months). If he wants to subscribe to the conspiracy theories around September 11, then let him. He also has every right to air his views to the public, no matter how ridiculous or controversial they may be.
Must Read: NFL Power Rankings 2011: Top 100 Players in the NFL Today.
No, his views don't make him an idiot. The decision to air those views in the midst of a patriotic fervor, when they would have the most potential to explode in his face and cause a national backlash is what makes him an idiot.
Seriously, in what universe is it a good idea to decide to start stirring things like this up right now? Right when everyone in the country is thrilled by the death of a man responsible for the deaths of thousands?
Why would you say that now? Why not wait a week, or two weeks, or a month or two, then start talking about how you don't think the World Trade Center was blown up by terrorists flying planes?
How did he not anticipate this reaction? Did he really think it was a good idea? You would think that given the general tenor of the discussion of bin Laden's death, Mendenhall might have realized that his words would go over about as well as they have.
That's a whole new level of stupid, and for that, I commend you, Mr. Mendenhall. Have fun trying to explain yourself for the foreseeable future.
Most recent updates:
This article is
What is the duplicate article?
Why is this article offensive?
Where is this article plagiarized from?
Why is this article poorly edited?