2011 NFL Draft Results: Carolina Panthers News, Grades and Repercussions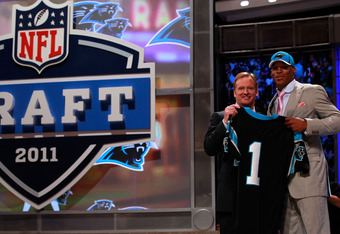 Chris Trotman/Getty Images
Well, the Carolina Panthers have pinned their future to a rookie head coach and a rookie quarterback with only one season of major college football experience. Ron Rivera is a sound choice. He's coached some of the best defenses in the NFL over the past decade, and has already been oh-so-close to being handed the reins to a team.
Cam Newton, however, could be a different story.
Newton's selection as the first overall pick in the 2011 NFL Draft comes with bus loads of naysayers. They should have picked Marcell Dareus or Patrick Peterson, they say, or traded down in the order.
What's done is done. Cam Newton has the inside track to becoming a starting quarterback for an NFL franchise, right or wrong. Jimmy Clausen won't just hand it over to him though.
The Panthers were one of only a few teams to sincerely attempt to address multiple major needs. They picked a quarterback, defensive and offensive linemen and a wide receiver. Whether those were the right picks or not is debatable.
Here are grades and the news for the Panthers 2011 NFL draft.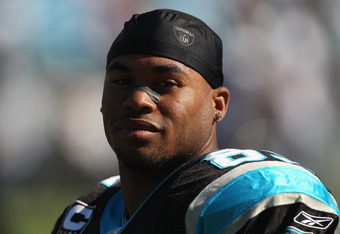 2011 NFL Draft: Even with Steve Smith, Carolina needs wide receiver help:
Steve Smith, Brandon LaFell and David Gettis make up one of the least feared wide receiver corps in the NFL. Smith still has some juice left in the tank but not like he used to. LaFell and Gettis are promising but obviously need time and work to develop.
However, the only stride made by the Carolina Panthers to improve at wide receiver was drafting Kealoha Pilares in the fifth round. He won't threaten any of the top three for their spots.
Amidst all this, Smith's future with the team is even uncertain, reports Pat Yaskinskas of ESPN.com. If Smith is gone, the receiving corps would be on the verge of pathetic.
Carolina picked a second defensive tackle, Sione Fua, in the third round well before that player was expected to come off the board with wide receivers such as Tandon Doss and Dwayne Harris still available. Doss was picked in the fourth round and Harris slipped to the sixth despite his game-breaking speed.
This article is
What is the duplicate article?
Why is this article offensive?
Where is this article plagiarized from?
Why is this article poorly edited?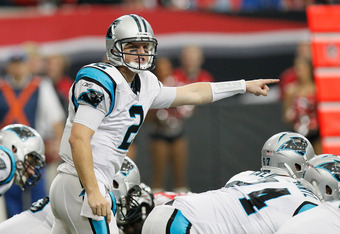 2011 NFL Draft: Panthers have used a 2010 second-round pick and a 2011 first-round pick on quarterbacks:
You think that Jimmy Clausen is spineless? That he doesn't have the "peaches" to be an NFL quarterback? Yeah, me too. But my mind might be changing, judging by NFL.com's account of press proceedings at a charity kickball event.
Clausen said everything the coaches would want to hear from a guy welcoming in a new teammate. "He's a teammate of ours now, so you've got to embrace him and bring him in like anyone else," Clausen said.
As far as his future in Carolina, Clausen said, "That's all I can ask for is a chance to compete. It's going to be fun working with Cam and just competing each and every day."
But Clausen did more than talk—he showed. He showed that he's not cleaning out his locker, kissing Newton's feet and hiring a real estate agent. That was epitomized by Clausen wearing a No. 2 jersey right next to Newton wearing one as well. "It's mine right now," he said.
Sure, he sprinkled in some public relations-oriented mumbo jumbo. But he also staked claim to his jersey and position as starter.
Carolina picking Newton No. 1 overall in the 2011 NFL Draft could end up brilliantly in two ways. Newton could turn into the star that the team hopes he can become. Or, he could be the ingredient that has been missing in Clausen's football career ever since he started throwing a ball: competition.
The kid was featured on ESPN as a high school underclassman. He was anointed as Notre Dame's new great hope after Brady Quinn. He was hyped up to be a first-round draft prospect before sliding to the second round.
Finally, it's not Clausen's outright job. In fact, he's playing second fiddle. It's make or break time for a player that will have to prove he can challenge himself to become something great.
This article is
What is the duplicate article?
Why is this article offensive?
Where is this article plagiarized from?
Why is this article poorly edited?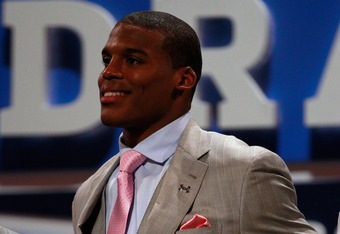 2011 NFL Draft: Will the Panthers become another statistic?
There are new faces in Charlotte, North Carolina. None are more noticeable than Carolina Panther head coach Ron Rivera and quarterback and No. 1 overall pick Cam Newton. The duo is forged together in the NFL annals from now and forevermore no matter how the marriage works out.
Pat Yasinskas of ESPN.com points out that history suggests it won't work out well. Since 1990, seven rookie head coaches had selected a quarterback with the No. 1 overall pick and none of them have won a playoff game.
Now, among those combinations, Jim Schwartz and Matthew Stafford and Steve Spagnuolo and Sam Bradford could very well kick the trend to the curb next season. But similar expectations were laid upon Marvin Lewis and Carson Palmer and that duo seems fated for failure. (Has Carson Palmer really never won a playoff game? He's 0-2, although his 2005 game only lasted for one play due to injury.)
Newton and Rivera forge a duo that doesn't seem destined to break away from the historical pack. Rivera is a defensive coach. Newton is a product with great potential, little film, a tendency to run and accuracy and character questions.
They have their work cut out for them.
This article is
What is the duplicate article?
Why is this article offensive?
Where is this article plagiarized from?
Why is this article poorly edited?

Carolina Panthers: Like this team?