Kentucky Derby 2011, Erin Andrews, Tiger Woods and Today's Swagger News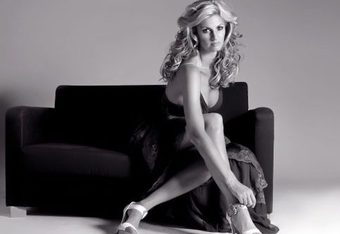 Saddle up, horse racing fans. The 2011 Kentucky Derby is but a few days away. That means plenty of mint juleps and big flashy hats for everyone.
We have all the skinny on the hot Kentucky Derby action descending on Churchill Downs. It may be the greatest two minutes in sports, but we are going to take the next few days to ramp up for the big day.
We will take a trip down to Washington D.C. to see some photos of Erin Andrews at Saturday's Correspondent's Dinner. If you thought Erin Andrews was slender, sexy and scintillating before, you may want to stick with me for the rest of the day.
She looks spectacular.
We are also on Tiger watch. Golf's lovable philanderer is hosting Tiger Jam this week, in Las Vegas. Remember, what happens in Vegas can usually leak out to the discerning media. We already have word that Tiger may have dropped $250,000.
That's his lunch money for one day. All of this craziness and more Swagger news are coming at you now.
Charlie Bell's Wife Stabs Husband With Box Cutter
You never want to see anyone resort to violence. Whatever came between Charlie Bell and his wife, I hope it is well behind them.Police were called to their home on Sunday morning in Grand Blanc Township, Michigan.
That is when they found that Charlie Bell, an NBA guard who played in limited minutes for the Warriors this past season, had been stabbed with a box cutter.
MUST READ: Patriotic Moments in American Sports
NBC Sports reports his wife, Tanya Bell, is in custody awaiting a pre-trial hearing set for Friday. Tanya Bell is a former Miss Michigan. It seems the Bells have had much better days.
Earlier this year, Charlie Bell was arrested in Oakland on suspicion of a DUI. So far, there is no news on what fueled the dispute that lead to Tanya Bell's arrest. She was taken in for domestic violence and assault with a dangerous weapon.
Bell averaged nine minutes per game in 19 games played for the Golden State Warriors this past season. He has career averages of 8.5 points and 2.3 assists per game.
He can certainly add some depth to a handful of NBA teams next year. It goes without saying that he should address his domestic issues before moving forward.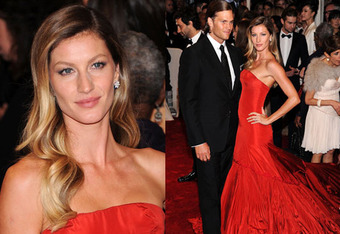 Gisele Bundchen and Tom Brady Heat up the Red Carpet at Met Gala
The Royal Wedding may have been what everyone was talking about this past weekend, but the royal couple of the NFL turned some heads at Monday evenings Met Gala festivities.
Gisele Bundchen lit up the red carpet with her sultry red gown. You can view even more photos of her here. I could do with a little less Tom Brady.
The best quarterback in the game is rocking the worst hairdo in a decade. The tight pony tail isn't working for a guy that we are supposed to believe is the best in his craft.
MUST READ: The 35 Hottest WAGs in NBA History
I can forgive him as far as he has the best looking wife in the league. I challenge you to find a wife that can fill that dress out just as well. Go ahead, meet my challenge. I welcome any and all photos of hot football wives.
I am a slave to my craft.
The Met Gala also featured the beautiful Rihanna. She has since moved on from her former boyfriend, Dodgers center fielder Matt Kemp.since their break-up, Kemp has remembered how to play ball again. That makes me very happy.
Alas, not as happy as Gisele Bundchen photos. I welcome the next opportunity to see Gisele in a bright new outfit. Until then, I have these pics to keep me happy.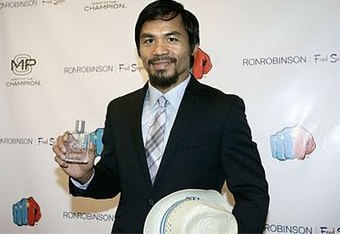 Manny Pacquiao Releases MP8 Cologne Ahead of Pacquiao vs. Mosley Fight
There is no more popular athlete in the world than Manny Pacquiao. He is mobbed as soon as the airplane doors open. His fans want to see him, be him and, as it were, smell like him.
Manny Pacquiao took to Los Angeles this week as he puts the finishing touches on preparations for Saturday night's fight against Shane Mosley.
Last Saturday, Pacquiao released a new cologne baring his name. Fans that want the winning scent all over them, they can purchase a bottle of MP8.
MUST READ: The 35 Hottest WAGs in NBA History
There is no telling whether the wearer of the scent can punish his opponents with tireless defense and bullet quick hands.
My days of wearing sports themed colognes are well behind me. The last time I sprayed myself with one was back in 1992 with the Michael Jordan cologne.
I also sported a wave haircut and rocked out to Kriss Kross. Yes, I was kind of a big deal. Well, if you want to smell like a big deal, run don't walk to Fred Segal and pick up a bottle of Manny power.
I am going to go out on a limb and say that Shane Mosley won't be spraying himself down with MP8 anytime soon.
Although, he will be wearing Pac Man's gloves all over his face by Saturday night.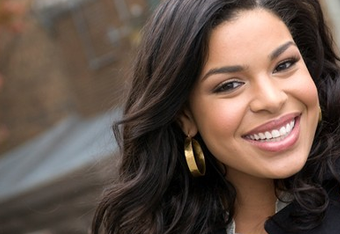 Kentucky Derby 2011 Kicks Off with Jordin Sparks National Anthem
This is ramp up week to the most refined party in sports. The Kentucky Derby is set to go off on Saturday, May 7th.
The event will get the full coverage treatment by NBC from 4pm - 7pm ET. I usually have one to six mint juleps by the time the horses hit the gate.
So I should be nursing quite a buzz when Jordin Sparks takes the stage at around 5:10 pm ET. The American Idol winner who has two albums released after her victory will be at Churchill Downs.
MUST READ: The 35 Hottest WAGs in NBA History
Sparks will soon be on tour with New Kids on the Block and Backstreet Boys in a summer tour. But first, there is some spring time business to take care of. Sparks will treat us with her rendition of the National Anthem.
There is no word on what specific celebrities that will be present at the biggest event in horse racing. you can bet that they will be plenty of beauties busting out the summer dresses and taking the time to don their best chapeau.
There is nothing quite like the pageantry at the Kentucky Derby. I am so excited that I may just start my whiskey drinking now.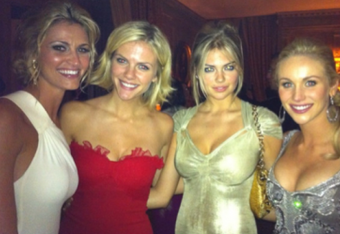 Brooklyn Decker and Erin Andrews Shine at White House Correspondent's Dinner
It seems like Washington D.C. is the darling American city of the moment. This past weekend welcomed the top White House journalist, commentators, politicians and celebrities to Washington to celebrate at the annual White House Correspondent's Dinner.
Now before I continue, I want to tell all of you with heart conditions to leave the room. I want to tell you that every hot woman in the world was in attendance.
MUST READ: Patriotic Moments in American Sports
Okay, that may be a little bit of an exaggeration. I am still coming down from the NFL draft. So excuse my propensity for hyperbole.
There is no exaggeration in saying that I can think of nothing better than being in the same room as Erin Andrews and Brooklyn Decker.
One is the hot wife of tennis star Andy Roddick, Brooklyn Decker (pictured second to left). The other is Erin Andrews (pictured far left). She is a fan favorite ESPN sideline reporter. Both were in the same room, and sharing an embrace, pictured here.
If you were wondering who the other ladies are in this picture, that would be Kate Upton and Chrissy Teigen. Yes, supermodels.
What I wouldn't give to be a correspondent on that night. Actually, that is the only night I would want something like that.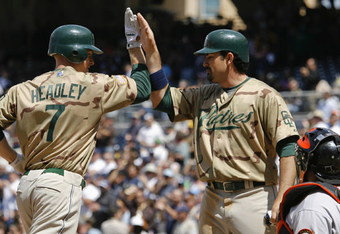 San Diego Padres Will Wear Camouflage Jerseys Monday Night
It's time to dust off the camouflage uniforms and once again pay tribute to the men and women that put their lives on the line in the name of country.
The nation is abuzz with the news that the most vilified human being in American history was killed by U.S. armed forces. Osama Bin Laden has been killed, and the whole of the nation is caught between a mix of emotions that includes reflection, celebration and mourning for those that passed at his hands.
MUST READ: Patriotic Moments in American Sports
The moment was not lost on the San Diego Padres. The team tends to wear their home camouflage jerseys on Sunday to celebrate the military.
They will now bust out the camos in an effort to applaud the military for all their efforts. The Padres will also offer two free tickets to all active, retired and veteran military personnel.
There are rumors that a moment of silence may also be invoked prior to the Padres taking on the Pittsburgh Pirates.
Aaron Harang will be on the bump for the Padres in full camo glory. His nemesis will be right-handed pitcher James McDonald.
UFL Draft 2011 Results Released Live on Twitter
The UFL has a lot to learn from the NFL draft. For one, it is best if you over analyze every single pick as if it were the end of the world.
Second, it is best to invite a crowd that cheers for a fifth round pick as if Darelle Revis just took an interception to the house in a late November game.
The UFL is the smaller, lamer brother to the NFL. They don't have the luxury of three exhaustive days of drafting. The UFL can't even get a network to cover their all-important draft.
MUST READ: Leah Shevlin: Bleacher Report's World Football WAG of the Week
Instead, they will use the increasingly important social media tool to get their draft results to the handful of UFL fans that need them.
The league will have each of the five head coaches tweet their draft pick. Take out the fact that this is a UFL news item, this is a pretty cool idea. The fans would know at the same time as other teams and the commissioner.
We wouldn't have to slough through the exhausting walk to and from the podium as in the NFL draft.
Here is a rundown of each of the five coaches and their Twitter handles. I am a little burnt out on anything to do with a draft. I even refuse my roommate from stating that the apartment is felling a bit drafty.
You may like this stuff, so here you go:
Joe Moglia (@UFLJoeMoglia) of the Omaha Nighthawks
Dennis Green (@UFLDennisGreen) of the Sacramento Mountain Lions
Marty Schottenheimer (@DestroyersMarty) of the Virginia Destroyers
Jim Fassel (@LocosJimFassel) of the Las Vegas Locos
Jerry Glanville (@JerryGlanville) Hartford Colonials
The UFL could have the best draft they could possibly hope for. There are quite a few NFL free agents worried about a prolonged lockout.
There may be a handful to make the jump between leagues.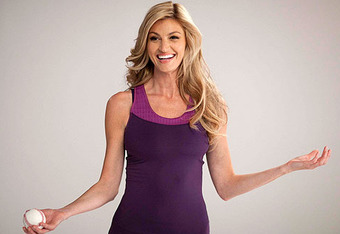 Erin Andrews Welcomed to White House Correspondent's Dinner
Before the big news that has rocked the world in the form of the death of Osama Bin Laden, there was the celebration in the form of the White House Correspondent's Association Dinner.
Just one evening before we all found out that Bin Laden had indeed been found and killed, the President was in a laughing mood with journalists and celebrities.
Saturday's Correspondent's Dinner saw Seth Meyers take to the podium and light the room with laughter. He was not the only bright on the evening, sport's most beautiful sideline reporter was invited to celebrate that evening.
MUST READ: Patriotic Moments in American Sports
Erin Andrews arrived in a white gown that can only be described as stunning. You can see the grandiose photo here.
The dinner is a mix of journalists, politicians and celebrities. It is a scene that could have just as easily been mistaken for a Hollywood insider's dinner.
Andrews of course fit right in. There is a reason that she is beloved by any sports fan with ESPN on the TV.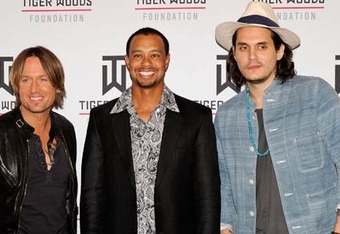 Tiger Woods Hits Las Vegas with Buddy John Mayer
I love Las Vegas. The noises, the people and action are all reasons that I get giddy the second I see the bright light of the Luxor shine as I drive in from Los Angeles.
The only things I would do without is the incessant losing of money, and the smell. Other than that, I am game anytime Vegas is suggested. Two dogs took to Sin City his past weekend, and it was a resounding success apparently.
Tiger Woods held his annual Tiger Jam this weekend. It was a few days of celebrity golf and clinics. John Mayer made an appearance to the excitement of more than a few ladies.
MUST READ: The 35 Hottest WAGs in NBA History
This is where the story gets interesting. Woods teamed up with buddy Mayer on Saturday night. There are quite a few reports from that particular night that has Woods dropping as much as $250,000.
I don't care how rich you are. Dropping 250k is a big deal. That is where Woods should have retired for the night in a sobbed filled exit. Instead, he took the time to tweet this intriguing nugget.
Big night at the tables with Mayer. He's cool. We both walked away winners.
So, Woods leaves the tables down that much money and still proclaims success. I smell something fishy here.
Let me go from less than subtle, to full-on blunt. Woods+Mayer= Women
John Mayer and Tiger Woods love their females. Let me ask what would put a smile on your face after losing that much money? Exactly.
Jordin Sparks Will Sing National Anthem at Kentucky Derby 2011
The 137th Kentucky Derby is this Saturday. That should come as startling news as you now only have four days to get the necessary ingredients for copious amounts of mint juleps.
The pomp and glamour of the Kentucky Derby is truly something to behold. Soon the biggest hats in the nation will feature on the sidelines on Saturday. Some of the hottest celebrities will be there to celebrate.
The party starts with American Idol winner Jordin Sparks singing the national anthem. The 21-year old will perform at around 5:10 ET. You can follow the big day on NBC from 4-7pm ET.
MUST READ: The 35 Hottest WAGs in NBA History
Sparks is a young talent on the rise. She has released two albums since her victory on the ever popular American Idol. She plans to release a brand new single shortly. After which, she will join the New Kids on the Block and Backstreet Boys on tour. I now have no idea what year this is.
For me, Saturday will be lazy day. The summer is well on its way. The best marker to signify its return is the Kentucky Derby. The weather is warm, the day is bright and the women are back to wearing dresses.
The Kentucky Derby is the most refined party in sports. That may be the biggest reason I am not invited.