2012 NFL Draft: Are the New England Patriots Planning on Drafting Andrew Luck?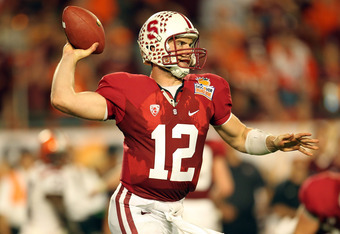 Is Bill Belichick Even Smarter Than We Already Think He Is?
The 2011 NFL Draft barely is over and thoughts already are turning to the 2012 NFL Draft. In particular, the destination of Andrew Luck is going to be a hot topic of conversation.
That conversation took an unexpected turn on ESPN when, prompted by a reader question, Adam Schefter theorized the Patriots could be working angles in the conference room about how to obtain Luck in next year's draft.
Since the Patriots are highly unlikely to end up with the first overall pick in the draft, they will have to trade up. With the haul the Patriots have gotten in recent years, and their constant drive to keep acquiring picks, not only would the Patriots have the ammo to move up, they would not be hurt deeply by losing a bunch of picks next year.
What if a team that recently invested heavily in a quarterback, such as Carolina, comes up with the No. 1 overall pick? Would the Panthers turn their backs on Newton and pick Luck? I think they would have to. I think anyone picking No. 1 next year, no matter who it is, has to take Luck. But for the sake of argument, let's play out this hypothetical. New England can go to the team with the No. 1 pick next year -- if it is set at quarterback -- and say, We'll give you two No. 1 picks this year, two No. 2 picks this year and one No. 1 pick next year. Would a team that has another quarterback be willing to deal the rights to Luck for five premier draft picks? My guess is no. But it doesn't mean New England couldn't try to set itself up for the next dozen years once Brady retires. It could be a very interesting storyline at next year's draft.
This story qualifies as a mind-blower. Not only is it plausible from a pure stock and trade standpoint, Bill Belichick is one of the few football guys savvy and gutsy enough to pull it off.
MUST READ: Report Cards For The First Three Rounds
If Carolina still flops in 2011 (which is very possible), but is not ready to give up on Cam Newton, then the No. 1 overall pick goes up for bidding, and Belichick most likely will be one of the few guys with the ammo to be the highest bidder.
Think of all the depth Belichick has acquired in the last few years, and we have not even seen what his draft haul this year will produce. If Belichick ends up with Luck and then a handful of low picks, it is not going to matter.
This is a great thought and something to chew on over the summer until real football starts.
To the main questions, though: Do I think it will happen? No.
Can it happen?
Definitely. Anything is possible.
Most recent updates:
This article is
What is the duplicate article?
Why is this article offensive?
Where is this article plagiarized from?
Why is this article poorly edited?