Chris Simms Trial: Titans Quarterback Claims Friends Smoke Marijuana in His Car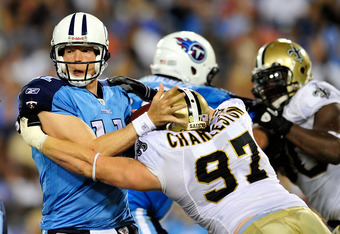 Simms Faces Up To A Year In Jail If Convicted
Chris Simms is using one of the oldest excuses in the book while on trial for allegedly driving while high: His friends were smoking, not him.
Simms was pulled over last year at a sobriety checkpoint where the police allege he looked like a "zombie" and was "slurring his words."
Simms claims friends in the car were smoking marijuana and that he told them to stop prior to being pulled over.
Simms tested negative for alcohol but refused to take a urine test.
This case is going to come down to the word of the police officer versus Simms. Whatever your opinion on the case, the courts generally rule in favor of the police when it comes down to one person's word over another.
Besides, the "my friend did it" defense seems pretty weak. This is not to say it is not true, but it is weak. It also shows a lack of judgment on his part.
MUST READ: Report Cards For The First Three Rounds
I had friends who smoked various substances, legal or otherwise, when I was in high school and college. None of them were allowed to smoke in my car or my residence. That was a rule I strictly enforced, and I was a broke college student, not a rich athlete.
Only one "friend" I knew ever broke that rule and he was promptly kicked out of my house and I never spoke to him again because of the level of disrespect he showed. I did not care if he smoked marijuana, that was his business. I did care that he did not have enough respect for me to respect the rules of my house.
Simms may need to choose better friends, because if his story is true, there is not much anyone can do about it at this point. Simms should have said "no smoking in my car," but he did not, so now he is in this situation.
Most recent updates:
This article is
What is the duplicate article?
Why is this article offensive?
Where is this article plagiarized from?
Why is this article poorly edited?