Cam Newton: Playbook in Hand, the Burden Is on Him to Learn an NFL Offense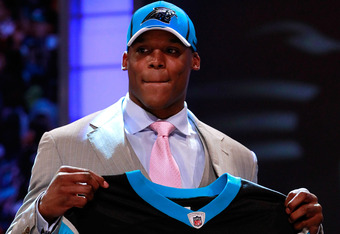 Newton Says He Is Capable Of Learning Quickly
Cam Newton began his public relations campaign this week to combat the belief he will not be able to learn a pro-style offense at Carolina.
Newton appeared on ESPN's Mike and Mike In The Morning on Monday and said he took offense to criticisms online and on TV about his ability to transition into the pro game.
Specifically, Newton said, he's bothered by people saying that his Auburn career was aided because "our offense is so simplistic," and that he can't handle an NFL offense, which requires players to practically learn a new language in order to call the plays.

"You can't fault me for not having a lengthy play at Auburn," Newton said. "There was a lot of success we had at Auburn without any lengthy plays."
This is not a good sign for Carolina Panthers fans.
Newton may sound like he is confident when he says it is not "his fault" about the simplistic offense at Auburn, but he conveniently ignores the fact he now must shoulder the burden of learning a whole new way of running an offense that is 10 times as complex as what he had been running.
MUST READ: Report Cards For The First Three Rounds
Newton made a lot of plays with his feet, and no matter how much he will try and adapt his game in Carolina, his first instincts always will be to tuck the ball in and make the play himself.
Newton said he has the playbook and is studying it right now. That is a good thing but it only is one piece of the process.
Newton now must hope the lockout ends sooner rather than later and get back on the practice field and show the coaches he is a fast learner.
If Newton shows up to camp and still can not call or understand a pro-style play, the Panthers are in very deep trouble.
Most recent updates:
This article is
What is the duplicate article?
Why is this article offensive?
Where is this article plagiarized from?
Why is this article poorly edited?