NFL Draft 2011: Mel Kiper Says New England Took Risk with Ryan Mallet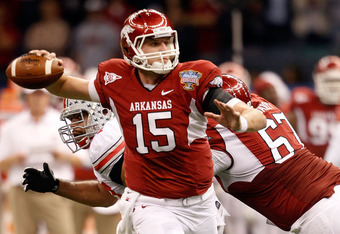 NFL Draft 2011 and Mel Kiper Says New England Took Risk with Ryan Mallet
As usual, the New England Patriots traded up and back and for next year, just like they always do. The organization is set on uninterrupted success and the way the organization does things is the right way.
Bill Belichick knows a lot about football and the organization follows him into battle every draft day. Like the Eagles, their drafts are never fancy, but they add depth and skill to their teams and that makes them contenders every year.
I think the best pick of the draft will be the Ryan Mallet pick. Mallet will have time to grow and mature under Tom Brady and Belichick and maximize his potential.
Must Read: 2011 NFL Draft Grades: Report Cards for All 32 NFL Teams Entire Drafts
Mel Kiper's Analysis:
This was a mixed bag for me, a usual tour de force in terms of adding a mountain of roster spackle with the acquisition of draft picks -- the Patriots now have a pair of Round 1 and Round 2 picks to use (and trade) in 2012 -- but also with a few puzzlers mixed in with the usual smart picks. The Patriots needed offensive line help in a couple of spots, and they got an athletic guy that can be plugged in immediately with Solder. Dowling is a first-round pick if fully healthy and a guy I've had on the Big Board, but he wasn't healthy in 2010. The Patriots reached on a pair of running backs -- though Vereen offers a nice pass-catching option out of the backfield -- and then there was the notable selection of Mallett. It's a sensible pick. Value is value, and while Tom Brady's true heir may still be in high school, Mallett is now a commodity worth developing. Look what happened with Matt Cassel. I like the selection of Cannon, a massive lineman, but there's no real help in the pass rush at either defensive end or outside linebacker, which is pretty surprising. They got so little in terms of a pass rush from a quartet of linebackers last season, and this is a team that passed on Clay Matthews two years ago. Where is the pass rush help? But, as always, the Patriots will have plenty of chances to plug holes again next year. I just think for a team in line for another Super Bowl run, that was a need worth targeting.
Grade: C+
I love what the Patriots do during the draft every year and I know they trade picks all the time, but when you know your job is safe until you don't want it anymore, you would be planning for the future all the time too.
Check out more NFL Draft Coverage from your home of everything Football, Bleacher Report.
Most recent updates:
This article is
What is the duplicate article?
Why is this article offensive?
Where is this article plagiarized from?
Why is this article poorly edited?