UFC 129 St-Pierre vs. Shields Live Results and Blog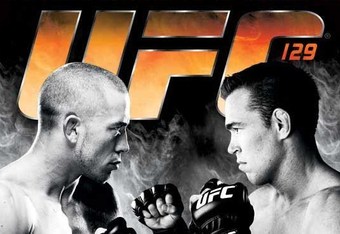 BleacherReport.com MMA is live at UFC 129.
The main event of the evening is a welterweight title bout between all-time great Georges St-Pierre, and top contender Jake Shields. With a win, St-Pierre will have cleaned out most of the division and may soon move up in weight class to fight Anderson Silva. A win for Jake Shields would put him in the top-five pound-for-pound list.
The co-main event is a featherweight title fight between human highlight reel Jose Aldo and the Canadian challenger, Mark Hominick. This is the first featherweight title fight in UFC history.
Also featured is a bout between UFC legend Randy Couture and recent light-heavyweight champion Lyoto Machida. The bout is billed as Couture's retirement bout. Lyoto Machida has lost two fights in a row ( one KO to Mauricio Rua and one controversial decision loss to Rampage Jackson) but is seen by many as perhaps the most interesting challenge for current champ Jon Jones.
The 55,000 attendance and $11 million gate will both break UFC records.
Refresh the page or press F5 on your keyboard for up-to-date results.
That's it for tonight.
A ton of great fights.
To recap:
Mark Hominick's courageous performance against Jose Aldo.
Lyoto Machida's Karate kick knockout of Randy Couture.
Rory MacDonald's breakthrough against Nate Diaz.
And a whole host of a bunch of great fights on the undercard.
Overall it was a fantastic night, thanks for following the Live Blog!
Hopefully the eye injury isn't serious.
St-Pierre's apparent eye injury does change the perception of the performance a bit, but it will be interesting to see how fans respond to this. his reception after the fight was luke-warm, and this is his home country.
St-Pierre once again non-commital about fighting Anderson Silva.
St-Pierre says that he wasn't able to see out of his left eye after the second round.
Disappointing end to what was otherwise the greatest card I've ever seen.
Superman punch by GSP lands. Shields is a punching bag, but he's super-tough. Maybe not Mark Hominick tough, but still very manly to take this beating. Shields lands a stiff punch, but GSP unfazed. Pretty uneventful round. Could have gone either way, as St-Pierre held back completely. I have it 10-10, and 50-46 for St-Pierre.
Takedown by GSP followed by a big punch, but Shields gets back up. Jab by St-Pierre and another overhand whiffs. A kick dorps Shields but he grabs St-Pierre's leg and gets to his feet. Shields egs on St-Pierre and the crowd boos. GSP controllingthe standup, but there's now a cut above his nose that is bleeding. 10-9 GSP, but it's been slow.
GSP is winning easily, but this might not be a performance that stops the criticism that he doesn't finish, unless he turns it up over the final two rounds.
Jabs by GSP as Shields lands kicks with his lead leg. Despite being the vastly superior strike, GSP seems content in dominating this fight from the outside for now. He lands yet another overhand right that wobbles Shields. GSP misses with another big overhand. Another big punch as shields tris for a kick. Takedown by GSP, and he tries to pass Shields' guard, but the round expires. 10-9 GSP.
Right hand lands by GSP. Jab by GSP. Shields paws with jabs and kicks, but with no force behind them. Jab by GSP catches Shields on one leg. Outside leg kick by GSP. GSP wobbles Shields with an overhand right. These overhand rights are the loopiest punches GSP has ever thrown, but they're landing consistently. GSP shrugs off a Shields takedown attempt. Double jab by GSP. Body punch by GSP as Shields lands a kick. Shields is shrugged of again, and again GSP lands an overhand right. GSP is really trying to land his spinning back kick but so far it's mostly missing. GSP doing a shuffle with his feet, and he stuffs another takedown. 10-9 GSP.
Both fighters staying at range. St-Pierre seems tentative. Jake Shields grabs a single leg, but St-Pierre rips him off and pushes him against the fence. Spinning back kick attempt by GSP misses. GSP controlling with his jab, and he's starting to fired his right hand. Jab knocks Shields off his feet, but he's back up quick. Kick by GSP is caught but GSP brings his leg down. Superman punch by GSP. Shields switches stances momentarily. GSP lands an ovrhand right. 10-9 St-Pierre.
With the main event left to go I'm already emotionally spent.
Georges St-Pierre vs. Jake Shields
Hominick is hurt by a punch, but gets a takedown into half-guard. He works with punches to the body and head. Hominick tries a canpoener in Aldo's guard and stars landing punches. The crowd is goin nuts. Aldo looks dead tired. Aldo is hanging on but he's taking hard punches. A possible 10-8 for Hominick, but it will probably be 10-9 for the Machine. What a gutsy performance!
Jabs land by Hominick. A big leg kick wobbles Hominick. A big punh hurs Hominick, but Aldo after what looks to have been an accidental groin shot. Nice hook by Hominick. Jabs by Hominick, but his left leg is getting beaten up. Straight left by Aldo and another huge leg kick. Aldo drops Hominick, but Hominick holds on again. Hominick is getting beaten up by nasty elbows now. Hominick has a huge amount of swelling on his forehead. It looks awful. The fight is paused for a standup, and McCarthy calls the doctor in to check the swelling. Aldo get a takedown and the round expires. 10-9 Aldo, maybe 10-8.
Hominick will probably need a knockout to win this one.
Jab by Hominick. Great head movement by Hominick, but he eats a jab and a hook. Hominick stuffs a takedown. Left hand lands for Aldo. Hard leg kick by aldo. 1-2 combination by Aldo. Solid left by Hominick. Hominick stuffs a takedown. Jabs by Hominick. Punches drop Hominick, but he regains guard as it looked like it was nearly over. Hominick holds on in guard as the round ends. 10-9 Aldo.
Right hand lands by Hominick. Bod punch by Hominick, followed by a right hand. Uppercut by Aldo. Right hand lands by Hominick who stuffs a couple takedowns. Jab by Hominick. Hook by Hominick lands, but Aldo gets a takedown. Hominick doing great armwork to avoid damage. Another standup by McCarthy. Hominick lands a hook and a straight right, but gets taken down again. Aldo ends the round in side control. Close round, but 10-9 Aldo.
Leg kick lands for Aldo. Uppercut by Aldo followed by another leg kick. Another leg kick by Aldo puts Hominick off base. Hominick catches a kick, but Aldo is up. Right lands by Hominick. Jab by Aldo and he gets a takedown. Hominick goes for an armbar but it isn't close. Aldo works in Hominicks guard with punches and elbows. Aldo looks to pass, but so far Hominick's guard looks good. More short elbows by Aldo. Hominick doing a good job so far of avoiding damage. McCarthy stands the fight up. Uppercut by Hominick, but Aldo has him down again as the round expires. 10-9 Aldo.
Jose Aldo vs. Mark Hominick
The UFC is really playing up the nationality thing on the big screens.
Steven Seagal for MMA trainer of the year?
Machida lands a punch and stuffs a takedown. Straight left by Machida. Right hand by Machida barely misses. Jumping front kick knocks out Randy Couture. Brutal highlight reel KO. Steven Seagal wins again.
Both fighters try to guage the distance. Randy fakes a takedown and tries a straight right but Machida is nowhere near. That seems to be Couture's gameplan early. Left hand land by Couture. Couture fires an uppercut but misses. Flurry in the center of the cage but nothing solid connects. Left hook lands by Machida. Hard knee by Machida. Randy goes for a takedown but is stuffed. Another big knee by Machida. Very close round, but I have it 10-9 Machida.
This article is
What is the duplicate article?
Why is this article offensive?
Where is this article plagiarized from?
Why is this article poorly edited?