Peyton Manning's Colts Are Guaranteed to Pass on Terrell Owens for the 2nd Time
May 4, 2011
Why bother to get better?
Don't listen to me of course; the same writer who proposed the absurd idea that Terrell Owens could have actually made the Colts a better team in 2010.
"They already have depth at the position, Owens is washed up, he's a locker room cancer and the last thing the Colts need to remain competitive."
So they said.
It was the general consensus, of course, that Peyton Manning didn't need talent already proven to be productive elsewhere; that with late round draft-picks aplenty to start beside Reggie Wayne, Indianapolis could have no need for an "over the hill" egotist that would only distract the team to detrimental proportions.
Clearly the Colts have displayed no history of being built of glass, as their durability was sure to carry them through the 2010 NFL season, turning preseason Super Bowl favorites into champions once again.
All the while, nuts like myself prophesied that Owens "could be the difference between winning another Super Bowl and losing in the first or second round of the playoffs". –Ryan Michael (June 8th,2010)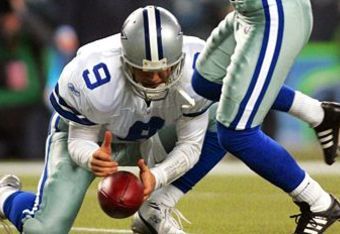 Another preseason prediction "gang aft agley" by yours truly.
http://bleacherreport.com/articles/403187-why-peyton-mannings-indianapolis-colts-need-to-sign-terrell-owens
At least I can take solace in the fact that Owens couldn't produce while in Cincinnati:
72 receptions for 983 yards and nine touchdowns.
Of course, Owens missed a great deal of almost a quarter of the entire season; but I don't think he would have put up more than an extra yard or two had that not been the case anyway.
If anything, I say that Owens' production is inflated given that he benefited from being part of Cincinnati's cerebral passing game.
I shrug my shoulders at the 222 receiving yards he put up against Cleveland because, well, it was against Cleveland (no disrespect intended).
And I chalk his ten receptions for 141 yards and two touchdowns against the Pittsburgh Steelers up to happenstance.
The bottom line being, maybe the Colts were right after all.
They were the ones with the foresight to know that injuries at the receiver position would not become a problem. They were the ones who knew that signing a merchandise-machine like Owens to a small one-year contract during a "Cap-Free" season would probably have done them much more harm the good.
I mean, what if Owens felt that not enough passes were coming his way?
You have to keep that in mind.
That's what happened in Dallas. And even though the film would suggest that there were times when Tony Romo passed to a covered Jason Witten in favor of an open Terrell Owens, I don't think that Peyton Manning has the character or leadership to be able to keep an explosive personality like Owens at bay.
Besides, I doubt Owens would have had any interest in playing with a guy like Manning. If a field-general like Trent Edwards couldn't inspire Owens to be motivated while playing for a great franchise like Buffalo, I seriously doubt that Peyton Manning and all of his "big numbers" would motivate Owens to become productive in Indianapolis.
With the 2011 NFL season approaching, I suggest that the Colts continue to role with "more of the same" as it worked out great from them in 2010.
If you weren't drafted in Indy, your chances are slim.
And star or no star, we simply cannot take a risk on a loose cannon like T.O.
He'll be on Twitter instead of out fraternizing like a real man, he'll be working out from dusk till dawn instead of practicing how to speak politically correct in post-game press conferences and while by now every other receiver in the league has learned to never complain after they feel that they were "open," T.O. just doesn't understand that all of his receptions, yards and touchdowns amount to nothing if he distracts the team so badly that paid professionals forget what's in their playbooks while they completely self destruct on the football field.
Look back to Tony Romo's botched field goal hold during the Wild Card round of the 2006 NFL playoffs, and you'll find evidence of Owens' disruptive force at work.
Just a year later after losing to the New York Giants in the divisional round of the playoffs, Owens cried during the post-game press conference; playing the role of a "good teammate" to distract everyone from the fact that his intrusive presence cost the Cowboys yet another playoff game.
Throw away all the receptions, yards, and meaningless touchdowns.
That's all T.O. is about anyway.
It may look good on a stat-sheet or for fantasy football, but all those "big numbers" don't amount to much if you cannot "get the job done".
The Colts currently understand the risks involved, much as they did last year.
And injuries or no injuries, depth or no depth, T.O. just ain't worth the risk.
He's destroyed every team he's ever played for (all of whom have improved immediately after his departure); he distracted the Bengals' entire defense last year (to use a current example), and it's always important to remember one vital notion:
Touchdowns don't win championships, teams without T.O. win championships.
What do to the last 15 Super Bowl champions have in common?
Answer: T.O. was not a part of their roster.
If the Colts want to become champions in 2011, I suggest they do the same.
I could reveal that all the aforementioned is in actuality, erroneous drivel, but it sounds close enough to the general consensus that many will adopt the beliefs presented within to be factual anyway.
It just sounds right, which is all most ever needed to begin with.