UFC 129 Results: Georges St-Pierre vs. Jake Shields for Welterweight Belt, Rd. 1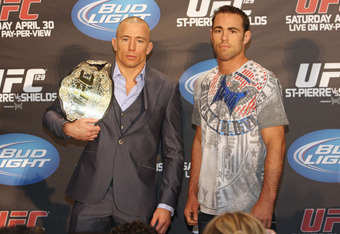 Let's sit back and appreciate just how HIDEOUSLY BAD mixed martial arts judging has gotten—one judge scored the fifth round in Aldo vs. Hominick for Aldo. Is that a freakin' joke?
The judge should be fire on the spot—he/she is either incomprehensibly bad at the job or drunk; either is a fireable offense.
Moving on...
Based on my predictions thus far, this is about to end very badly for Jake Shields. If it does, apologies for putting the whammy on the challenger.
Fight of the Night is off the board, Knockout of the Night won't go to Jose Aldo (who looked decidedly human), Nate Diaz got pulverized and all the picks I've gotten right were painfully obvious in the first place. All that notwithstanding, I'm still optimistic.
After all, Shields is the last thing separating Cesar Gracie Jiu-Jitsu from being shutout at UFC 129 and, unless Jake wins or goes down valiantly, it will be an embarrassing 0-fer after both Daniel Roberts and Diaz have already been manhandled.
And we're off!
Jake wades into his awkward, but effective-enough striking and eats jabs plus a few kicks before latching onto a leg and maneuvering GSP over to the fence where he has an ally in keeping St-Pierre in his clutches. It's to no avail, however, as GSP easily slips away and begins to open up on his feet.
More counter jabs land as Shields looks a little tight on his feet (which is normal).
Rush starts mixing in some exotic karate kicks before sending Jake groping to the floor with a power jab. GSP continues to repel Shields with his jab and lands a right hook for good measure. Easy 10-9 for GSP.
Most recent updates:
This article is
What is the duplicate article?
Why is this article offensive?
Where is this article plagiarized from?
Why is this article poorly edited?