Pele: Has the Greatest Soccer Player Ever Been Replaced by Lionel Messi?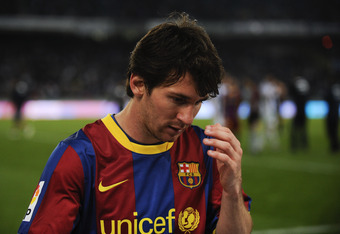 Pele believes he's the best, but is he really?
You can't blame Pele for believing that he's the greatest of all time. After all, when your name is synonymous with excellence and footwork then you have the right to believe that you are the one and only "Great one."
But one must respect that as the game evolves there is always the chance that someone is better. For many that man is Lionel Messi.
Barcelona's star is quickly entering the discussion of not only today's greats, but the all time greats.
Ian Chadband of the Telegraph has this to say on the subject of Messi's greatness:
For Messi is making the incredible seem workaday. Why did it not take away our breath that he could slalom through four sentries and coolly slot past one of the world's best keepers? Only because we had beheld it before from him. Over and over.
Chadband brings up a good point. Messi is an amazing footballer and one who's talents we take for granted. Perhaps because we live in a world that has foolishly slotted in Pele as an unreplaceable great. Much the way we have Michael Jordan.
MUST READ: The 50 Greatest Comebacks in Sports History
This way every comparison is invalid or met with disbelief as if no one can take their spot. As if their greatness is so lofty that our appreciate for anyone else must be met with the idea that "yeah, he's great, but he's no Pele."
But they must have taken someone's spot themselves. Greatness existed before Jordan and Pele, and it will continue to exist after them.
We don't have to devalue the contributions that Jordan and Pele made to their sports simply because we value someone else's. We must also recognize that, though we understand their singular greatness, it can be surpassed because there almost always comes something better.
Maybe Messi is that something better.
Most recent updates:
This article is
What is the duplicate article?
Why is this article offensive?
Where is this article plagiarized from?
Why is this article poorly edited?