2011 NFL Draft Grades and Results: The 5 Biggest Losers of the 2011 NFL Draft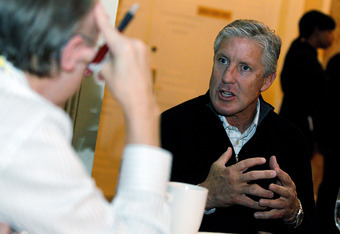 2011 NFL Draft Grades for the 5 Biggest Losers
The 2011 NFL Draft is nearly completed and draft grades are being composed throughout the sports world. There are always winners and losers in every draft as not everyone can win. Here are the teams that choked on draft day:
1. Seattle Seahawks
The Seattle Seahawks had a dreadful draft. They looked to address their needs on the offensive line with their first two picks in the draft by selecting OT James Carpenter and OG John Moffitt. Carpenter at No. 25 was likely one of the biggest reaches in the draft, and they could have addressed their need at QB with Andy Dalton instead.
They also could have traded down and easily landed Carpenter ten to 15 picks lower. The Seahawks also reached for a WR as they selected Georgia WR Kris Durham.
The Seahawks were able to land only one to two player that will make an immediate impact at the NFL level.
2. Oakland Raiders
It is unfortunate that the Raiders are on this list, as they had a great draft last year. However, they only had a few picks in this year's draft and were unable to really add the players that they needed.
The Raiders went back to what they were known for and drafted players that are fast, but lack polish and technique. They drafted two of the fastest CBs in the draft in DeMarcus Van Dyke and Chimdi Chekwa. Both have a lot of athleticism, but neither are known for their cover skills.
Stefen Wisniewski is a talented offensive lineman, but he was certainly a reach at No. 48.
Read More: Draft Grades From First Three Rounds
3. Carolina Panthers
The Carolina Panthers drafted one player that will make an immediate impact, Cam Newton. Terrell McClain was a pretty good value pick in the third round, and will likely see a lot of playing time with the team. However, outside of those two players, they likely did not bring in another player who will be a consistent contributor.
Brandon Hogan has some potential, but he also has a lot of character concerns, as he was in trouble quite often at West Virginia. The Panthers also overdrafted DL Sione Fua with the last pick of Day Two.
The Panthers have a lot of holes and really failed to bring in any OL to help protect Newton.
4. Jacksonville Jaguars
I know the Jaguars brought in Blaine Gabbert, the top rated QB in this year's draft, but the failed to address bigger needs.
This team was on the fringe of the playoffs last season, however, they just missed out, in part due to their pass rush. This draft was very deep with pass rushers, and they did not add a DL or an OLB.
The Jaguars will struggle again next year at rushing the passer unless they acquire a player in free agency. Don't look for the Jaguars to make the playoffs next year either as they did not address their biggest needs on the DL, or at the WR position assuming Mike Sims-Walker leaves town.
5. Miami Dolphins
The addition of Mike Pouncey in the first round was an excellent pick for the Dolphins. The reason they make this list as a loser is due to the fact that they were unable to acquire one of the top three running backs in this years draft, or one of the elite QBs.
The Dolphins found themselves trading up for Kansas State RB Daniel Thomas, who should be an effective RB, but is definitely not as well-rounded as Mark Ingram, Ryan Williams, or Mikel Leshoure.
Thomas will find it difficult carrying the load for the Dolphins, who should have looked for a change of pace back later in the draft. They could have looked for a back like Noel Devine or Jacquizz Rodgers, but were unable to.
Edmond Gates was a solid selection for the Dolphins, but he doesn't fill a major need and will likely take some time to develop.
Most recent updates:
This article is
What is the duplicate article?
Why is this article offensive?
Where is this article plagiarized from?
Why is this article poorly edited?