NFL Draft 2011: Should Buddy Nix Pair Da'Quan Bowers with Marcell Dareus?
April 29, 2011
Kevin C. Cox/Getty Images
Controlling the line of scrimmage is one of the best ways to stop an opposing offense from executing what they want to do to you. The Buffalo Bills saw how painful it was in 2010 to be controlled by the other team, when they finished dead last in the NFL in rushing defense.
The Bills took a major step forward to addressing that issue when they added Alabama defensive tackle Marcell Dareus. Dareus, combined with Kyle Williams, will form a very strong interior core for the Bills to be able to penetrate the line of scrimmage and tie up the offensive line. Let's call that step one in becoming better against the run. 
Step two is to upgrade the other defensive end, Dwan Edwards. Edwards is a nice defensive end but is not special. Edwards played in 11 games in 2010 for the Bills with 57 tackles, one interception, one sack, one forced fumble and two passes defended. He made a contribution to be sure.
The question is, would it be in the defense's best interest to invest in Clemson defensive end Da'Quan Bowers, now that his stock has slid all the way out of the first round?
Bowers won the Nagurski Trophy in 2010 as college football's top defensive player. He led the NCAA in sacks in 2010 with 16 and was second in the NCAA in tackles for loss. He also made one interception and forced one fumble for good measure. In his career, he made 20 sacks. He was the only player in the NCAA last year that caused opponents over 100 lost yards due to his sacks. That is impressive.
Since the Bills lost out to Denver in drafting Von Miller, could they make up for the loss of a stronger pass rush with the addition of Bowers? At 6'4" and weighing 280 pounds, Bowers has size, speed, strength, quickness and agility.
However, Bowers has a medical condition with his knee that has digressed to the point that he has a bone-on-bone condition. Buffalo General Manager Buddy Nix will ask the Bills' team doctor to make an evaluation on what the team could realistically expect, to determine how long Bowers could continue to play effectively on that knee.
If the Bills did add Bowers, the starting defensive line of Williams, Dareus and Bowers would be quite formidable. You can keep all three players fresh with the rotation of Edwards, Alex Carrington, Spencer Johnson and Torell Troup.
If the doctor says to pass on Bowers, the Bills can look towards other positions of need. You have linebacker options such as Martez Wilson (Illinois) or Akeem Ayers (UCLA). The Bills could add a starting tight end in Kyle Rudolph (Notre Dame). They also could add a backup QB to Ryan Fitzpatrick with Ryan Mallett (Arkansas), Andy Dalton (TCU) or Colin Kaepernick (Nevada).
Coming in to the draft on Thursday night, NFL Network Analyst Mike Mayock had ranked Da'Quan Bowers as the 15th best overall player in the draft. That would represent a steal if the Bills nabbed him at 34, and would make the start of this draft class unlike any other in Bills' team history.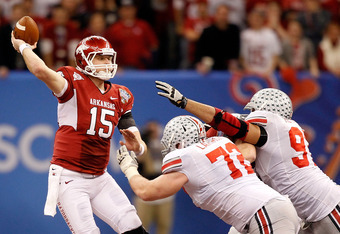 Matthew Stockman/Getty Images
This pick is not without other risk factors, however. Some people have called Bowers a one-year-wonder type. He wasn't motivated all the time. Now that he realizes that he was completely passed over in the first round, he could have a major chip on his shoulder and want to show the rest of the NFL they were wrong in passing him over.
Would he fit in the Bills defensive scheme? He is the kind of player you try to find ways to line him up and let him make plays. It reminds me in a way of the Bills' first pick last year of C.J. Spiller. The best player on the draft board. What is it with Clemson players? It would not be a surprise if Spiller lobbied Nix and Chan Gailey to add his teammate with the pick at 34.
Go ahead Bills fans, and cast your vote for who you want to see the Bills draft Bowers with the 34th pick. It should prove to be an interesting selection.