Minnesota Vikings: Why Christian Ponder Was the Right Pick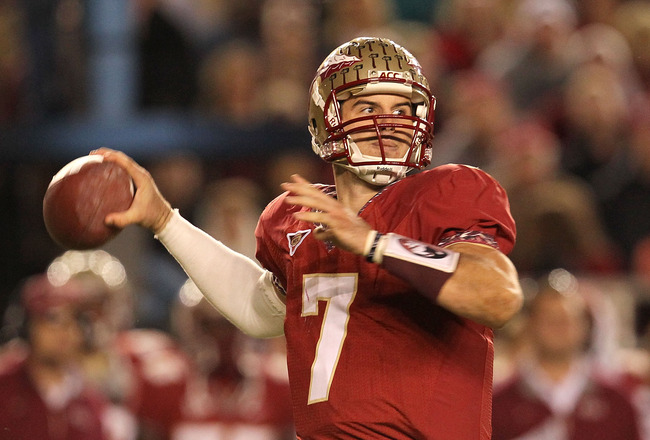 Mike Ehrmann/Getty Images
All across Bleacher Report and Profootballtalk, everything anyone is talking about is how horrible Minnesota's No. 12 pick was.
I personally don't see anything wrong with the pick. I mean, yes, they "reached" for a QB that wasn't projected to go until the early second round, but clearly they got the guy they wanted, or they wouldn't have taken him so high.
Vikings fans: Calm down, your franchise isn't any worse off than they were last season. In fact, Ponder is a big improvement. He's a great pick for the Vikings; he will be ready to start on opening day.
If you all need some reassurance, you've found it. Here's some reason's why the Vikings made the right call with Ponder.
Projections Are Just Speculation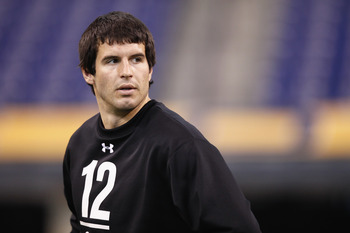 Joe Robbins/Getty Images
Ponder was projected to be drafted in the early second round. Mike Mayock seemed very surprised by how high he was drafted. Call it a reach if you want, but the media is the sole reason why Ponder is seen the way he is. It's that same media frenzy that had Blaine Gabbert in the top five, when in reality, he wasn't taken until No. 10. The media will say what they will about any prospect, but teams get to have a personal relationship with the prospects and get to really find out what the best fit will be.
Consider this: Mike Mayock, "the draft guru," had the Vikings taking DE Aldon Smith from Missouri with the No. 12 pick. This entire offseason, I have been saying how much I know that the Vikings will not use their first round pick on a DE. Yes, Ray Edwards is a free agent, but the Vikings put a first-round restricted free agent tender on him. This means that any team that wants to pick him up must render the Vikings a first round pick. If that wasn't enough, the Vikings also signed DE Brian Robison to a three-year, $14.1 million contract. Does anyone honestly believe that they would pay Robison that much and go with a rookie? Mayock is a fool for this pick.
I know what you're thinking, what does this have to do with Ponder? It has everything to do with Ponder. This kind of thing shows that the media doesn't always know what is best for certain teams. For all Mayock knows, Ponder could be the best fit of any QB in the draft for the Vikings. I certainly think he is.
I wonder what Mayock had to say about Tom Brady when he was being drafted. I mean Brady was a sixth round pick, there's no way that he could've been a good answer for the Patriots right?
The Vikings Addressed Their Biggest Need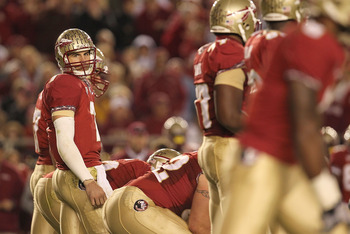 Mike Ehrmann/Getty Images
Since the day Brett Favre went down, the Vikings have been seeking their answer at QB. Don't get me wrong, I love Joe Webb, but he can't compete with Rodgers, Cutler and Stafford. The Vikings have talent all over the field, they just needed a QB to be the glue that holds all of their weapons together.
WR's Sidney Rice and Percy Harvin will be excellent weapons for Ponder to get comfortable with. Handing the ball off to the NFL's best RB won't be too bad either. Even TE Visanthe Shiancoe will be a great asset for this young QB.
The Vikings had to get their franchise QB, they couldn't risk going another season without the guy they'll build their team around. Ponder has been described as the most NFL-ready QB in the draft, this means that he can not only be a long term solution, but he is built to help the Vikings win right now.
Ponder Fits the Vikings Offense Perfectly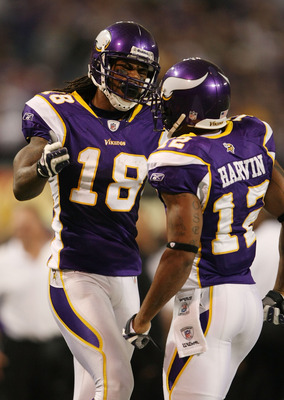 Elsa/Getty Images
Christian Ponder was rated at the combine as the best west-coast QB in the draft.
The Vikings have traditionally run a west-coast offense. Coach Les Frazier brought in Bill Musgrave as his offensive coordinator; Musgrave is a connoisseur of the west-coast system.
This system basically uses a strong running game to set up the pass for short completions. This requires a strong RB (check), receivers that can catch in traffic (check), pass-catching TE's that can block as well (check) and a smart, accurate QB that makes good decisions. The Vikings addressed their last need for this system.
Ponder thrives by short passes. A big knock against him was his lack of deep ball ability. The Vikings don't really need that with their current system. Remember, they basically threw their play book out the window and let Favre take over. They haven't always been a stretch-the-field kind of team. They will go back to the traditional Vikings system that fans have always loved: Run the ball down the opponent's throat.
In reality, some of his "weaknesses" don't really affect the Vikings game plan that much. It's Ponder's skills that make him such a great fit in Minnesota.
Some Skills? Yeah He's Got Some Skills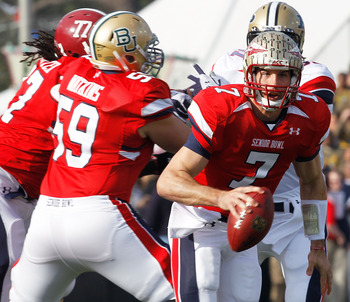 Sean Gardner/Getty Images
Christian Ponder scored a 37 on his Wonderlich test. He was the only active 2010 NCAA player to have earned an MBA. He achieved a four-year degree, in two years at Florida State.
Yeah he's smart, but can he play?
Shortly, yes. In 2010, Ponder had a TD:INT ratio of 20:8 and that's even being injured at the end of the season. Ponder let the Southern team over a heavily favored Northern team in the Senior Bowl; he even received the game MVP title.
Ponder is very accurate, and makes good decisions. He has the ability to stay in the pocket, avoid defenders and can still keep his eyes down the field for receivers. If he doesn't see an open target, he doesn't try to force the ball into a tight space. He has the athletic ability to move outside of the pocket and make throws on the run. This is something that many other QB's in the draft struggled with, heck, NFL QB's struggle with that.
He's a tough kid too. "Wait, what about his injuries?" you say, Ponder injured his shoulder in his junior year by tackling a player that intercepted his pass. In a recent interview with the Vikings, Ponder addressed his injuries by saying,
"I think it was huge. I knew it was a big concern. Definitely my health was what guys were worried about. I think I was mislabeled as injury prone. I mean everything was bad luck. I had a third degree separation on my AC joint in my junior year and that was from throwing an interception and tackling the guy cause I was mad and then with the forearm elbow injury I had this past year was just a freak deal that wasn't a major injury, it was just a nuisance but I will tell you once the season was done and going into the senior bowl, going into the combine and then the private workouts and the pro day, I knew that I had to show that I was healthy and that my arm was back and I was fine." http://www.vikings.com/news/article-1/Ponder-Discusses-Becoming-A-Viking/abf1c4d1-42b4-486a-a48f-f68816008952
Hmm, a QB that plays to the whistle? That's rare in the NFL. Even if that's not a wise move as a QB, that kind of thing can be be worked out with coaching. No one can question his heart or will to win; I was more than impressed when I read that interview.
Ponder's play at the Senior Bowl and work at the Combine proved that the injuries are no longer an issue. All of these things tell me that he's a franchise QB in the making.
Fan Base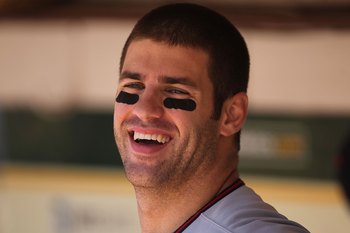 Jed Jacobsohn/Getty Images
The Minnesota fan base will welcome their new franchise QB with open arms, but only once they realize the potential he has.
I realize that Minnesota fans at Winter Park booed when they found out the pick, but Ponder will be the QB that Minnesota fans have been looking for since before the T-Jack era.
This may be a little irrelevant, but Minnesota's female fans will probably love Ponder. Has anyone ever noticed that he's pretty much Twins catcher, and fan favorite, Joe Mauer's identical Twin. I'm sure we'll see an interview with the two standing side-by-side at some point. The fact that Ponder wears No. 7 is just the icing on the cake.
Ponder should have no problem finding acceptance in Minnesota.
A Reach?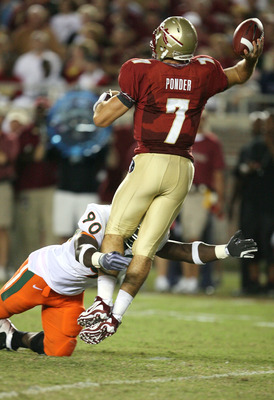 Doug Benc/Getty Images
The Vikings' pick is considered by pretty much every person that watched the draft as a complete reach. This may be true, but by the amount of time the Vikings took to get the pick in, that should tell fans that they at least tried to trade down. It's not their fault teams weren't looking to trade up at this point.
The Vikings wanted Ponder, if they thought they could have gotten him in the second round, they would have waited until the second round to take him. With Miami and Washington sitting close behind them, I share the opinion that Ponder wouldn't have made it out of the first round past those two teams.
The Vikings needed to get their guy; their guy had a big price tag but they got him. Call it a reach if you want, but I stand by their decision. Ponder was the guy they needed to bring in, they had to pull the trigger on him.
Conclusion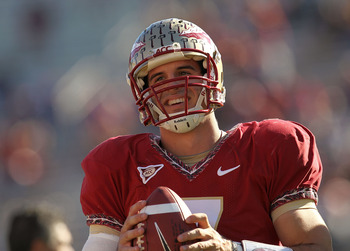 Mike Ehrmann/Getty Images
In conclusion, the Vikings definitely brought in the guy that they needed to get. When faced with the fact that he might not be there on Friday night, they had to take him at No. 12.
Ponder is athletic, intelligent, tough and makes good decisions. One fact often overlooked is his leadership ability, he was a three-year starter at Florida State. No one can question his heart and moral fiber. He is everything a team needs in a franchise QB.
I applaud the Vikings brain trust. Vikings fans: You've got your guy.
Keep Reading

Minnesota Vikings: Like this team?