2011 NFL Draft Grades: Cam Newton Is a 'C' for the Carolina Panthers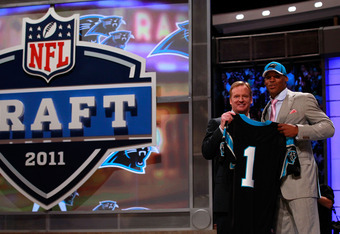 Nothing against Cam Newton, who may in fact turn out to be the best player in the 2011 NFL Draft.
I don't hate Newton. I think criticisms launched at Newton are overblown. I think comparisons between Newton and Vince Young are unfair. I think Newton has a much better work ethic than most credit him for and can improve his accuracy if surrounded by good coaches. I think Newton has a better chance of succeeding than any other quarterback in the 2011 NFL Draft class.
But I also think the Carolina Panthers made a mistake by not taking the best player available at number one overall.
Look, I get that Carolina was starved for a capable quarterback. Their passers last year didn't get the job done, and that may be the biggest understatement ever committed to Bleacher Report. I understand that a position of need can sometimes be such a need that it requires marrying yourself to the best player at that position.
If you're Jerry Richardson, though, and you're assessing that roster, you've got to be truthful.
You have a heck of a lot more needs than just quarterback.
Carolina is quarterback-starved so much as it is talent-starved. When that's the case, why not go with the best available player? Georgia's A.J. Green, LSU's Patrick Peterson, Alabama's Marcell Dareus and Texas A&M's Von Miller are all more talented prospects than Newton. That's not an indictment of Newton. That's an indictment of how overvalued quarterbacks tend to be on draft day.
The Panthers should have gone for the best player on their board. If that was indeed Newton, they need to fire their scouting staff, because Newton is not the best player in this class. You can't afford to screw up the first overall pick, and Newton -- as much as I concede he has a shot at success -- is still, in the end, a boom-or-bust prospect. I doubt any scouts would deny that.
It just seems like a lot to invest in Newton, when there were better players available. You don't fix a trainwreck by just hiring an engineer. You've got to get the best clean-up crew to pick up the mess first.
Grade: C
Most recent updates:
This article is
What is the duplicate article?
Why is this article offensive?
Where is this article plagiarized from?
Why is this article poorly edited?