NFL Trade Rumors: Kevin Kolb Trade Rumors Shot Down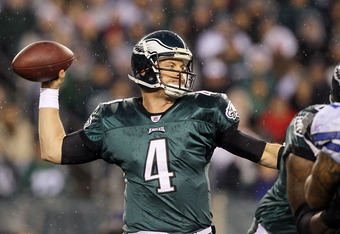 NFL Trade Rumors Surrounding Potential Kevin Kolb Deal Sacked By Harsh Reality
Prior to the NFL Draft getting underway, Philadelphia Eagles quarterback Kevin Kolb was subject to more NFL trade rumors than almost any other player in the league.
Things got so bad that after two potential Kolb landing places, the Arizona Cardinals and San Francisco 49ers, opted not to draft quarterbacks, Paul Domowitz of the Philadelphia Daily News said it was a sign that perhaps those teams had a little "gentlemen's agreement" with the Eagles to trade for the promising passer.
Per Domowitz's report:
"It should be pointed out that both the Cardinals and 49ers did not take quarterbacks with their first-round picks last night. So, presumably, they still are in the market for one.

In fact, they took players at positions that mesh surprisingly with the Eagles' needs, leading some, including me, to surmise that maybe they've agreed to a wink-and-nod deal that will be culminated once trades are legal again."
However, CSN Philly was quick to sack the gentlemen's agreement rumors before they even had a chance to scan the field, telling us that league sources had said there was no way an agreement was in place.
Must Read: 2011 NFL Draft Results: Grades and Results for All 32 First Round Picks.
This makes sense; the league wouldn't let a pre-arranged deal like that fly, even if it couldn't prove it was prearranged. The last thing the league wants to do is give player attorneys any reason to charge the owners with collusion, and a "gentlemen's agreement" regarding a trade, even one the player would likely want to happen, is a good way to get into trouble in that regard.
The fact is, the Eagles are likely stuck with Kolb in a backup role for the time being, and they won't even hear serious offers until the ban is lifted. When it is, assuming someone gets left out of the quarterback musical chairs game in the second round of the draft tonight, you can expect several teams to come knocking on the Eagles' door to find out what it will take to land Kolb.
He's still got potential, and plenty of value for the right team, but it remains to be seen where exactly he'll land. At this point, Cincinnati, Miami, Arizona, San Francisco and Seattle all remain as serious contenders, and one figures the Eagles will get a deal for him when they finally take a bid.
Most recent updates:
This article is
What is the duplicate article?
Why is this article offensive?
Where is this article plagiarized from?
Why is this article poorly edited?