NFL Trade Rumors: Will the Redskins Make a Trade to Get a Round 2 QB?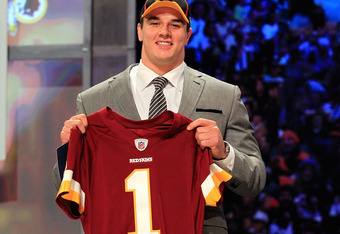 NFL Trade Rumors Ponder Chances of Redskins Moving Up to Guarantee Getting a Quarterback In Round 2
Add the Washington Redskins to the list of vexing draft picks resulting in NFL trade rumors abounding. Despite serious needs at quarterback and wide receiver, the 'Skins added a second feared pass rusher to their ranks in Purdue's Ryan Kerrigan, who will pair with Brian Orakpo to give quarterbacks nightmares.
But now, the Redskins face a quandry in the second round. Picking 10th in the second round, Washington sits behind three teams in need of quarterbacks, with three quarterbacks who could potentially be picked, in Ryan Mallett (big arm, character issues), Colin Kaepernick (does everything well, but can he do it in the NFL?) and Andy Dalton (the most polished of the three).
That could be a serious problem; fortunately, the Redskins do have the picks to make a trade up in Round 2, thanks to Jacksonville. With picks 41 and 49, Washington has plenty of ammunition to try and move up in the round, and hopefully snag one of the big three.
Must Read: 2011 NFL Draft Results: Grades and Results for All 32 First Round Picks.
Of course, it's not that easy for the Redskins, either. Giving up one (or both) of those second-round picks would mean that they'll lose out on picking in both the third and fourth rounds, as both of those picks have landed elsewhere. After pick 49, their next pick doesn't come until the fifth round, meaning the Redskins will have a rather lengthy wait, and no ammunition to get back into the middle rounds.
So, the question for Dan Snyder and Washington's front office is: do you feel lucky?
The fact is, Washington's best course of action might just be to stay put. Arizona has been in talks with Marc Bulger in recent days, and if they were taking a quarterback, why not get one with the fifth overall pick? Buffalo and Cincinnati both need quarterbacks, but given their draft histories, it's hard to say for sure that their front offices actually know they need one (that may not be as true in Buffalo, but with Mike Brown in charge in Cincinnati, that's a real issue).
On top of that, there are reports coming out that teams don't trust Ryan Mallett, meaning there's a good chance he slides clear down to Washington.
Even if they don't wind up landing a quarterback (which I think they will), there are enough other needs at positions like wide receiver, running back and along the offensive line, that the Redskins will do just fine filling those needs and sticking with Donovan McNabb as their quarterback for another year.
In short, while the Redskins can trade up to get a quarterback, they might not have to, given teams' concerns about Mallett. If the Redskins think they need a passer, he might wind up being the guy they take at this stage of the game.
Most recent updates:
This article is
What is the duplicate article?
Why is this article offensive?
Where is this article plagiarized from?
Why is this article poorly edited?