NFL Trade Rumors: Does Mark Ingram Mean Reggie Bush Is Through in New Orleans?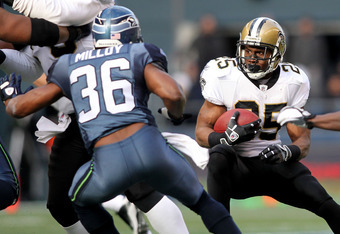 NFL Trade Rumors Ponder Whether Saints' Pick Of Mark Ingram Spells End of Reggie Bush's Run in New Orleans
The New Orleans Saints surprised a few draftniks on Thursday, and managed to vault themselves into the midst of potential NFL trade rumors in the process. When the Saints grabbed Mark Ingram with the 28th pick of the first round, they set into motion a chain of debate and speculation surrounding the fate of another running back on their roster: Reggie Bush.
The former college standout has yet to impress in New Orleans, and his tweet following the pick hinted that he sees the writing on the wall.
Dropping Bush would make sense; Ingram could be a star back, and even with Pierre Thomas hitting restricted free agency, the Saints might be wise to try and get value for him while he still has some.
But, if he's traded, where could he land? As we saw in this year's draft, there aren't too many teams in the market for a running back (although, that may have been more of a product of a lackluster draft class at the position than anything else), and Bush has yet to actually show he can be consistently effective at the professional level.
Must Read: 2011 NFL Draft Results: Grades and Results for All 32 First Round Picks.
Even so, there are a few teams who could be in the mix to deal for Bush, assuming he comes on the market. The Miami Dolphins are losing both of their running backs to free agency, and Bush, despite his ineffectiveness, would prove an upgrade, thanks to his versatility and skill. The Dolphins could use a new Wildcat back, and Bush fits the bill perfectly.
Likewise, the Washington Redskins could use someone with Bush's agility and versatility given their backs' propensity for injury, while the Arizona Cardinals have not gotten good results out of Beanie Wells through two pro seasons, and could use someone like Bush as a backup plan.
Of course, there's an excellent chance that Reggie doesn't leave New Orleans as well. The Saints' rushers haven't exactly inspired much confidence in their ability to stay healthy, and his speed and pass-catching abilities bring something to the table that Ingram lacks.
Frankly, drafting Ingram could wind up being just what Reggie needs; it will allow him to be the x-factor kind of back he was in college, splitting carries with the rookie and being the explosive, big-play back rather than the 5-yard gain up the middle back he needed to be before. The combination of Bush and Ingram could be perfect for the Saints, giving them the up-the-middle, downhill runner in the rookie, and the elusive speed back in Bush.
In the end, picking Ingram doesn't end Reggie's time as a Saint, even if there are teams out there willing to trade for the onetime first overall pick. By pairing him with Ingram, the Saints could have a potentially explosive duo on their hands, and at the very least, it's worth waiting a season to see what happens.
Most recent updates:
This article is
What is the duplicate article?
Why is this article offensive?
Where is this article plagiarized from?
Why is this article poorly edited?