NFL Trade Rumors: Will Potential Marc Bulger Deal Make Cards Trade Down?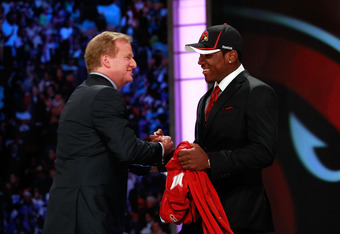 NFL Trade Rumors Ponder Impact Cardinals "Understanding" With Marc Bulger Could Have On Potential Second-Round Trades
The Arizona Cardinals have been a party to myriad NFL trade and free agent rumors over the last few days, and those rumblings only intensified after last night's draft.
Despite numerous reports that the team would likely take a quarterback with the fifth overall pick, the Cards stunned many in the room by selecting LSU's Patrick Peterson, the multi-talented cornerback.
Today, we may have learned why. According to Bob McManaman of the Arizona Republic, the team may or may not have an "understanding" with veteran signal caller Marc Bulger.
Per McManaman's report:
"Asked about a report circulating around the league that the Cardinals already have reached "an understanding" with Bulger, Graves deflected the question to coach Ken Whisenhunt."

"Ken, do you know anything about that?" Graves asked.

Drawing a slight grin, Whisenhunt responded, "I don't know anything about that."
Aside from the obvious potential rule violations involved in this "understanding" (although it probably doesn't actually violate the letter of the law), it also has a profound impact on the team's draft strategy, and could result in a potential trade.
Must Read: 2011 NFL Draft Results: Grades and Results for All 32 First Round Picks.
With a trio of quarterback who could potentially be taken early in the second round of the draft, there are several teams in need of a passer behind Arizona. If they decide to sign and start Bulger, it means they can afford to slip back a few rungs on the draft round ladder to fill more needs later on, with potential compensation in the form of extra draft picks.
With San Francisco and Washington behind them looking for a passer, the sixth pick in the second round could prove incredibly valuable for Arizona. Dealing it would all but ensure that whoever got it would be able to grab at least one of those three second-round quarterbacks, Ryan Mallett, Andy Dalton and Colin Kaepernick.
Of course, having Bulger around doesn't mean the Cardinals won't take a quarterback with pick number 38. After all, just ask Rams fans how Bulger faired as the franchis quarterback, and you'll see the Cards could still be in the market for their quarterback of the future. On top of that, this team has needs at numerous positions, and rather than getting multiple picks to fill as many holes as possible, they could opt to fill one with a slightly better talent.
In the end, it's hard to say what Arizona will do, assuming they sign Bulger once the transaction ban is lifted. The world is more or less their oyster, and given the way this screwball draft has gone so far, none of the options on the table (trade down, draft a quarterback, draft more defensive help) would really surprise me.
Most recent updates:
This article is
What is the duplicate article?
Why is this article offensive?
Where is this article plagiarized from?
Why is this article poorly edited?