NFL Trade Rumors: Will San Francisco Trade Up to Find QB?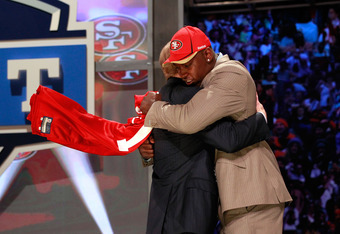 NFL Trade Rumors Ponder 49ers Chances of Trading Up In Search of Quarterback
The San Francisco 49ers find themselves at the center of numerous NFL trade rumors after delivering one of the biggest shockers of the first round of the draft.
With the seventh overall pick, and with more highly rated defensive ends still on the board, as well as consensus first-round pick quarterbacks Blaine Gabbert and Jake Locker (Christian Ponder still doesn't count), the Niners took Missouri defensive end/linebacker Aldon Smith.
But now, San Fran finds itself in a bit of a quandry. Most draftniks figured the Niners would be chasing a quarterback in the draft, and there are still three excellent choices on the board, in Ryan Mallett, Colin Kaepernick, and Andy Dalton. However, San Fran is sliding five spots in the second round, and won't pick until 45th overall, and the 12th pick of Round 2.
Given the quarterback hungry teams ahead of them (Buffalo, Cincinnati, Washington and Arizona could all use a quarterback), will San Francisco try to trade up to land themselves one of those three passers?
It makes sense for San Francisco to try and find themselves a quarterback in the second round. Kaepernick has the arm, speed and smarts to play the position in the pros, Mallett has the physical tools to be great, and Dalton looks to be high on a number of draft boards. If they want a quarterback, and they're fairly sure none of those three will be there by the time the round reaches them, trading up makes perfect sense.
Must Read: 2011 NFL Draft Results: Grades and Results for All 32 First Round Picks.
But, there's still a good chance at least one of those three could fall through to them. Arizona has reportedly been looking at veteran free agents like Marc Bulger and Matt Hasselbeck,Washington seems not to want a quarterback with the 40th pick, and the Bengals still have Mike Brown running things, so they might not draft a quarterback. If the Niners are sure that one of those three will fall to them, staying put makes perfect sense.
Of course, there's also a chance San Francisco simply waits a couple more rounds to grab a quarterback, investing in someone like Iowa's Ricky Stanzi, Delaware's Pat Devilin or Virginia Tech's Tyrod Taylor, then use Alex Smith for another year or two before throwing them into the fire. Of course, this is a risky move, and one that could backfire if the player they grab doesn't pan out, but it's definitely a possibility.
Finally, San Fran could just ignore the position entirely, banking on Alex Smith to make a breakthrough next season or hoping he stinks so badly they wind up first overall, and take Andrew Luck.
In the end, I think the 49ers will take one of the three second round quarterbacks, given their needs at the position, and the fact that Alex Smith hasn't been a viable option for more than two games in a row in his career. They need help, and I see them getting it, even if it means giving up a couple of picks to move up and make sure they get their man.
Most recent updates:
This article is
What is the duplicate article?
Why is this article offensive?
Where is this article plagiarized from?
Why is this article poorly edited?