NFL Draft Rumors: What Will Patriots Do with First Round 2 Pick?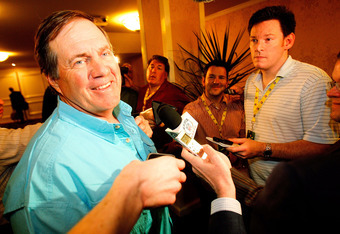 NFL Draft Rumors Ponder What Patriots Will Do With First Pick In Round 2
The New England Patriots come into day two of the 2011 NFL Draft with more rumors swirling around them then almost any other team in the draft.
After all, the Pats were relatively quite on the trade front in the first round, picking offensive lineman Nate Solder with the 17th overall pick, then swapping their second first round pick, the 28th overall, to New Orleans in return for a second rounder this year.
But now, with three picks in the second round, including the first pick of the day, acquired from Carolina last season, many fans are wondering just what the Patriots plan to do with that first pick.
We all know Bill Belichick's history with draft picks (why use the pick on a player when I can get two picks to trade with next season?), and of course, the 33rd overall pick is far from safe. There are plenty of quarterback starved teams anxious to get back into the higher ranks of the draft board in an effort to land one of the big names still out there.
Odds are good, New England could get better than required compensation for the pick, and still have two picks in the round to play with, grabbing a pass rusher, an outside linebacker, or even something no one expects. On top of that, there are enough prospects still floating around out there that Belichick and company could afford to wait until pick 56 to draft again and still find a good value player on the board.
Must Read: 2011 NFL Draft Results: Grades and Results for All 32 First Round Picks.
But, at the same time, there's a pretty convincing argument to stay put and draft from there. Defensive end Da'Quan Bowers was at one point a top five pick, but somehow managed to slide clear into the second round of the draft thanks to concerns about his knee. If that's not enough, outside linebacker Akeem Ayers is still available, as is Arizona's defensive end Brooks Reed, both fringe first round picks.
In other words, there are enough supremely talented players at positions where the Patriots could use some help to keep Belichick to standing pat and take one of them with that first pick.
The fact is, I think there's no way New England keeps all three second round picks. Bill Belichick will be too tempted to deal a pick to someone looking to get back into round two, be it Carolina, Atlanta or someone else.
We all know how hard it is to figure out what Belichick and the Pats are going to do in the draft. Any time we think we have it figured out, they throw us a curveball and we wind up looking silly. They could easily wind up using all three picks on themselves, or they could trade all three away for pick in this draft and next year's draft.
But, given the talent still on the board, I would be shocked if they dealt that first pick of the second round to someone else. Their needs on the pass rush are too great, and with the caliber of player still available, it makes sense to take one here, then see where you stand later in the round. If you want to trade up, or back, or stockpile picks for later, you'll still have two picks to play with.
In the end, drafting someone like Bowers, Ayers or Reed would just make sense for New England.
Most recent updates:
This article is
What is the duplicate article?
Why is this article offensive?
Where is this article plagiarized from?
Why is this article poorly edited?