NFL Trade Rumors: Will Donovan McNabb Still Head to Vikings?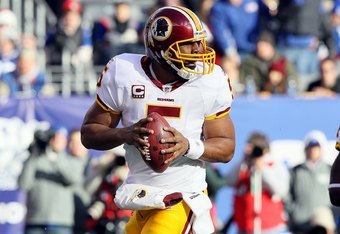 NFL Trade Rumors Ponder Whether Donovan McNabb Will Still Head to Minnesota
We've heard myriad NFL trade rumors surrounding Washington Redskins quarterback Donovan McNabb in recent weeks, as the Vikings were in desperate need of a quarterback, and the Redskins were desperately trying to get rid of the former Pro Bowler.
But, after the Minnesota Vikings managed to one-up the Tennessee Titans in the stupid draft picks department by taking Christian Ponder 12th overall, suddenly, McNabb doesn't seem quite as necessary in the Metrodome. After all, they've got their franchise quarterback of the future (be afraid, Vikings fans, be afraid), so what do they need a 34-year-old veteran coming off the worst season of his career for?
According to Milwaukee Journal Sentinel writer Tom Silverstein, the answer could well be "quite a bit".
Silverstein writes that grabbing McNabb is actually a smarter play now than it was before the Vikes took Ponder.
Per his article:
"One would think this would signal that the Vikings are going to chase Donovan McNabb in free agency. The ideal situation would be for Ponder to play behind McNabb for a season or two and then move into the starting position."
Frankly, I couldn't agree more. Everyone knows Ponder is a serious project, one that will need at least a year of seasoning before he's ready to be thrown into the fire (assuming he's ever actually ready), and McNabb would represent an upgrade over the Florida State Seminole, particularly for the first two years Ponder's in the league.
Must Read: 2011 NFL Draft Results: Grades and Results for All 32 First Round Picks.
As someone who thought picking Ponder was a terrible idea for the Vikings (why not wait for Ryan Mallet?) getting McNabb seems like a wise insurance policy. Ponder represents a high-risk prospect, and by grabbing Donovan from Washington, the Vikes can make sure that if he busts out (which is a real possibility), they've got someone capable of throwing the ball under center until they find a new quarterback.
McNabb will have great receivers, something he lacked with the Redskins, and would be a capable fill-in until a new franchise signal caller can be located.
In the end, it's clear Minnesota is pinning their hopes over the long term on Ponder, but if they're smart, they'll still try to grab Donovan McNabb to ensure they find some success in the short term, as well.
Most recent updates:
This article is
What is the duplicate article?
Why is this article offensive?
Where is this article plagiarized from?
Why is this article poorly edited?