Best Undrafted NFL Players: Who Are the Top Players Available in 2011 NFL Draft?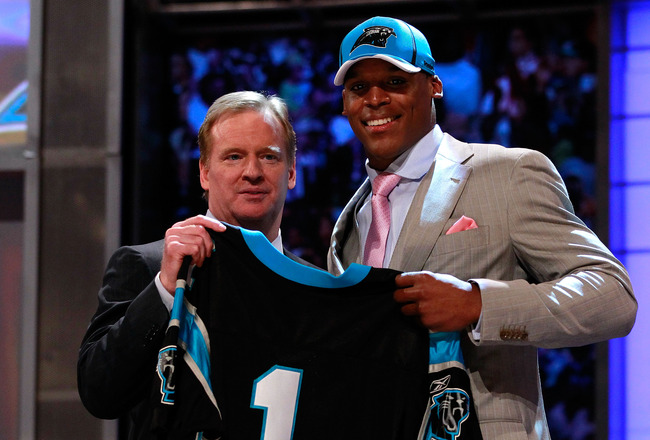 Chris Trotman/Getty Images
With the 2011 NFL Draft in full swing, and the best of this year's draft class falling off the board fairly quickly and with few surprises, it's time to take a look at the best of the rest.
Click through this evolving and constantly updating slideshow to stay abreast with who's left, and who may be left out.
1: Da'Quan Bowers, DE Clemson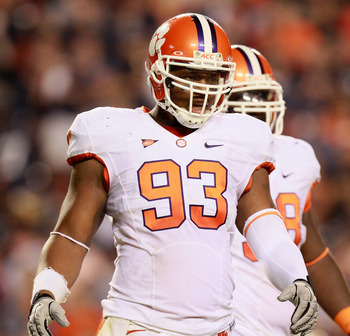 Kevin C. Cox/Getty Images
Despite his size, speed and athletic ability—Bowers was a finalist for the Lombardi, Bednarik and Nagurski Awards in 2010—the Clemson pass-rushing specialist's only concern on draft day is his health.
His big unknown is how his explosiveness will be impacted by the surgically repaired right knee.
Still, if you're a team hoping to wait on Bowers, I wouldn't wait too long, as the 6-3, 280-pounder will likely be gone early Friday, if not by the end of Thursday.
2: Brooks Reed, DE, Arizona
Stephen Dunn/Getty Images
A four-year starter at Arizona, Reed wrapped up his career in style with a career-high 47 tackles, 6.5 sacks and 10 tackles for loss.
His efforts earned the 6-3, 257-pound Wildcat first-team All-Pac 10 honors.
3: Akeem Ayers, OLB, UCLA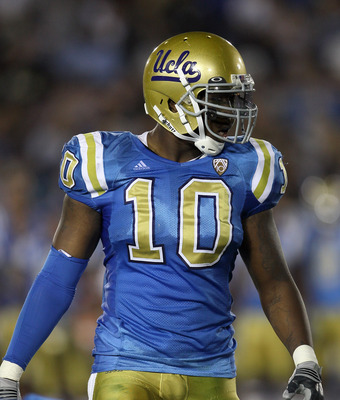 Stephen Dunn/Getty Images
Ayers was a second-team All-American and a Butkus Award Finalist in 2010 after recording a 68 tackles and four sacks with 10 tackles for loss in 2010.
With his athletic ability and enviable size, Ayers has been compared to Denver's D.J. Williams, which means he's adaptable to many different defensive fronts.
4: Aaron Williams, CB, Texas
Ronald Martinez/Getty Images
The Longhorn speedster ran a 4.4 40-yard dash at the Texas Pro Day earlier this month, proving he has speed to go with his 6-1, 205-pound frame and aggressive attitude.
Williams began the 2010 season on the Nagurski and Thorpe watchlists and finished a second-team All-Big 12.
5: Kyle Rudolph, TE, Notre Dame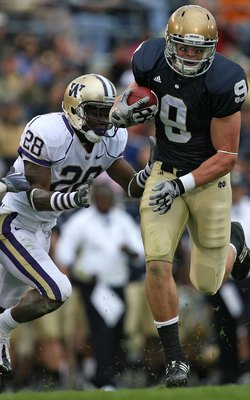 Jonathan Daniel/Getty Images
Don't think that Rudolph is strictly a product of an extremely light draft as far as tight ends are concerned—the athletic 6-6, 260-pound Fighting Irish product is still the No. 1 ranked tight end in a draft that saw no interest in his position on Day One.
As a result, expect the big 11.7 yards per catch target to get an opportunity fairly early on Day Two.
The stall on Notre Dame's "Rudy" is a question mark on his health, having missed more than half of the 2010 season with a season-ending hamstring injury.
Outside of that, Rudolph is considered to be one of this year's better character guys, which might get him a call on the draft's second day.
6: Marvin Austin, DT, North Carolina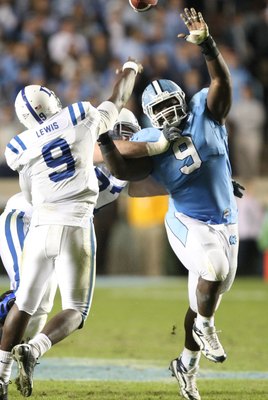 Streeter Lecka/Getty Images
With 42 tackles, six tackles for loss and four sacks, Austin garnered second-team All-ACC honors in 2009 by starting just 11 of 13 games for the Tar Heels.
The obvious negative for the 6-2, 312-pound D-lineman from Washington, D.C., was his suspension for the entire 2010 season for accepting gifts from an agent, according to an NCAA investigation.
7: Stephen Paea, DT, Oregon State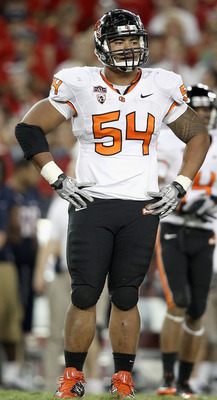 Christian Petersen/Getty Images
The Los Altos, Calif., native is not going to be hanging around on Day 2 for very long.
One reason is that Paea combines his 6-1, 295-pound frame with a deceivingly quick athleticism to make scouts take notice.
A consensus All-American and All-Conference selection, and a Pac-10 Conference Pat Tillman Defensive Player of the Year, Paea lived up to all the hype associated with his size and doesn't project to be around long enough on the draft's second day to get bored.
Still not sold? Paea set a new Combine record by benching 225 pounds 49 times.
8: Jabaal Sheard, DE, Pitt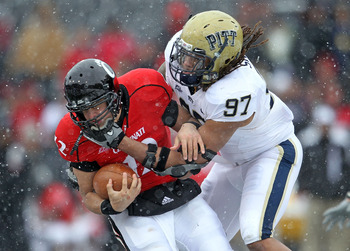 Andy Lyons/Getty Images
Sheard recorded 52 tackles, 14.5 tackles for loss, nine sacks and forced four fumbles for the Panthers in 2010.
His senior season performance was enough to garner AFCA All-America Honors.
Sheard, with a 6-3, 260-pound frame and decent quicks, is another guy that scouts look at as a guy who could play standing up or with a hand in the dirt in the NFL.
9: Ryan Williams, RB, Virginia Tech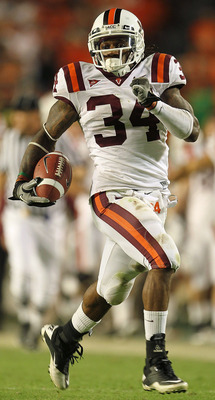 Mike Ehrmann/Getty Images
Considering this was one of the lightest running back pools in recent draft memory, many though that Williams was a guy who would go shortly after 2009 Heisman Trophy Winner Mark Ingram in the first round.
However, this year's draft's appetite for RBs was made known when Ingram was taken near the end of the first round, and that had to leave Williams with a feeling of second-round-blues considering this year's Draft theme.
Still, Williams isn't the kind of guy who figures to be a role playing NFL back, with good size and solid speed.
The 5-9, 215-pound Williams figures to be a factor back for a team in need, and based on his 2010 production for the Hokies, he might be considered one of Day 2's steals.
10: Mikel LeShoure, RB, Illinois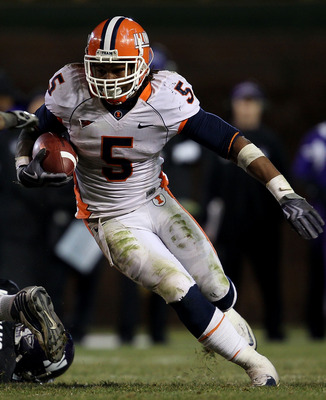 Jonathan Daniel/Getty Images
Staying in character, and with so few running backs selected on the first day of this year's draft, we're sure to see a few backs fast and following Va Tech's Ryan Williams' lead, Mikel LeShoure of Illinois could drop out of contention fairly soon after.
LeShoure is a punishing producer who's name is no surprise to followers of the Big Ten Conference.
With that said, he certainly poses minimal risk as a second round pick for a team in need of a ball carrier.
11: Justin Houston, OLB, Georgia
Kevin C. Cox/Getty Images
With the trend of a number of NFL teams switching to a 3-4 defensive scheme, guys who are linebackers with defensive end experience and attitude, Georgia's Houston is a good fit for several Sunday squads.
The 6-3, 270-pound Statesboro, Ga., product was selected a Walter Camp All-America second-teamer and a finalist for the Bronko Nagurski Award.
12: Andy Dalton, QB, TCU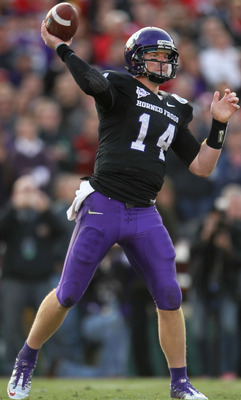 Jeff Gross/Getty Images
Perhaps not a surprise that he's still available, but it could be somewhat shocking when Dalton is the first QB taken on Day 2.
And if that happens it means that the former TCU signal caller leap-frogged better-known QBs such as Ryan Mallet and Colin Kaepernick.
Anyone who has issues with Dalton being selected before the aforementioned QB duo, should be reminded of Dalton's career 42-7 record as a starter for the Horned Frogs.
13: Leonard Hankerson, WR, Miami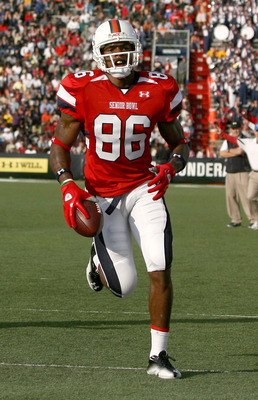 Sean Gardner/Getty Images
Following his mind-blowing statistical 2010 season, Hankerson etched his name into the esteemed Miami record books by grabbing a team-leading 72 receptions for a career-high 1,156 yards and a school-record 13 touchdowns.
The 13 aerial scores broke former standout Michael Irvin's record of 11 TDs that stood since 1986.
14: Ras-I Dowling, CB, Virginia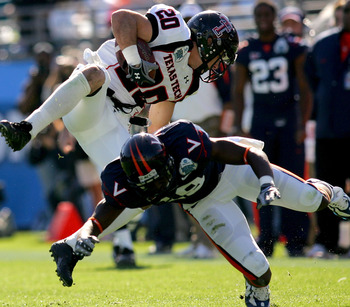 Sam Greenwood/Getty Images
Injury issues shut down his senior season after only appearing in five games.
But most who have seen Dowling, know his raw athletic ability makes him an attractive prospect nonetheless.
A widely considered quality, if not shut-down, cornerback, Dowling was an All-ACC selection in 2009.
15: Ryan Mallet, QB, Arkansas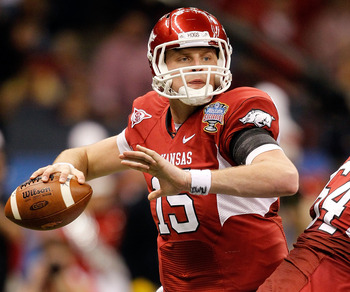 Matthew Stockman/Getty Images
Most draft prognosticators claim that Mallet's fall from grace was due to personal issues of character. Perhaps it's just that teams are gun-shy from taking another tall, talented quarterback with the first name of Ryan (surely fans are over the Leaf debacle by now, right?).
Risky pick? Sure.
Worth the risk for the right team? Absolutely.
Perhaps it's just me, but Mallet has Raiders written all over his face.
Keep Reading