2011 NBA Playoffs Notebook: Dirk Nowitzki, Dwight Howard and Kobe Bryant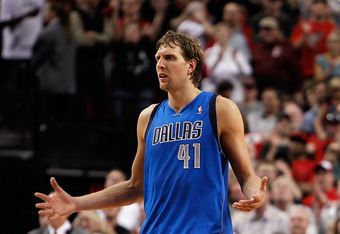 You talking to me?
Jonathan Ferrey/Getty Images
He's a legitimate 7-footer who can dribble the ball rather easily and effectively for someone his size. His shot is more lethal than most shooting guards in the league. He's a former MVP and thee-point shootout champion. He is, quite possibly, the most interesting man in the NBA.
Dirk Nowitzki, like Kevin Garnett and LeBron James, is a revolutionary player. While Garnett opened the floodgates for high-school players to hop, skip and jump from prep prom king to teenage rookie, and James is arguably the most physically gifted player to ever don an NBA jersey, Nowitzki is the first foreign player—one who did not play high-school or college ball in the states—who is a true superstar.
Only a championship can cement his legacy. Only a championship can put to rest the softness label normally associated with him, and foreign players in general. That's all.
He's the only dominant center in the league. While his offensive game is a work-in-progress—and, yes, it is progressing—his defense is the best in the league. This is highlighted by his third straight Defensive Player of the Year award. He is, quite possibly, the most disappointing player in the NBA.
Dwight Howard, like Shaquille O'Neal, Tim Duncan and Hakeem Olajuwon, is a force on both sides of the court. His length and athleticism is unmatched by any single player in the league today. The NBA is a big man's league, yet Howard has not dominated the postseason the same way as the giants before him.
Only a championship can shed this tag against him, allowing him to enter the discussion as potentially one of the best big men ever. Only a championship can earn this man-child a deserving Superman title. That's all.
He's considered the best player in the league, although he is clearly in the sunset of his career. He is the one player that most compares to the legend that is Michael Jordan. His 81-point effort five years ago will not be reached again by any player. He is, quite possibly, the most overrated player in NBA.
Kobe Bryant is one of the all-time greats in Los Angeles Lakers history. Anyone who says differently is guilty of player-hating. However, he is not one of the top five or 10 players in the history of the game. His five titles are not as impressive as his two Finals defeats are disappointing.
While he has been the best player on his team for the past two championship seasons, his rings are more a product of the team around him rather than his individual exploits. "Despite" his individual exploits probably best describes this sentiment. A worthy Hall of Famer? Absolutely. The Greatest of All-Time? No thanks.
Only a championship can allow the Black Mamba to enter the VIP room reserved for all-time greats, regardless of team. Only a championship can justify his inclusion in the best-ever debate. That's all.
Come join Vlade Divac, Toni Kukoc, Moses Malone, Dr. J, Dominique Wilkins, Kareem Abdul-Jabbar, Bill Russell, Magic, Michael and Larry, as they all witness future history.
The 2011 NBA Playoffs continue tonight. Game 6, first-round. That's all.
See more here

This article is
What is the duplicate article?
Why is this article offensive?
Where is this article plagiarized from?
Why is this article poorly edited?