2011 NFL Draft: Ranking the 5 Most Ignored Miami Dolphins Prospects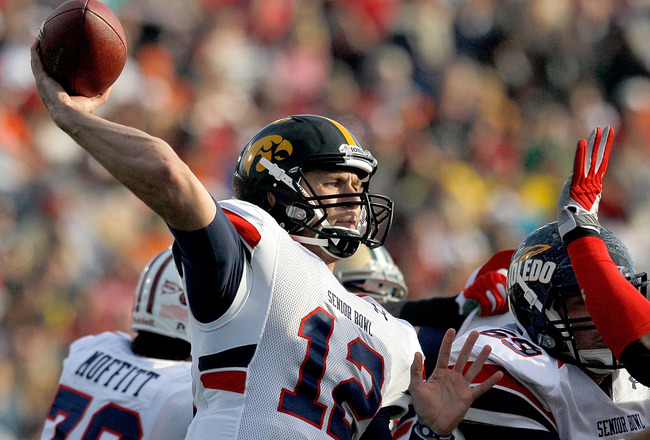 Sean Gardner/Getty Images
The NFL Draft is here and while everyone is doing mock drafts, I decided to take a look at some possible prospects for the Miami Dolphins that no one else is really talking about.
While every mock draft is a bit different, there seems to be a consensus among a group of players that are probably going to be drafted by the Dolphins.
This list will provide you with some other candidates that the Dolphins could be looking at over the next few days.
5. TE Rob Housler, Florida Atlantic
Sam Greenwood/Getty Images
I have only seen a couple mentions of Housler in all the mock drafts. For the most part, people love D.J. Williams and Virgil Green as TE prospects for the Dolphins.
Housler will most likely go in the fourth or fifth round. These rounds would be perfect value for a TE.
Housler is the fastest TE in this year's draft. He ran a 4.46 40-yard dash at the NFL Combine. He is a bit raw in his route running which is why he falls to the middle rounds. However, his speed is something the Dolphins have been lacking since Randy McMichael in his prime.
With some coaching, Housler could develop into the best TE to come out of this draft. He fits the mold of other TEs with WR-type speed such as Antonio Gates (who was raw in his route running coming out of college too) and Dallas Clark.
4. RB Brandon Saine, Ohio State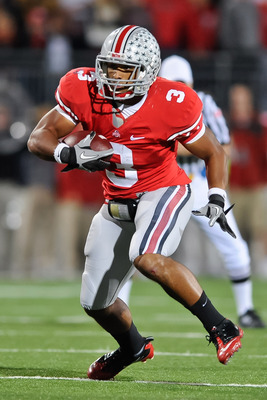 Jamie Sabau/Getty Images
For late-round RBs, the majority of the mocks have guys like Damien Berry, Da'rel Scott, and Roy Helu going to the Dolphins.
No one seems to be talking about Saine. He is just as fast as Helu and Scott with a 4.40 40-yard dash (Berry ran a 4.58). However, Berry and Saine are much bigger and stronger than Helu and Scott.
Helu only put up 11 bench press reps at the Combine, where Berry put up 23 and Saine put up 22. So Saine provides a complete package at RB.
Saine was the captain at Ohio State his senior year, so he has strong leadership qualities. He just never got the carries at Ohio State to really show what he could do.
For a sixth or seventh round pick, Saine would be an absolute steal.
3. QB Ricky Stanzi, Iowa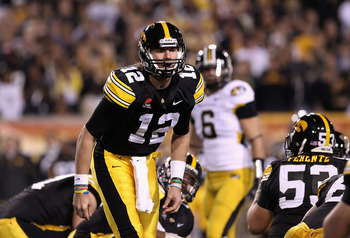 Christian Petersen/Getty Images
Yes, Dolphins fans are sick of taking QBs in the second round and settling for the second tier of QBs. Or in this year's case, fans are screaming for any of the top six QBs.
In my opinion, after Cam Newton and Blaine Gabbert, the rest of the top QBs are a push and will take time to develop. So if that is the case, why not wait until the late rounds and develop a better value pick?
Insert Ricky Stanzi into the picture.
Stanzi does not have the measurables that stick out at you, but he is just solid all the way around. He beat Blaine Gabbert in the Insight Bowl. His senior year was not the greatest, given the expectations, but considering that he lost his best WR and best RB to suspensions I would say he did the best he could.
I would say given the right weapons, Stanzi could step in and play a lot sooner than the Jake Lockers and Christian Ponders of the draft.
2. OLB Sam Acho, Texas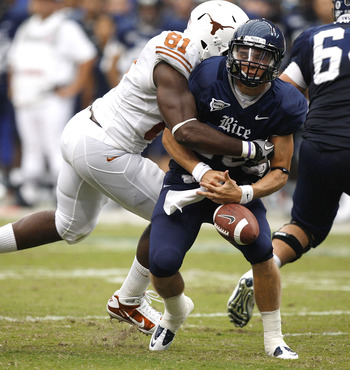 Bob Levey/Getty Images
Many mocks have talked about K.J. Wright, Bruce Carter, and Justin Houston as OLB prospects for the Dolphins.
However, I think Acho fits better in a 3-4 scheme than the previous names. Acho is a pure pass rusher that would add much needed depth behind Koa Misi and Cam Wake. Acho is also strong enough to provide good run support on the outside.
The one problem is he is most likely a second round pick, so if the Dolphins are not able to trade-down in the first round then they may not have a shot at Acho.
However, CBSSports.com rankings have him as the No. 73 overall prospect, so there may be a chance he slips to the third round. If he does, the Dolphins must pick him up.
1. WR Edmond Gates, Abilene Christian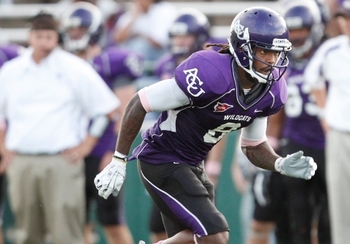 I personally already did an extensive write-up about Gates, so follow the link if you want to read more about him.
There have been a lot of mocks with Troy's WR Jerrel Jernigan and Boise State's WR Titus Young as the picks for Miami's much needed outside speed threat. I have only seen a couple with Gates as the pick.
In my opinion, Jernigan and Young are just Ted Ginn Jr.'s waiting to happen. They are both small and not strong. Gates brings more speed than Young and Jernigan, but also brings far more strength and toughness.
If all three are on the board at the same time, I would go with Gates every time.
Keep Reading

Miami Dolphins: Like this team?