NFL Draft: Will Oakland Trade Back into the First Round?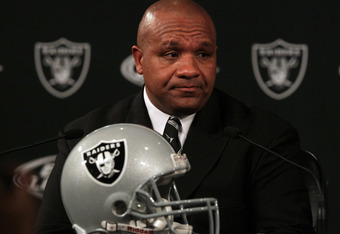 NFL Draft Could See Raiders Try To Trade Back Into First Round
As we move slowly closer to the start of the 2011 NFL Draft, many teams are looking to swap picks in the early portion of the draft. One team, the Oakland Raiders, find themselves as the only team without a first-round pick, thanks to the trade that brought Richard Seymour over from New England.
But, according to a San Francisco Chronicle report, that could soon be changing.
According to the report, Oakland is wanting to move back into the first round, mostly because owner Al Davis wants to. There's not a particular player the team is looking to draft in that first round, but when has that ever stopped Davis before?
The real question isn't whether the Raiders will trade back into the first round (and given the sound of things coming out of the Bay Area, there's a good chance they will), but should they?
Must Read: 2011 NFL Mock Draft: Final Predictions for the Top 50 Players on the Big Board.
Most parties agree that in order to get in on the first-round party, the Raiders would have to give up their second and third round picks, leaving them with an even bigger gap between picks than they currently have now. While I realize that Al Davis seems to be obsessed with getting them back in, it just doesn't make any sense to me, especially this year.
If you're trying to get into the mid-20's, is it really worth sacrificing your next two picks to get there? Suddenly, that upper-middle-round talent that actually makes or breaks a franchise won't be there for Oakland. Given the players who would likely be floating in the pool by the time picks 25 through 32 roll around, wouldn't Oakland be better off just waiting it out?
I get that Al Davis is crazy, but this feels like a bad decision. Giving up that much for a chance to pick at the end of the round makes no sense whatsoever, especially for a team like Oakland, who really isn't that far away from contending.
But, the fact that the trade makes little sense means odds are good it's going to happen with someone, because Al Davis is just crazy enough to do it.
Most recent updates:
This article is
What is the duplicate article?
Why is this article offensive?
Where is this article plagiarized from?
Why is this article poorly edited?