2011 NFL Draft Order: Who Is Most Likely to Swap Picks During First Round?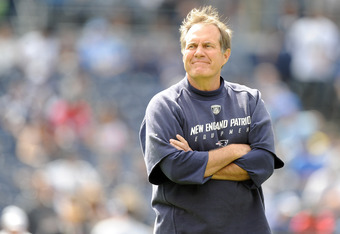 2011 NFL Draft Order Set, But Who Looks Most Likely To Swap Picks In the First Round?
As we inch slowly closer to the start of the 2011 NFL Draft, there are surely several teams already talking to one another about potential trades that could see their position in the draft improve, or slip, depending on who they're looking to take in the first round.
But, given their positions on the board, and the teams' history during previous drafts (we all know some teams are more inclined to look for a trade than others), who is most likely to pull a deal?
We've already heard a few rumblings about the Oakland Raiders trying to get back into the first round, after giving up their pick to the Patriots in the Richard Seymour deal, and from the Cowboys, who seem interested in potentially sliding down the board to get the player they want (Tyron Smith, anyone?), but they're far from the only teams in the market.
Clubs stuck in the middle of the board (St. Louis, Detroit, Minnesota) could try to slide one way or the other in an effort to make sure they get the player they want, or to help trim down their list of potential candidates to be taken at this stage of the game.
Must Read:2011 NFL Mock Draft: A Final Pre-Draft Look at Potential First Round Picks.
Plus, there's the New England factor to take into consideration. The Patriots have been the rogue team in the draft every season, making moves and drafting players few expected coming in. With two first-round picks, it becomes even more likely than usual that Bill Belichick's team tries to turn at least one of them into multiple picks in the later rounds.
One of the sneakier trade candidates remain the Seattle Seahawks. Anyone who saw Pete Carroll's team play last season knows it was a small miracle to finish 9-9 last season. They lack talent at numerous positions, from quarterback, to wide receiver, to the secondary, and they'll have a tough time filling all those holes picking 25th in this year's draft order.
However, for a team looking to slide down the board a bit because the player they want can be had later, or their first choice has been taken, the Seahawks represent a prime candidate to do a deal with. On top of that, something tells me there's nothing Pete Carroll would like more than to improve his standing in the first round, perhaps to chase quarterback Jake Locker, who the Minnesota Vikings also look to be interested in.
Given the wide open nature of this year's first round, we could see plenty of picks trading hands as the day goes on, depending on who gets taken where. I feel like everyone has specific players they feel are the best available, so we could see plenty of wild picks before the day is over.
Most recent updates:
This article is
What is the duplicate article?
Why is this article offensive?
Where is this article plagiarized from?
Why is this article poorly edited?