NFL Draft Rumors: Last Second Trade Rumors for 2011 NFL Draft Order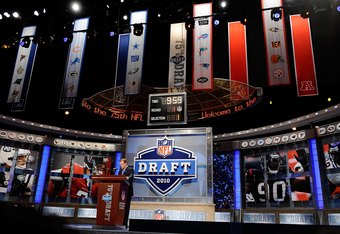 Jeff Zelevansky/Getty Images
NFL draft rumors have been spreading like wildfire since the instant the draft order was set in stone back in February (and possibly even before that) as teams looked to potentially move up the draft board, slide down to get a particular player they wanted in the area he deserved to be taken in or even to get multiple picks in later rounds of the draft.
Now, with less than 12 hours to go until the draft kicks off, the action really heats up. This is when teams start seriously looking at moving players and picks around in and effort to improve their spot in the draft or to get more picks later.
With the lockout officially on hold, the league seems likely to put its old rules in place at some point before the draft kicks off at 8 p.m. EST. That means we can expect plenty of shuffling of the order over the course of the day, and once the draft begins, things will really heat up.
But, which teams are looking to deal? Who's looking to jump up the board, and who's willing to take a trip down the order to fill their needs there and later in the draft?
We're breaking down all of the rumblings from around the NFL with regards to trades surrounding the draft today, telling you all the relevant news from around the NFL today and making sure you're up to date on the latest scuttlebutt from around the league leading up to the draft.
So practice your handshake (and possibly your awkward man-hug) and pick out your draft hat, and let's get started, shall we?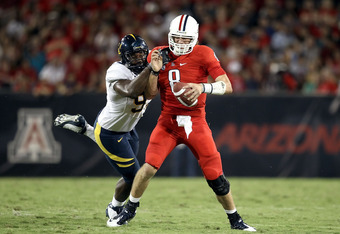 NFL Trade Rumors See New England, Dallas In Trade Talks to Let Pats Grab Cameron Jordan
The New England Patriots have more picks in the first two rounds of the 2011 NFL Draft than any other club. But, according to a report from ESPN's Chris Mortenson, they're not looking to just sit back and use all four picks on themselves. Instead, they're in talks to swap places with the Dallas Cowboys, who currently hold the ninth overall pick and have been actively looking to trade down.
What could possibly cause Belichick to trade into a higher slot? That would be physical freak of nature Cameron Jordan, a defensive end from Cal.
The former Golden Bear looks to be a perfect fit for Belichick's 3-4, with his pass rush skills, run stuffing skills, and his unique blend of strength, size and speed. But, there's also virtually no chance that Jordan will be available for the Pats' first pick in the draft, the 17th overall.
Must Read: 2011 NFL Mock Draft: Final Predictions for the Top 50 Players on the Big Board.
In all likelihood, Belichick and the Pats would be giving up that pick, because the Cowboys seem incredibly interested in Tyron Smith or Anthony Castonzo in the first round, and there's no guarantee either would be available later on.
On top of that, New England would likely give up a second-round pick, probably their last one of the second round. That way, they still have three picks in the first 33 slots of the draft, while the Cowboys get their man and an extra pick on top. The draft pick chart says the 33rd overall pick would be needed for the equal value test, but because Belichick and Jerry Jones get along swimmingly, they'll cut a more favorable deal than that.
Frankly, if the Pats are that sold on Jordan, this one makes perfect sense. They get the elite defensive end they want, Dallas gets the elite offensive lineman they want, and neither team gets screwed in terms of picks.
If I'm Bill Belichick, this is the deal I make. You guarantee that the player you want gets to you, and you still have plenty of room to wheel and deal later, if you need to. It's a win-win for both teams, and typically, when that happens, you've got yourself a trade.
This article is
What is the duplicate article?
Why is this article offensive?
Where is this article plagiarized from?
Why is this article poorly edited?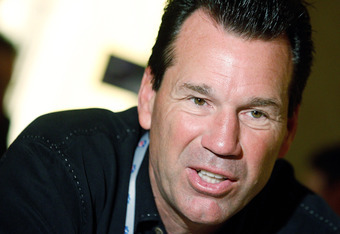 NFL Draft Rumors See Texans Wanting to Stay Put With 11th Overall Pick
The Houston Texans enter the 2011 NFL Draft with two primary needs: a pass-rushing outside linebacker and a shutdown corner. Both of those would go a long way towards improving Houston's swiss-cheese defense next season.
According to a Pro Football Talk report, the team is extremely interested in linebacker Von Miller, and corner Patrick Peterson, but at their pick in the draft (11th overall) both of those players will most likely be gone from the board.
Is there a chance this team will trade up?
Must Read:2011 NFL Mock Draft: Final Predictions for the Top 50 Players on the Big Board.
Not according to Sports Illustrated's Peter King.
"I've been told in the past couple of days," writes King, "that Houston G.M. Rick Smith is loathe to use so much draft currency to move up from 11 to five or seven to get Peterson."
Frankly, I don't blame him. While Miller or Peterson would be fantastic for the Texans, they're not the only players who can help on the board. In fact, Nebraska corner Prince Amukamara would be an excellent fit for Houston, given his skills and upside. As a bonus, he'd most certainly be available at pick 11, whereas neither Peterson nor Miller will be, barring complete brain farts from 10 other teams.
On top of that, in order to trade up, the Texans would be forced to give up their picks at 11 overall, and their second round pick. That seems a hefty price to pay to move up five spots to get a player who while skilled, isn't so much better than Amukamara that you'd need to trade up.
In the end, Smith would be making the right call not trading up, unless he knew Amukamara wouldn't be there at pick 11. As long as Houston comes out of the first round with a cover corner, they'll be in good shape overall, and ready to fill other needs with the rest of their picks.
This article is
What is the duplicate article?
Why is this article offensive?
Where is this article plagiarized from?
Why is this article poorly edited?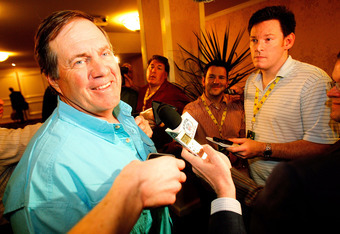 NFL Draft Has Potential To See Browns Swap Picks With Patriots In First Round Trade Action
We all know that half of the fun of the NFL Draft is watching the trades go down. Seeing teams swap picks (and players) like we swapped baseball cards as kids is just plain old good fun.
Fortunately, with a screwball draft on the way, we've no shortage of potential trade talk already, including a big rumor regarding New England's first round position.
The Patriots own four picks in the first two rounds of the draft, but according to a Boston Globe report, they're interested in potentially packaging a combination of those picks and shipping them to the Browns, in return for the sixth overall pick.
The move makes perfect sense for Bill Belichick's team; with the sixth overall pick, he could grab Robert Quinn, who looks to be a perfect fit in New England's system, while still keeping at least one or two early-round picks to make sure you've got the depth you need.
On top of that, the Browns have been shopping the pick around, hoping to get more picks later in the draft as a result.
Must Read: 2011 NFL Mock Draft: Final Predictions for the Top 50 Players on the Big Board.
But, is it really worth the trouble for these two teams? The Browns could have their pick of a plethora of talented players at sixth overall, and I have a tough time believing that none of them could benefit the team in the long run. Sure, more picks would be helpful, but with the potential still likely to be on the board at sixth, it would be hard for me to pass it up.
Then there's New England. Quinn is a sublime talent, to be sure, but there are plenty of other players who could slip into the Pats' scheme just as well as the former Tar Heel. Guys like J.J. Watt from Wisconsin or Cameron Jordan from Cal would be a great fit at defensive end in the Pats' 3-4, while Akeem Ayers fits perfectly at outside linebacker in the scheme.
With either Watt or Jordan figuring to be on the board at pick 17, and Ayers likely to still be there at 28, why don't the Patriots use their picks, rather than wheeling and dealing?
In the end, this is a trade I definitely see happening. Both teams seem to want to make the deal work, and they've got the picks to do it. Neither team really loses much by pulling the trigger, and in the end, everyone should come out happy. While there are downsides, the positives seem to outweigh the negatives, at least on paper.
So, don't be surprised to see Bill Belichick pull off yet another blockbuster deal come Thursday night.
This article is
What is the duplicate article?
Why is this article offensive?
Where is this article plagiarized from?
Why is this article poorly edited?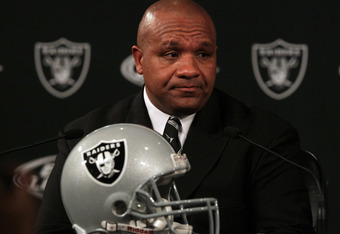 NFL Draft Could See Raiders Try To Trade Back Into First Round
As we move slowly closer to the start of the 2011 NFL Draft, many teams are looking to swap picks in the early portion of the draft. One team, the Oakland Raiders, find themselves as the only team without a first-round pick, thanks to the trade that brought Richard Seymour over from New England.
But, according to a San Francisco Chronicle report, that could soon be changing.
According to the report, Oakland is wanting to move back into the first round, mostly because owner Al Davis wants to. There's not a particular player the team is looking to draft in that first round, but when has that ever stopped Davis before?
The real question isn't whether the Raiders will trade back into the first round (and given the sound of things coming out of the Bay Area, there's a good chance they will), but should they?
Must Read: 2011 NFL Mock Draft: Final Predictions for the Top 50 Players on the Big Board.
Most parties agree that in order to get in on the first-round party, the Raiders would have to give up their second and third round picks, leaving them with an even bigger gap between picks than they currently have now. While I realize that Al Davis seems to be obsessed with getting them back in, it just doesn't make any sense to me, especially this year.
If you're trying to get into the mid-20's, is it really worth sacrificing your next two picks to get there? Suddenly, that upper-middle-round talent that actually makes or breaks a franchise won't be there for Oakland. Given the players who would likely be floating in the pool by the time picks 25 through 32 roll around, wouldn't Oakland be better off just waiting it out?
I get that Al Davis is crazy, but this feels like a bad decision. Giving up that much for a chance to pick at the end of the round makes no sense whatsoever, especially for a team like Oakland, who really isn't that far away from contending.
But, the fact that the trade makes little sense means odds are good it's going to happen with someone, because Al Davis is just crazy enough to do it.
This article is
What is the duplicate article?
Why is this article offensive?
Where is this article plagiarized from?
Why is this article poorly edited?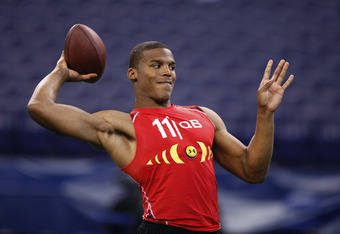 Cam Newton Could Tempt Teams To Trade Up to Get Him Early in NFL Draft's First Round
Auburn quarterback Cam Newton has more upside and ability than any quarterback this side of Michael Vick. With his cannon of an arm, good speed, great size and solid accuracy, Newton has all the tools to be a fantastic NFL player.
Understandably, he's currently projected as the first overall pick in many mock drafts around the sports world, and represents a serious grab for whoever winds up taking him, particularly for teams in need of a quarterback.
With rumblings that Carolina really likes Newton first overall, could teams look to trade into the top spot to grab the potential-laden passer? Cincinnati, San Francisco, Tennessee, Minnesota, Seattle, Arizona and Buffalo could all use a quarterback, but would any of them really trade up to get him?
Considering the Panthers are looking at four different players, there doesn't seem to be much need for Buffalo to trade to the first overall spot, as they have plenty of other needs in the event Newton does get swept up first. Likewise, Cincy has plenty of other holes to fill, and Mike Brown continues to delude himself into thinking that Carson Palmer is coming back, so he's not likely to chase Newton any higher than they are right now.
Must Read: 2011 NFL Mock Draft: Final Predictions for the Top 50 Players on the Big Board.
Minnesota and Seattle might be too low to have much hope of getting Newton, but both teams seem pretty in love with Jake Locker out of Washington, meaning it's unlikely either one will go hunting for Newton in the early stages of the draft.
But, Tennessee and San Francisco are both intriguing. There's no way Newton will fall to them, since most experts agree that Arizona will take him fifth overall, and the seventh and eighth picking Niners and Titans both need a quarterback.
Assuming they don't like Blaine Gabbert as much as Newton, either one of these teams could try and pull a trade up, in the hopes of getting the Heisman Trophy winner. While they both have other holes to fill, quarterback remains a primary need for both squads (particularly in Tennessee, where it's looking like the Rusty Smith and Kerry Collins show right now). Therefore, getting a top-tier passer seems tantamount to their hopes.
In the end, though, I don't see anyone trading up for Newton, even if he goes lower than first overall. Even for teams with solid picks like Tennessee and San Francisco, the extra cost isn't worth getting Newton. Then again, most experts are predicting a screwball of a draft this year, meaning that in the end, anything could happen.
This article is
What is the duplicate article?
Why is this article offensive?
Where is this article plagiarized from?
Why is this article poorly edited?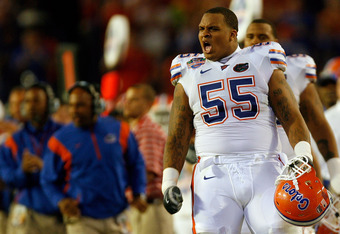 NFL Draft Rumors See Steelers Angling to Trade Up, Grab Mike Pouncey
At the University of Florida, twin brothers Mike and Maurkice Pouncey formed one of the most fearsome tandems on the interior of an offensive like in all of football. The combo was split up before last season, when Maurkice jumped to the NFL, and Mike stayed at Florida, and many figured the partnership was over.
Now, the Pittsburgh Steelers look set to try and reunite the brothers Pouncey on their offensive line. According to a report from NFL Network, Pittsburgh is apparently willing to make a serious push to trade up in this year's draft, to make sure that they land Mike Pouncey.
They nabbed his brother, starting center Maurkice, last season, but given Mike's high draft stock (he's projected as a mid-first round pick), and the Steelers' low draft position (31st overall), the second half of the Pouncey puzzle will be a little tougher to get. But, Pittsburgh looks ready to wheel and deal to get their hands on Mike before the other teams interested in his services do.
Per the NFL Network report:
Tomlin is enthralled by the idea of teaming the brothers on his offensive line, and the Steelers know Mike Pouncey will be gone long before they pick at No. 31. Should the Miami Dolphins not select Pouncey at 15th, the scenario for the Steelers to move up could unfold.
I still don't buy that the Dolphins are going offensive lineman in the first round of this draft. They need a new running back, whether or not Ricky Williams or Ronnie Brown return to the team, and after Mark Ingram, things get a little squiffy.
Must Read: 2011 NFL Mock Draft: Final Predictions for the Top 50 Players on the Big Board.
But, Pittsburgh could need to get higher than Tampa Bay at 20 (the theory posed by the report) to ensure they get Pouncey. New York is also in the market for an interior lineman, and at pick 19, the Steelers would still come up just short.
Frankly, the appeal of having both Pouncey brothers on the roster should be great. As good as they are separately (and they're both excellent linemen, to be sure), they're even better when you pair them up on the line. They have the innate ability to work together better than almost any other potential tandem you could cook up, since, well, they've only been doing it since birth.
Combining their forces in the center of that offensive line would be just the stabilizing force Pittsburgh needs in an offensive line that was awfully shaky last season. If I'm the Steelers, I do everything within reason to try and make sure I get Mike Pouncey this season.
Is he worth selling the kitchen sink to get? No. But, if you can find him for your first round pick and perhaps a third or fourth rounder, that sounds pretty tempting to me.
This article is
What is the duplicate article?
Why is this article offensive?
Where is this article plagiarized from?
Why is this article poorly edited?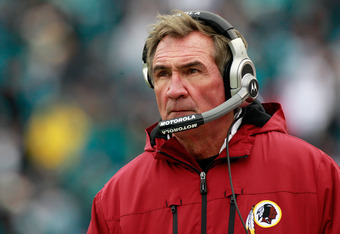 NFL Trade Rumors Ponder Whether Washington Will Deal 10th Overall Pick
The Washington Redskins enter the 2011 NFL Draft with needs at multiple positions, and with a severe lack of mid-round draft picks. Both their third and fourth round picks were dealt to other squads last season, leaving the team with fewer picks than they'd like.
However, according to Mike Jones of the Washington Post, head coach Mike Shanahan is more than open to the idea of trading down from the tenth overall pick, if it means helping the team.
Per Jones' article:
If somebody comes up and all of a sudden at that tenth pick [a team has] something they want and we can move back and pick up additional picks, yeah that could be a . . . reality," Shanahan said. "Especially if we're able to get real value.
This actually makes a lot of sense for the Redskins, especially if the top quarterbacks and wideouts A.J. Green and Julio Jones are gone. With one of the deepest defensive line classes in recent memory, the Skins can slide down the board and find an excellent value there, while adding more picks later in the draft to stabilize more positions of need.
Must Read: 2011 NFL Mock Draft: Final Predictions for the Top 50 Players on the Big Board.
However, don't think that means the Skins are a lock to trade down from their current position. If Julio Jones, the likeliest candidate to fall to Washington, remains on the board when their pick comes up, Mike Shanahan would be foolish not to take the game-breaking wideout tenth, then work with their picks in the second round and the later rounds to try and fill other needs on this roster.
The fact is, the Redskins have all kinds of options with the 10th pick. They could use a linebacker, or a wideout, or even more help on the defensive line to keep offenses from keying on Brian Orakpo.
But, while those are the big needs for the Redskins, they're not the only ones this team has. Grabbing an offensive lineman, a running back, or even a quarterback could be incredibly useful for this team, and trading down would prove to be a great way to fill some of those holes as well.
It's always tough to project who's going to be wheeling and dealing on Draft Day, but rest assured that if Washington loses out on Julio Jones, they'll be moving down and building through the mid-to-late rounds of this year's draft.
This article is
What is the duplicate article?
Why is this article offensive?
Where is this article plagiarized from?
Why is this article poorly edited?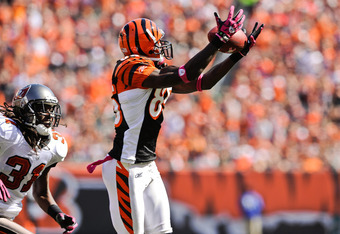 NFL Trade Rumors Ponder Chad Ochocinco's Trade Bait Potential
As the NFL Draft approaches, we're hearing more and more names pop up in trade rumors around the league. Most are expendable for one reason or another, but almost all still have plenty of value left for potential suitors.
One of the biggest names being bandied about remains that of Chad Ochocinco, the Cincinnati Bengals motormouthed wideout. We all know Ocho wants out of Cincinnati, because, well, he told us he did.
Now, Hall of Fame wideout turned television analyst Cris Carter, thinks the Bengals would be wise to find a team willing to take on the loud mouthed receiver.
"I'm sick of Chad, I'm sick of hearing from him, I'm sick of hearing what he's going to do," Carter said. ""Chad, he's definitely going to end up on someone else's team if I'm calling the shots."
Frankly, we have to agree with him. The head coach doesn't want him in Cincinnati, Chad doesn't want to be in Cincinnati anymore, and the fans are getting sick of his act. So why not send him somewhere new?
Must Read: 2011 NFL Mock Draft: Final Predictions for the Top 50 Players on the Big Board.
Trading Chad during the draft would make perfect sense for the Bengals. The fact is, they're in need of an offensive overhaul, and dealing Chad could garner at least one more pick somewhere in the draft. There are plenty of teams out there who could use Ocho's talents (yes, he still has talents on the football field), and trading him gives the Bengals a chance to potentially find a new speedy wideout to replace him with.
There's just one tiny snag to this plan, and it's the same snag the Bengals have had for decades now: Mike Brown. The team's owner/general manager/village idiot seems to stubbornly think that Ocho wants to stay with the Bengals, much as he thinks Carson Palmer won't retire if he's not traded. He has yet to voice any indication that he wants to trade the wideout, and as long as he's calling the shots, that means that unless he has a change of heart, the Bengals likely won't pull the trigger on a deal.
In the end, while a deal involving Chad makes sense for all parties involved, that's exactly why the deal won't happen. If a move makes sense, that all but assures that Mike Brown wants no part of it. He'll hold onto the wideout, and to his quarterback, and Bengals fans will be in for yet another year of Ocho's antics, even as his skills decline on the field.
This article is
What is the duplicate article?
Why is this article offensive?
Where is this article plagiarized from?
Why is this article poorly edited?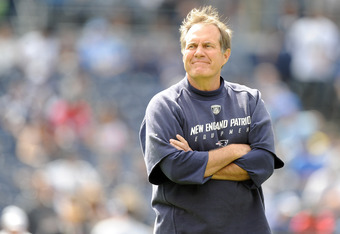 2011 NFL Draft Order Set, But Who Looks Most Likely To Swap Picks In the First Round?
As we inch slowly closer to the start of the 2011 NFL Draft, there are surely several teams already talking to one another about potential trades that could see their position in the draft improve, or slip, depending on who they're looking to take in the first round.
But, given their positions on the board, and the teams' history during previous drafts (we all know some teams are more inclined to look for a trade than others), who is most likely to pull a deal?
We've already heard a few rumblings about the Oakland Raiders trying to get back into the first round, after giving up their pick to the Patriots in the Richard Seymour deal, and from the Cowboys, who seem interested in potentially sliding down the board to get the player they want (Tyron Smith, anyone?), but they're far from the only teams in the market.
Clubs stuck in the middle of the board (St. Louis, Detroit, Minnesota) could try to slide one way or the other in an effort to make sure they get the player they want, or to help trim down their list of potential candidates to be taken at this stage of the game.
Must Read:2011 NFL Mock Draft: A Final Pre-Draft Look at Potential First Round Picks.
Plus, there's the New England factor to take into consideration. The Patriots have been the rogue team in the draft every season, making moves and drafting players few expected coming in. With two first-round picks, it becomes even more likely than usual that Bill Belichick's team tries to turn at least one of them into multiple picks in the later rounds.
One of the sneakier trade candidates remain the Seattle Seahawks. Anyone who saw Pete Carroll's team play last season knows it was a small miracle to finish 9-9 last season. They lack talent at numerous positions, from quarterback, to wide receiver, to the secondary, and they'll have a tough time filling all those holes picking 25th in this year's draft order.
However, for a team looking to slide down the board a bit because the player they want can be had later, or their first choice has been taken, the Seahawks represent a prime candidate to do a deal with. On top of that, something tells me there's nothing Pete Carroll would like more than to improve his standing in the first round, perhaps to chase quarterback Jake Locker, who the Minnesota Vikings also look to be interested in.
Given the wide open nature of this year's first round, we could see plenty of picks trading hands as the day goes on, depending on who gets taken where. I feel like everyone has specific players they feel are the best available, so we could see plenty of wild picks before the day is over.
This article is
What is the duplicate article?
Why is this article offensive?
Where is this article plagiarized from?
Why is this article poorly edited?